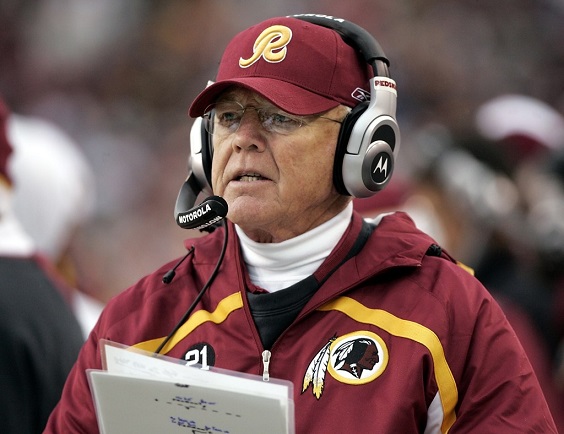 If This Were Your Dynasty Team What Would You Do?
Sharpen your dynasty team management skills, by helping us help Chad, this week's ASL Dynasty Mastermind. If Chad decides he likes your answer best, then you will be next week's ASL Dynasty Mastermind and ASL will offer to present your team next week.
Congratulations Chad for winning this week's Dynasty Mastermind title. Chad, the ASL team thinks you knocked it out of the park with your in-depth strategies for Levi. None of us would want to play in your league!
Chad is a 45 year-old widower of two wonderful children, lives in Eastern Pennsylvania, and is a shipping and receiving manager. Chad is a criminal minds addict and splits his leisure time between fantasy football and playing the Magic TCG.

When it comes to fantasy football, Chad contributed to fantasyfootballmaniax.com in the early 2000's and enjoys the dynasty format and all the theory behind it.
Here is Chad's roster:
QBs

Lynch, Paxton DEN

Wentz, Carson PHI

 

RBs

 

Yeldon, T.J. JAC

WRs

 

Adams, Davante GBP

Coleman, Corey CLE

Doctson, Josh WAS

Dorsett, Phillip IND

Parker, DeVante MIA

White, Kevin CHI
TEs

 

Cook, Jared OAK

McDonald, Vance SFO

 

PKs

 

Defs

Panthers, CAR

Texans, HOU
This is the link to his league.
Chad is in a PPR devy league. He has eight of the first 19 draft picks in a five round draft, including the 2nd and 3rd overall. Here are Chad's picks: 1.2, 1.3, 1.8, 1.11, 2.2, 2.5, 2.6, 2.7, 3.1, 3.2, 3.3, 3.10, 4.4, 4.10, 4.11
Each team has a 40-player roster, an 8-player taxi squad and a 15-player injured reserve. The starting lineup requirement is 1 QB, 2 RBs, 2 WRs, 1 TE, 1 RB/WR, 1 WR/TE, 1 PK, 1 Def.
If this were your team, what would you do? Email ASL at This email address is being protected from spambots. You need JavaScript enabled to view it. or comment on ASL's Facebook post.
We will publish all answers that we receive by Monday next week and if Chad likes your suggestion best, ASL will invite you to submit your team for a similar review the following week.
Thank you to all that sent in your recommendations for Levi's team last week. Here are the responses:
Chad - ASL's June 1 Dynasty Mastermind
Hi Levi,
The first thing I noticed is that 35 players is a larger roster size for the amount of IDP you start  I was actually surprised a bit by how many QBs were rostered between the active roster and the taxi squad. The next thing I noticed is you have the starters locked up for next year but the depth to handle injuries and player benching or a youngster outright winning a starting spot is not there. This makes a deep playoff run difficult because injuries happen and when they do it will put you at a major disadvantage. Also your 2018 draft pick cupboard is pretty bare. Because if this my first suggestion is do not make any sort of win-now moves that will leverage away what future picks you have. Odds are paying for the next up sort of injury is going to be more costly for the long term health of your club than the points you would gain in 2017.  A win-now move is any sort of move that leverages young players/prospects or picks for a player that will provide points to fill a weak spot on your team in order to "win now."  These "win now" players often are older vets that will lose value over the next 18 months.
The weak spot I see is at quarterback. Dak is young and seems to look good. He was sixth overall in scoring for QB in your league last year. The Cowboys kept it simple for him to succeed and they have Zeke Elliott. Dallas will have an identity to run the ball and Dak has a low ceiling as a dynasty player. For example, if you sort compare his points per game to other quarterbacks his production was tenth overall not sixth. That puts him at the bottom of the weekly starters at QB and does not give you an advantage. The waiver wire is bare. You could add Sam Bradford and hope Teddy Bridgewater does not come back for the start of the season. That is risky though. I would advocate trading a third round draft pick for Tom Brady or a fourth round pick for Phillip Rivers. Cam Newton had a down year and he currently has a shoulder injury, so you might be able to buy him low which would be an excellent move. These players give you a little wiggle room until you can draft a QB. Unfortunately, your league does not have draft information so it is difficult to project where you need to be to draft rookie quarterbacks. The strategy is to stack picks in the 2018 draft to where you think the top QB rookies will be drafted. This should be done in 2017. Then in 2018 trade up in the draft so that you have back-to-back picks in that area. The goal will be to draft the top two prospects in 2018. Historically, 50% of quarterbacks that are drafted in the first round of the NFL draft hit. Once you start looking at round two and later of the NFL draft the odds of hitting on a QB drops dramatically. By drafting the top two they insulate each other and by the odds you should walk away with a viable QB to pair with Dak Prescott. IF you are lucky you could walk away with Winston/Mariota type combo and you are set for the next 10 years. You want the picks back-to-back because you do not want to get sniped and lose that second prospect. Finally this strategy does not work if the top Quarterbacks go in the first round or very early second round. If the quarterbacks are usually drafted there it is a mistake and talent will fall into the second round. Draft the value and be happy.   
As for free agent pick ups. Your league is deep and few players are worth spending more than a couple of waiver wire dollars to pick up. I did see you added Ishmael Zamorah. He is excellent for what is left over as he will either hit a home run or flame out fast. As an UDFA the benchmark for players like Zamorah is he gets cut or makes the practice squad. This is true of all the players left over. IF Zamorah does hit he will hit big and that is worth a cheap bet. Also on the list to acquire as a flier is Cordarrelle Patterson. He flashed enough to be worth a roster spot and see if he can crack the lineup as Crabtree ages. Also keep an eye on who gets the special teams work in Oakland. If he gets those touches his value goes up. AJ Derby comes from the pipeline of Patriots TE and was traded to Denver. He is cheap depth for your team as well. Finally, consider another UDFA  Krishawn Hogan WR Cardinals. He is a deep league special. He is a worker and stories are out there that when he was signed by the Cardinals he immediately reached out to Larry Fitzgerald and asked for Larry to tech him. He may not stick on the roster but he has intangible upside and with all the Cardinal wide outs on 1 year deals (essentially), he is worth the $1 risk. 
One of the most critical parts of your team will be replenishing your rookie picks. Without in influx of picks teams age and wither. The best source of trades to add picks is the stable of rookie RBs you own. Day-three rookies are not successful as long term hits for value. They do however hit more often than people think for the short term. Injuries at the RB position, fumbling problems makes players like Rob Kelly viable starters in season, but after the season is over they do not have a lock on the starting gig for their team the following season and competition happens. This means you need to be vigilant in season and when one of your day three running backs breaks out. You need to send out mass offers to trade him to your league mates. Make sure you trade them for more than you paid for them in the draft. Even if it is the same pick and an additional third round pick (always say in this format the odds of a 3rd round sticking on either roster is low) you can use those third round picks to package up in your rookie drafts. Keep churning the picks and over time you will get extra firsts that you can spend on core assets for your team.
As for IDP the amount started you can save some waiver wire money and use the waiver wire approach. Wait a week or two into the season and pick up who is hot. I like the LBs on your taxi and I think they will see starting time this season. LB and S are the only two positions I advocate getting and holding tackling studs. Do not worry about CB much as it is a very volatile position. When you look for a churn and burn IDP in season make sure you are sorting for points per game and for the last three weeks. This will pick up the hot player or players that earned a starting position recently whose value has recently increased. If you have the motivation to do so there are websites out there that monitor snap count for IDPs as well. That also will give you a clue to who to pick up. 
Finally, in season you will want to keep an eye on Antonio Brown for an exit strategy. He will be 29 when the season begins and statistically his peak season is behind him. There are outliers like Brandon Marshall and Eric Decker but they are not the norm. When they do finally lose their skills, it is fast and in season and their trade value plummets. It is truly possible that Brown is of the caliber that he may be that outlier. It is better not to risk it. Selling a player like Brown before decline assures maximum value for your player and with the additional pieces a savvy owner can replenish his team or upgrade marginal players to core assets. If your season goes bad with injuries or you lose a few close games early in the season look to trade him for several first round picks and a prospect. The target would be two firsts and a young WR with upside. When trading an assert like Brown you want to send out offers to each team that has the first round picks you seek. You are hoping for a bite and/or a counter offer to negotiate. Be proactive and do not use the trade bait part of the website. When people know you want to move a player from trade bait it is sending out a signal to low-ball you in Browns value. Trading can take time and you might not get what you want immediately be patient and try again in a few weeks as playoffs heat up. Or slightly downgrade what you want (for example, instead of asking for an 18 1st ask for a 19 1st) As an afterthought TY Hilton will be 28 in season you will want to move him in 2018 if you can. 
Your league and team is such that a fast upgrade is probably not possible. But if you are patient and stay focused you can retool it into a team that will make many playoff runs in the future.
Steve - May 25 Runner Up
Levi,
While I appreciate your team's youth, I think you are missing some key veteran play-makers. I am looking at your lack of depth with QB, your unproven RB corps, and your single player positions of PK, DE, CB, and S.
The QB play of Dak Prescott was solid for a rookie and ranked well among league veterans. The problem I see is, with no clear back-up in case of injury or during his BYE week, you will be forced to find waiver-wire help that might not be there. Your taxi squad hold-over from last season of Cody Kessler is a long-shot to pan out, so I would try and bundle a trade for a middle of the road veteran.
While the return of Beast Mode might be a gift to your roster, it could also be a curse. Before his retirement, Marshawn's career was not on the up-swing. Injuries and slowed production showed that the punishing style wasn't just a punishment to the opposing LB's and DB's. If Beast Mode can't hold up, your are left with a serious gap. Burkhead looked promising until NE signed every RB with a pulse and Thompson is now looking to compete for committee time at best. Kareem Hunt may get some head-liner time, but it won't be until mid-season at best. I think Jordan Howard is your most promising piece at RB, but he is unproven. Not only is Howard going to have to fight off the sophomore slump, but he's now going to be in a system with a new QB and a depleted WR corps.
Your depth at TE is intriguing. Fiedorowicz came on strong last season with a bad QB, Julius Thomas is re-uniting with Adam Gase and is in a system that could benefit him heavily, and Jesse James is a towering red-zone threat with no real competition at the position for now. You may be able to bundle one of these three with a pick or two to help bolster your QB with a vet or find another RB to replace Burkhead or Thompson.
As for your single-player positions....you will find suitable replacements for all of them in the FA when time comes, but JJ and Cyrprien are un-cuttable. Finding space to cover the BYE weeks without cutting those two could be problematic. I read your article on the 5 sleeper studs, but I don't readily agree. I think Stills could be a candidate for cut/trade, as well as Pryor. Wallace could have a very strong year, but Baltimore looks more balanced with run/pass than I've seen in awhile. If Pitta stays healthy and the RB's perform, Wallace could be a high risk high reward for his burner speed. Adding Wallace to the cut/trade could be your best move.
I hope, in some way, I was helpful with my insights, good luck in the upcoming season!
-Steve
About Joe Gibbs (post image):
Joe Gibbs was the head coach of the Washington Redskins from 1981-1992 and 2004-2007. During his first 12-year stint with the Redskins, Gibbs led the team to eight playoff appearances, four NFL Championships and three Super Bowl Championships. The dynasty Gibbs constructed over that time frame has been called "The most diverse dynasty in NFL history" because he was able to build championship teams from players that mostly had mediocre careers on other NFL teams. Gibbs was enshrined in the Pro Football Hall of Fame in 1996.