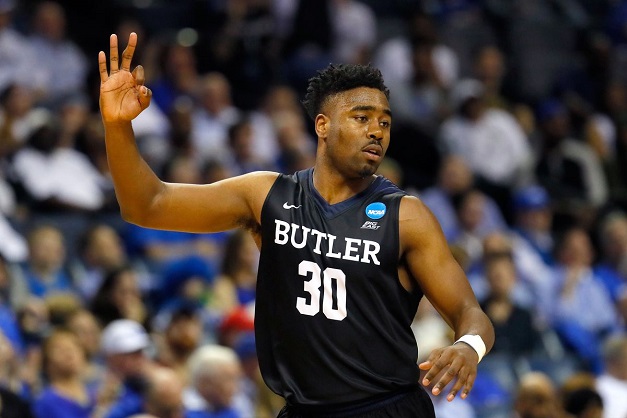 Written by Brian Murphy
13 March 2018
ASL's Brian Murphy identifies four double-digit seeds that have a good chance of winning at least a couple of games and helping your NCAA Tournament bracket.
No. 12 New Mexico State Aggies
I've already indicated that the Aggies are my favorite double-digit seed to pull off a first-round upset, so I might as well go all in. Frankly, the road doesn't look too tough for NMSU if they can get past Clemson. Waiting next will be either No. 13 Charleston or No. 4 Auburn, which, like Clemson, is shorthanded due to injury. Specifically, Auburn has lost four of six games since forward Anfernee McLemore went down with a major leg/ankle injury in February. The Tigers still have a high-powered offense, but the Aggies' 14th-ranked defense can shut it down.
No. 11 Loyola Chicago Ramblers
Assuming the Ramblers beat Miami, they will likely face the Tennessee Volunteers, a team that mirrors Loyola Chicago quite a bit. Both teams are generally undersized, play at a methodical pace, can be stupendous on defense and like to score from long range. This is a more even matchup than you might assume and will likely come down to which squad can make more shots. Both teams shot the 3 ball well, but the Ramblers are better at 39.8 percent on the season. They can get hot in a hurry, and a couple days of hot shooting can put them into the second week.
No. 10 Butler Bulldogs
At some point in your bracket, you need to pick a No. 2 seed to fall short of the Sweet 16. Since 1997, a No. 2 seed has been beaten during the first weekend in 20 of 21 NCAA Tournaments. It may feel uncomfortable at first, but just know that having a No. 2 seed losing early is the smart move. I don't see a standout choice among this year's quartet of No. 10 seeds, but I'll take a tough Butler team over the Purdue Boilermakers in the second round. No, Butler does not defend the 3-point line well (308th nationally), which isn't good at all versus a Purdue team that is loaded with shooters. However, the Bulldogs have a player in Kelan Martin (pictured) who scores 20 points per game and can carry a team by himself. More interestingly, there are a few metrics that cause my eyebrows to raise just a little. The Bulldogs, even though they are a No. 10 seed, are ranked 25th overall by KenPom.com. Plus, FiveThirtyEight.com gives Butler a 17 percent chance of moving on to the Sweet 16, the best percentage of any No. 10 seed. I know this case isn't overly convincing, but you need to have some blind faith with your bracket and the knowledge that a No. 2 seed is likely going to lose early.
No. 13 College of Charleston Cougars
This is me kind of hedging my bet because the Cougars and the Aggies are in the same pod. And I am certain of one thing in this tournament: Auburn and Clemson won't both advance to the second round. Both are slumping and dealing with injuries. And in the possibility that both fall in the first round, then one of these two double-digit seeds have to move through. Charleston has three players -- Grant Riller, Joe Chealey and Jarrell Brantley who pour in 17 points per game. It'll be fascinating to see if they can control the pace of this game and slow down Auburn's up-tempo attack. The Cougars aren't very tall, but that's OK; neither are the Tigers. And they won't give the Tigers many extra possessions as they excel in limiting turnovers. Charleston has a chance against Auburn and might get "rewarded" by getting matched up with another double-digit seed in the next round.


You can follow, ask fantasy questions and yell at Brian on Twitter: @Spokes_Murphy
Never miss ASL's latest fantasy sports news. Send us an email at This email address is being protected from spambots. You need JavaScript enabled to view it. and list the sports you are interested in (NFL, NBA, MLB, NHL, EPL) to start receiving ASL's newsletter.