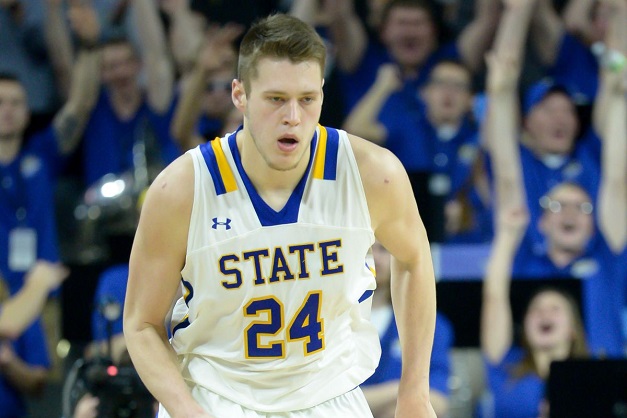 Written by Brian Murphy
13 March 2018
Which underdog will upset a top-five seed in this year's NCAA Tournament? Here are four teams you should consider most for your bracket.
No. 12 New Mexico State Aggies vs. No. 5 Clemson Tigers
This should be a defense-first slugfest as both teams rank among the top 15 in adjusted defensive efficiency, according to KenPom.com. The two Aggies you must know are Zach Lofton, a 20-points-per-game scorer, and Jemerrio Jones, a double-double machine. The Aggies have a lot of NCAA Tournament experience with four seniors/graduate transfers who played in the 2017 tourney. I think these Aggies will move on thanks to its ability to keep the Tigers off the boards and stifle an offense that has really missed second-leading scorer Donte Grantham since January. Clemson has gone just 6-5 since the big man suffered his season-ending knee injury.
No. 11 Loyola Chicago Ramblers vs. No. 6 Miami Hurricanes
Anyone who tries to sell a No. 10 seed over a No. 7 seed as an upset is grasping at straws. However, we are getting to a point where this game might not really qualify either. In fact, a couple of ESPN prediction models have the Ramblers as a slight favorite. FiveThirtyEight.com gives them a 40 percent chance at victory. Only six spots separate Miami (36) from Loyola (42) in Ken Pomeroy's rankings. Why are the Ramblers -- what a fantastic name -- so loved? They limit the number of their opponents' possessions thanks to their extremely slow pace. Offensively, they are able to overwhelm you from beyond the arc. Loyola Chicago is shooting near 40 percent from deep on the season and is led by Missouri Valley Conference Player of the Year Clayton Custer, who rips the nets from 3-point range at 44 percent. I am a little concerned about Miami's ability to dominate in the paint, but that is somewhat countered by the absence of injured guard Bruce Brown, Miami's floor general who averages 11 points per night.
No. 12 South Datoka State Jackrabbits vs. No. 5 Ohio State Buckeyes
If I have to choose one 12-over-5 game -- and you should choose at least one in every bracket you fill out -- it would be the one that led off this article. I'm not quite as confident in this pairing, but the Jackrabbits have all the ingredients necessary to win a game in March.
Experience? Four of their top five scorers return from last season's tourney team.
Star quality? Mike Daum (pictured) is a future NBA'er who is averaging 24 points and 10 rebounds per while shooting 42 percent from deep. He can also help neutralize OSU's best player, forward Keita Bates-Diop.
Shooting? SDSU ranks 12th in the nation -- and third-best among tournament teams -- in 3-point shooting at 40.3 percent.
Ball handling? The Jackrabbits carry the nation's lowest turnover rate.
Actually, I'm beginning to like this pick more.
No. 13 Marshall Thundering Herd vs. No. 4 Wichita State Shockers
Looking for a little bit of a deep cut? This meeting, if nothing else, should get your blood pumping as both teams average more than 80 points per game, love to push the pace up (Marshall ranks sixth overall in tempo) and are not strong on defense. The Thundering Herd were just the fourth-best team in Conference USA during the regular season, but they boast a couple of 20-point scorers in Jon Elmore and C.J. Burks. The Shockers can counter with guard Landry Shamet and, most troubling for the Herd, forward Shaquille Morris. I'm not sure what answer Marshall has for Shaq, but if they can keep him from feasting in the paint and still give this game a break-neck pace, the Thundering Herd will have a legit chance of recording their first NCAA Tournament win ever.


You can follow, ask fantasy questions and yell at Brian on Twitter: @Spokes_Murphy
Never miss ASL's latest fantasy sports news. Send us an email at This email address is being protected from spambots. You need JavaScript enabled to view it. and list the sports you are interested in (NFL, NBA, MLB, NHL, EPL) to start receiving ASL's newsletter.