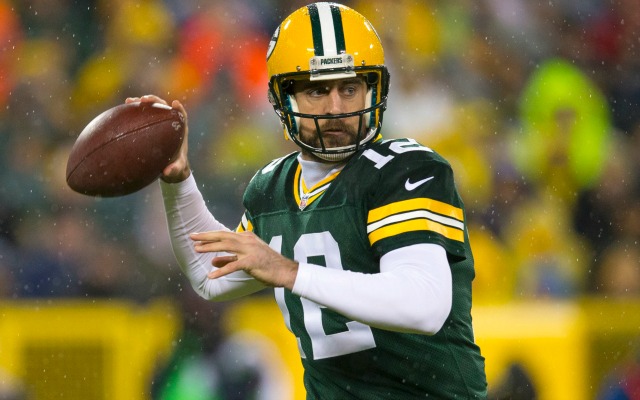 Written by Brian Murphy
30 January 2017
1. Aaron Rodgers, Green Bay Packers
Hard to believe that there was a time early in the season when owners were disappointed in Rodgers. Then from mid-October on, he carried those people to at least the playoffs and perhaps a championship -- if you overcame his Week 15 clunker. He's durable, dynamic and belongs at the top of this list, easily.
2. Andrew Luck, Indianapolis Colts
With Ryan Grigson now out as general manager, maybe the Colts will finally build an offensive line in front of Luck. If he gets that, the 27-year-old has everything else he needs to notch another 40-touchdown season, as he did in 2014.
3. Drew Brees, New Orleans Saints
Sean Payton is staying in New Orleans and with him will be Brees' gaudy annual output. He is heading into his age-39 season, but Brees hasn't thrown for fewer than 4,800 yards than 2010. He hasn't thrown for fewer than 32 touchdowns since 2007. And he has missed just two games in the past decade. I find it really hard to bet against him even as he enters a time where we should be seeing a worrisome fall in his production.
4. Tom Brady, New England Patriots
Brady's case is almost identical to Brees'. Fantasy owners don't want to be left holding the bag when Brady finally starts showing his age -- he hits the big 4-0 in August -- but coming off an MVP-esque season, how can he be much lower than this in anyone's positional rankings? No matter his receiving corps, he makes it work. He doesn't have Luck's upside at this point, but his consistency is marveling. 
5. Cam Newton, Carolina Panthers
Here is the position's second tier begins. I'm going to keep believing in the 2015 MVP, even after a season that saw him crumble as a passer and finish 16th in scoring. His Week 4 concussion really set the tone for his down year. Newton has never been a great thrower of the football, and just having him get his completion percentage back up to 58 percent would give a big boost to his stats. I think we'll see a very motivated Cam in 2017, one who should run more often.
6. Derek Carr, Oakland Raiders
Think this is too high for Carr? Then you didn't pay close enough attention to his 2016 campaign. Currently blessed with a strong arm, a gunslinger's mentality, a strong offensive line, mobility, youth and a very capable receiving corps, Carr looks like a lock for 30 scores, 4,000 yards and single-digit interceptions next year. 
7. Dak Prescott, Dallas Cowboys
Yeah, the Cowboys run more than any other team in the league, but Prescott plays a role in that. Plus, I'm betting that both Ezekiel Elliott's health and the high-level play of Dallas' defense will not carry over through 2017, which would force Dak to do more.
8. Kirk Cousins, Washington Redskins
A lot of fantasy rankers have Cousins slotted higher, and that's understandable as long as Cousins remains in Washington's pass-happy attack. But I look at Cousins' error-prone ways and the fact that either DeSean Jackson or Pierre Garcon will not be re-signed as negatives for his case. He ended this season as fantasy's No. 5 quarterback, but I think we've already seen his ceiling. It's not a bad ceiling at all, but I see him as more of a low-end QB1. 
9. Matt Ryan, Atlanta Falcons
Props to Ryan on a fantastic -- and frankly surprising -- season that will probably net him an MVP award. He won't be doing that again. The Falcons attempted the seventh-fewest passes of any team this season, and the forthcoming departure of offensive coordinator Kyle Shanahan should change Ryan's future outlook. He deserves to be in the top 10 based on what he has accomplished most recently, but I fear he will be overdrafted next summer.
10. Russell Wilson, Seattle Seahawks
Despite playing through a bad ankle for most of the year, Wilson was fantasy's No. 10 QB this past season. This ranking may actually be too low (Ben Roethlisberger would have been included if we knew he was actually going to play next season), but it's also a sign of just how deep with talent this position continues to be.
HONORABLE MENTIONS: Ben Roethlisberger, Pittsburgh Steelers; Marcus Mariota, Tennessee Titans; Matthew Stafford, Detroit Lions; Jameis Winston, Tampa Bay Buccaneers; Philip Rivers; San Diego Chargers.