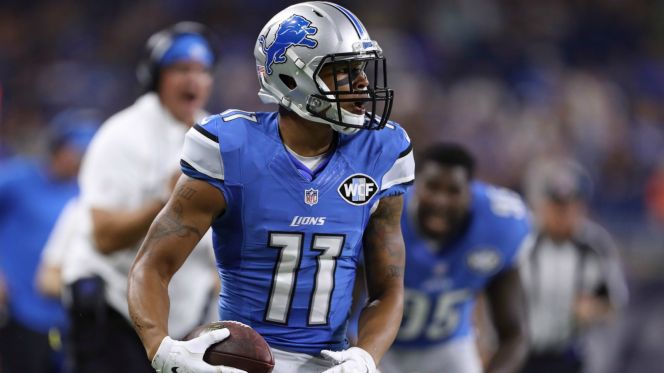 Written by Brian Murphy
18 October 2016
Last week, we presented three running backs you should buy. I think that window has slammed shut in regards to Lamar Miller after his huge effort Sunday night versus the Colts. But the price for Mark Ingram or Jamaal Charles is probably palatable. For this week, let's go to the other side of the coin and talk sell, sell, sell. Specifically, here are three wide receivers you should look to send away before their value falls.
Marvin Jones, Detroit Lions
If you guessed that Jones would be the No. 3 wide receiver in fantasy through six weeks, congratulations. You held a viewpoint that absolutely no one else shared and have certainly reaped the benefits. I fear, however, that Jones is about to see his stock take a turn for the worse. His stock has kind of rounded a corner already as Jones averaged just six targets over the past three weeks and was out-targeted during that time by Golden Tate and Anquan Boldin. He has gained just 47 yards through his past two games, although a touchdown on each of those Sundays saved his fantasy day. And just look at what Jones must face in the next six weeks: Redskins (and Josh Norman), Texans, Vikings, bye, Jaguars, Vikings. As of now, there's only one favorable matchup in that mix. Granted, the road should be easier for him during Weeks 13-16 (Saints, Bears, Giants, Cowboys), but if you need to win now, go find a buyer because Jones likely won't give you what you need before December. Again, he is fantasy's No. 3 WR at the moment. Play up what Jones has already done.
Brandon Marshall, New York Jets 
It's difficult to come away from Monday night's game -- the Jets' latest disappointment -- without some concern for Marshall. Yes, quarterback Ryan Fitzpatrick continued to have tunnel vision for him, but you have to wonder how long that will be the case if the Jets continue to sputter on offense. Fitzpatrick was benched late in New York's Week 6 loss in Arizona and although he has been named the team's Week 7 starter, the fact that head coach Todd Bowles had to make such an announcement should tell you how uneasy Fitzpatrick's grip is on his job. He probably would be holding a clipboard already if the Jets could send someone better than Geno Smith out there. Bryce Petty and rookie Christian Hackenberg are complete unknowns. But back to Marshall, all bets are off if (when) the Jets bench their current starting QB. Another negative for the veteran wideout is there is no one else whom opposing defenses need to respect in this passing game. Quincy Enunwa can't fill Eric Decker's shoes. Running back Matt Forte is playing sluggishly. Young WRs Jalin Marshall and Robby Anderson scare no one. There isn't a viable tight end to speak of. I can't knock Marshall; he's a great competitor who fights for every yard he can gain and every ball thrown near him. He is just a great player. But he can't be great on his own, and his bad supporting cast is bound to hurt his fantasy value.
Allen Robinson, Jacksonville Jaguars
Other candidates for this third slot included Brandin Cooks (sell high off his Week 6 box score) and Larry Fitzgerald (not doing much unless he scores). Robinson isn't a sell high by definition because, well, he's fantasy's No. 33 WR right now. Still, I'd like to know if you can find someone who will bite on him due to memories of his top-five finish last year. He's getting targeted often (12th-most on average); he's just not doing anything with them. He is like Fitzgerald, only less productive. A-Rob hasn't reached 75 yards all season and hasn't met 60 yards since Week 1. Quarterback Blake Bortles has just been terrible and isn't providing as much of the fourth quarter garbage-time points that really buoyed his value along with Robinson's and WR Allen Hurns' in 2015. Basically, Robinson has been a mid-level WR3 each week if he doesn't get into the end zone. And there are no signs of Bortles suddenly improving. From Weeks 12-16, Robinson will do battle against the Bills, Broncos, Vikings, Texans and Titans, in that order. The easiest matchup of the bunch is that first one in Buffalo, and that defense is allowing the 13th-fewest fantasy points to wide receivers. You will not want to be stuck with Robinson while vying for your league championship.