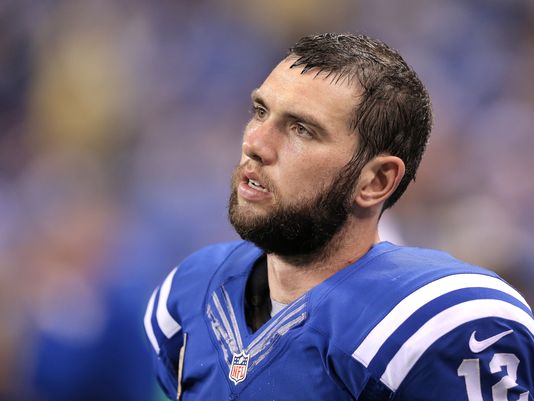 When it comes to benching your fantasy football studs, don't go crazy. Matchups are important, but so is talent and players selected in the early round have just that. However, there may be times where it makes sense to at least consider a radical move if you have other options...
Andrew Luck
Despite his impressive numbers against the Detroit Lions, 31 of 47 for 385 yards and four touchdowns, Luck will be facing a different animal in Week 2 when he tees off against the Denver Broncos. The defending Super Bowl champs held fantasy favorite quarterback Cam Newton to a mediocre game for the second time in a row. Newton managed just 18 of 33 passing for 194 yards and one touchdown, but also threw an interception. Denver will probably not command a huge lead in the fourth quarter, so Luck owners cannot rely on significant garbage points. Detroit's Matthew Stafford against Tennessee could work.
Todd Gurley
The second year running back is a strong candidate to lead the position from a fantasy perspective in 2016, but he will have a tough divisional matchup with the Seahawks. The Seahawks have a physical defense that held the Dolphins running backs to just 47 yards on the ground. That included Arian Foster earning just 38 yards on 13 carries, less than 3 yards per attempt, while fumbling the football once. Gurley might have been your first round pick but better options may be possible.
Jeremy Hill
The Bengals runner is always a risky play with Giovanni Bernard in the picture, but Hill is certainly better off on your bench in Week 2. Hill will be going up against the Steelers defense that ranked as they second toughest against running backs in terms of fantasy points last season. Hill is already coming off of just 31 yards on the ground in Week 1 against the stout Jets front-seven. Additionally, the Steelers have a weak secondary, which could result in Andy Dalton getting more opportunities through the air in favor of Hill.