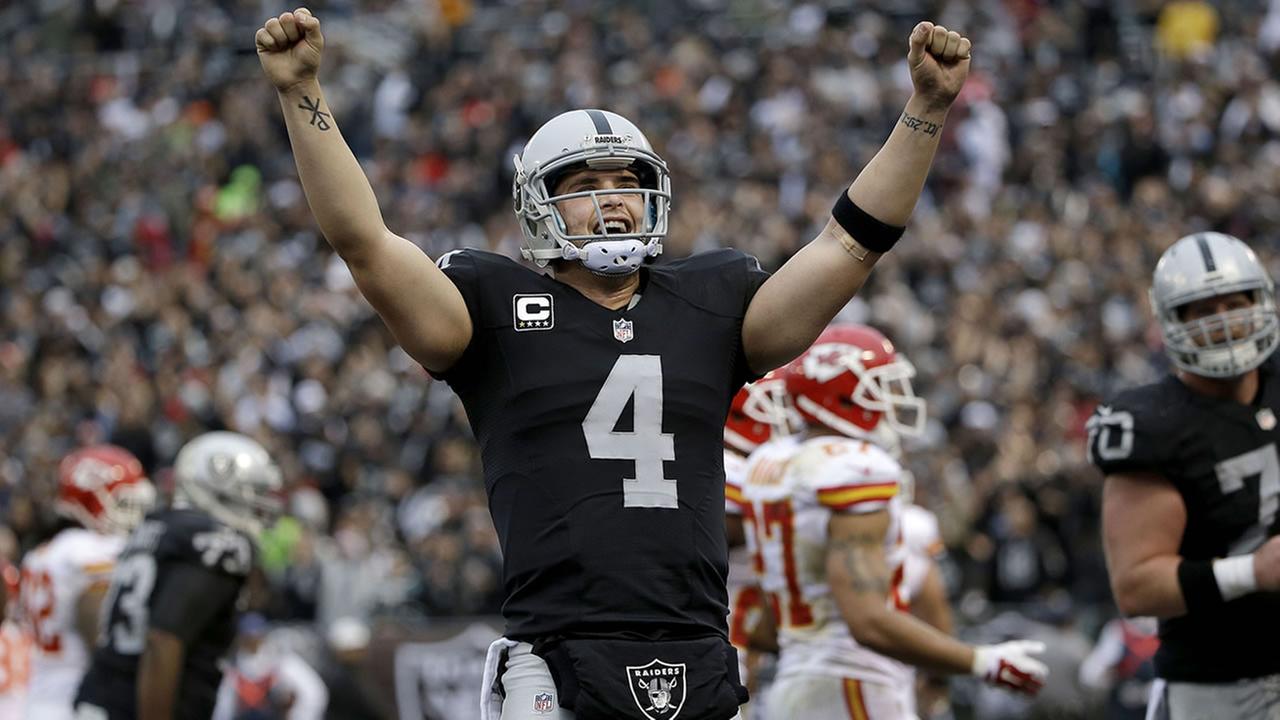 Written by Brian Murphy
08 September 2016
Start your reserves in Week 1? With these guys, yeah. 
Derek Carr, QB, Oakland Raiders
You had me at "facing New Orleans." Although it doesn't stop anyone, we really shouldn't pass judgment on defenses until at least a week or two is in the books. Defenses rise and fall, improve and worsen in different areas every year. But "facing New Orleans"? Something about that should hasten your heartbeat in excitement if you own Carr (or Amari Cooper or Michael Crabtree, for that matter). Points aplenty will be on the menu Sunday in The Big Easy.
Spencer Ware, RB, Kansas City Chiefs
Let me just get this out of the way: I do not know Spencer Ware. We are not related, we don't follow each other on social media, and he is not paying me in any way, shape or form. So why am I now mentioning him in a fourth article this week? Because although you probably selected him in the middle rounds of your draft, he absolutely needs to be at the top of your personal running back depth chart. You can already read what I think about Ware where? Here, here and here. Condensed version: He will probably be a workhorse back with what looks like an outstanding matchup. And The Machine has increased its projection for him since earlier in the week. Once 18th, Ware now sits 10th among RBs. If anything, that's a skosh too low. 
Christine Michael, RB, Seattle Seahawks
This looks like a reach right now, but I'm fairly confident Michael will be the Seahawks back you want in your lineup this weekend. Thomas Rawls is still recovering from his broken ankle and while he may play, the odds are against him starting. That nod would go to Michael, who has been compared, athletically, to Adrian Peterson and just wrapped up a superb preseason. The Dolphins, for what it's worth, allowed the most fantasy points per game to running backs last season. If that inability to stop the run carries over, Michael will put forth a filled box score.
 Eric Decker, WR, New York Jets
It's a new year, but let's not overlook one fact from 2015: Decker was the most consistent, steady producer at the wide receiver position. He accumulated at least eight fantasy points in every one of his 16 games and scored in 12 of them. With Ryan Fitzpatrick re-signing, the band is back together for Gang Green and poised to throw more than ever. The Bengals didn't allow a ton of points to WRs last year, but besides Pacman Jones, their cornerback group didn't rate especially well in pass coverage in 2015, according to Pro Football Focus. It's also worth noting that The Machine's projections have slotted Decker very optimistically for Week 1, as the No. 11 wideout.
Donte Moncrief, WR, Indianapolis Colts
Everyone and their grandma is looking for Moncrief to ascend in the ranks of wide receivers this season. OK, let's see it. All of the components are there for him to start the season in proper fashion. Moncrief's talent and ability aren't in question. Andrew Luck is healthy. It should be a pass-happy contest versus the Lions. With that said, I don't understand why so many weekly rankings across the internet have Moncrief outside of the top 20 at his position. Give him more respect than that.