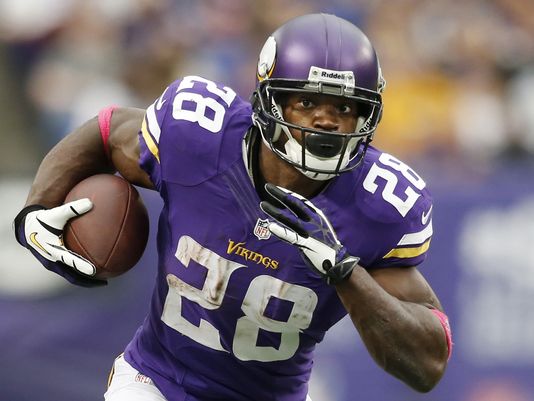 Written by Brian Murphy
01 September 2016
 Hours before the Minnesota Vikings released the official diagnosis of Teddy Bridgewater's injury, everyone had already figured it was really bad. There were reports of how Vikings players recoiled in shock and horror once they saw the state of their quarterback's left knee. The in-progress practice was ended immediately. An ambulance was brought onto the field. Bridgewater had to be sedated, and his mother was notified that her son was headed to the hospital. Yeah, it was really bad.
Bridgewater dislocated his left knee, tore his left ACL and suffered other unspecified structural damage without even being touched. If there is any good news, it's that Bridgewater apparently didn't suffer any nerve or artery damage. That means he should be able to recover fully in time. That time, however, certainly won't come at any point during the 2016 season, so the Vikings will move forward with 36-year-old quarterback Shaun Hill, who has been tabbed as Minnesota's Week 1 starter.
So, how does the absence of Bridgewater and the presence of Hill impact the Vikings' fantasy commodities? Or, basically, how does all this impact Adrian Peterson?
The Vikings attempted the fourth-most runs and the fewest passes last year. Expect that kind of disparity to only grow. Granted, Hill is having a nice August (17-for-25, 192 yards), but he has started just eight games since 2010. All of those starts came in 2014, which Hill spent with the Rams. He completed 63.3 percent of his passes and tallied eight touchdowns against seven interceptions. He also fumbled seven times but lost only one of them. Hill has a career yards per attempt average of just 6.8. He's a pure game manager with poor arm strength. In other words, there's a reason why he's been a backup for the majority of his NFL tenure.
Peterson knows all about producing big numbers on teams led by sub-par QBs. From 2010-2013, he played behind the likes of 41-year-old Brett Favre, Christian Ponder, Matt Cassel and an over-the-hill Donovan McNabb. Yet he averaged 114 total yards per game during that span and scored 50 times in 57 games. Hill isn't clearly worse than any of those luminaries, but you would be foolish to think Hill commands as much respect from defenses as Bridgewater.
That means more stacked boxes for Peterson. Can he overcome them in his age-31 campaign, after leading the league in carries just a year ago? That's where my concern lies with the four-time All-Pro. Yes, he's going to get a ton of work yet again, but I'm not sure a heavier burden is beneficial with a player, even one as incredible as Peterson, who is on the wrong side of 30 and just garnered 357 touches last year. He will also see even more attention from his opponents. And with Hill, the Vikings' offense should be less potent. Fewer points means fewer leads, and fewer leads means a greater possibility that Peterson will fall victim to game flow. 
With all of that said, Peterson is probably still the No. 3 running back in standard drafts. That's where The Machine has him ranked, and I can't really disagree. The gap between him and the No. 2 back, David Johnson, has widened, but those behind AD have their own warts.
Would you pass on Peterson for Jamaal Charles, who's coming off an ACL tear and may share more carries this year? For Lamar Miller, who is on a new team and has never topped 1,100 rushing yards? For LeSean McCoy, who had a so-so debut season in Buffalo? For rookie Ezekiel Elliot? For the suspended Le'Veon Bell? Despite his QB situation and his age, Peterson remains a top-five back. Although because of his age and both his career and 2015 workloads, backup RB Jerick McKinnon is a draft priority.
As for the passing game, one reason why some fantasy experts were relatively high on Bridgewater entering this year was the potential-filled group of receivers surrounding him. Stefon Diggs flashed No. 1 wide receiver ability as a rookie. Charles Johnson showed similar flashes in 2014. The Vikings added first-rounder Laquon Treadwell to go with slot receiver Jarius Wright, deep sleeper Adam Thielen and tight end Kyle Rudolph. Plus, Peterson is a quarterback's best friend. However, even with Bridgewater, Diggs was the only wideout here who was commonly being drafted among the top 40 at his position. The Machine's draft rankings have him slotted 37th. Treadwell is next up, ranked a lowly 68th. Rudolph is ranked 25th at tight end.
Perhaps one of those guys will become the apple of Shaun Hill's eye, but you don't need to guess whom that might be during your draft. Diggs is a fine WR4. The others should be found on your waiver wire.
And Hill's fantasy upside? How about zero? If you absolutely must get your hands on a newly anointed starting QB, you're better off chasing after Dak Prescott.