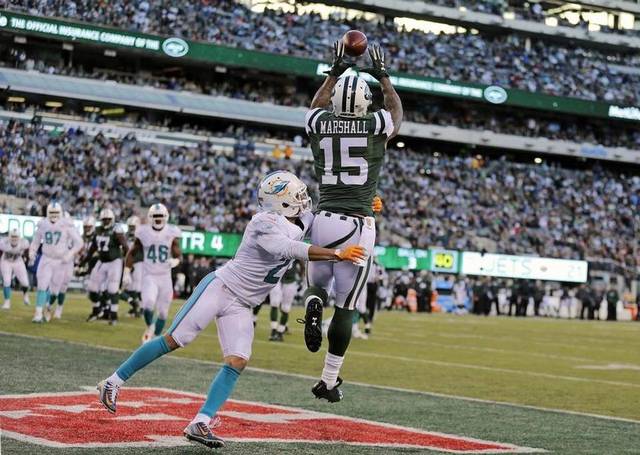 Written by Brian Murphy
25 August 2016
Last week, I covered a few quarterbacks who are going too early in standard drafts on MyFantasyLeague.com. Today, I'm sticking with my MFL analysis but switching over to wide receivers who should actually be taken earlier, according to The Machine from ASL, which is just invaluable when it comes to draft preparation, in-season pickups, trades, setting your weekly lineup and other issues you need to master in order to be a champion.
These selections are made based on MFL's ADP information for standard drafts completed since July 1. For last week's article, that sample contained only 79 drafts. That number has increased 171 drafts this week. That's still not a huge sample, but it certainly shows that we are in the thick of fantasy football draft season.
Brandon Marshall, New York Jets -- The Machine's WR rank: 5; My Fantasy League's WR ADP rank: 12
The Machine's position on Marshall is easily understood: He has been a top-five fantasy wide receiver in three of the past four seasons. But MFL owners seem to be a little more bearish on the former Bear.  He is 32 years old and is definitely the most explosive or flashiest player, but you can't deny what he and Ryan Fitzpatrick accomplished last season. Now that Fitzpatrick has re-signed, there's no reason to think of Marshall as anything less than a very strong WR1. However, Fitzpatrick inked his deal on July 27, and in MFL drafts since Aug. 1, Marshall's positional ADP has risen only slightly, from 12th to 10th. You shouldn't fear taken him sooner, especially before the Jaguars' Allen Robinson and the Packers' Jordy Nelson.
Eric Decker, New York Jets -- The Machine's WR rank: 19; My Fantasy League's WR ADP rank: 27
One of Marshall's position mates isn't getting enough love from the MFL community either. People must really not believe in Fitzmagic. In last year's football news, Decker gave his owners a worthwhile box score every week in 2015. He scored in 13 of his 16 games and accrued at least 80 yards in the three others. But those in MFL leagues shouldn't feel bad; they are not the only group of owners who have been selling the 29-year-old short.
Sammy Watkins, Buffalo Bills -- The Machine's WR rank: 10; My Fantasy League's WR ADP rank: 16
Waiting on Watkins is easier to defend given his recent injury history. In 2015, he missed two games with a calf injury, came back, almost immediately injured his ankle, missed another week, came back, finished the year very strong only to fracture his foot this past April. The good news is that foot has healed enough for him to play in a preseason game this Friday, and a healthy Sammy Watkins is much, much better than the mid-range WR2 he is right now in MFL drafts. Over the final six games of last season, Watkins averaged 113 yards per and scored six times. He surpassed 80 yards in each game and averaged 19.4 yards per catch. As long as he gets a high amount of targets each week -- there's no reason why he shouldn't -- Watkins will probably finish 2016 with a ranking higher than the optimistic one The Machine currently has for him.