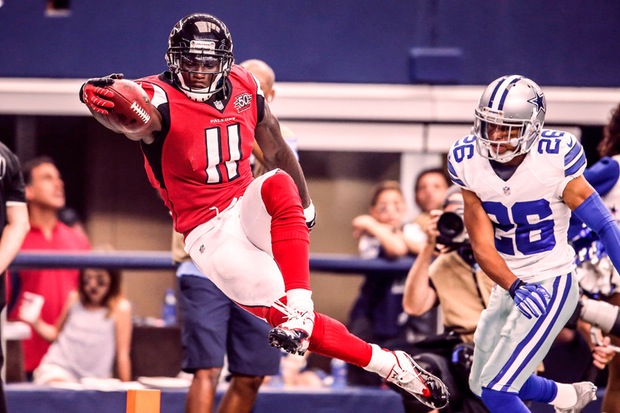 With the regular season weeks away, fantasy football drafts will be coming fast and furious. In the next part of this series, I answer important questions surrounding each NFC South team and some of their fantasy threats.
Atlanta Falcons: Just how good can Julio Jones be?
Along with Antonio Brown and Odell Beckham Jr., Jones joins the ranks as the elite fantasy NFL receivers this season. Brown and Beckham seem to be more desirable because of versatility and ceiling, respectively, but Jones is coming off of a career season where he put up 1,871 yards and eight scores. The most impressive facet of Jones' game last year was that quarterback Matt Ryan had his second worst QBR, 61.79, which is only better than his sophomore campaign. Jones will be the workhorse receiver in Atlanta and will have the possibility of recording 2,000 yards and a dozen touchdowns this season.
Carolina Panthers: Can Cam Newton be the best fantasy quarterback in 2016?
Aaron Rodgers, Tom Brady, and Ben Roethlisberger are your prototypical quarterbacks that you want to start a franchise around, but in the fantasy football world Newton is a double threat. Newton has not thrown for over 4.000 yards in a season since his rookie year, but he has amassed at least 500 yards on the ground every season in the NFL. 500 yards on the ground is more valuable than an additional 1,000 through the air in most standard leagues so Newton is the best of both worlds. With Kelvin Benjamin returning to the receiving group, the Auburn quarterback has a chance to surpass his 45 touchdowns from last year. If that happens, there is a good shot he is the high scoring fantasy NFL player this year.
New Orleans Saints: Who do you draft first, Mark Ingram or Brandin Cooks?
There is a lot of football news hype surrounding Ingram finally having a big year that warrants the first round pick spent on him in 2011, but I would not buy into it. Ingram has struggled to stay healthy in his career, never reached the century mark in rushing yards, and has yet to hit double-digit touchdowns in a season. That combined with C.J. Spiller's presence has me cautioning you before taking Ingram early. Cooks on the other hand has the potential to record 1,500 yards through the air and another dozen scores. As a third-year receiver ready to embrace his prime, Cooks will be the workhorse receiver in the Saints high octane passing attack. Thus, if choosing between Ingram and Cooks, the Oregon State receiver wins out.
Tampa Bay Buccaneers: Besides Doug Martin and Mike Evans, who else do the Bucs have to offer?
Wide receiver Vincent Jackson, running back Charles Sims, and tight end Austin Seferian-Jenkins are all going to see playing time during the regular season, but they are not talents to jump at before 100 players have been drafted ahead of them. At 33-years of age, Jackson's best days are behind him, but he still may be a reserve option to spot start during your best players' bye weeks. Sims will never start as long as Martin is healthy, but he is still a third-down back that has a chance at recording 1,000 scrimmage yards for the second year in a row. If Seferian-Jenkins is able to stay healthy, the Washington product has only played in 16 games over two years, then he could be a solid backup option. Tampa Bay is still a rebuilding team, so there may be other team's backups to target in double-digit rounds.