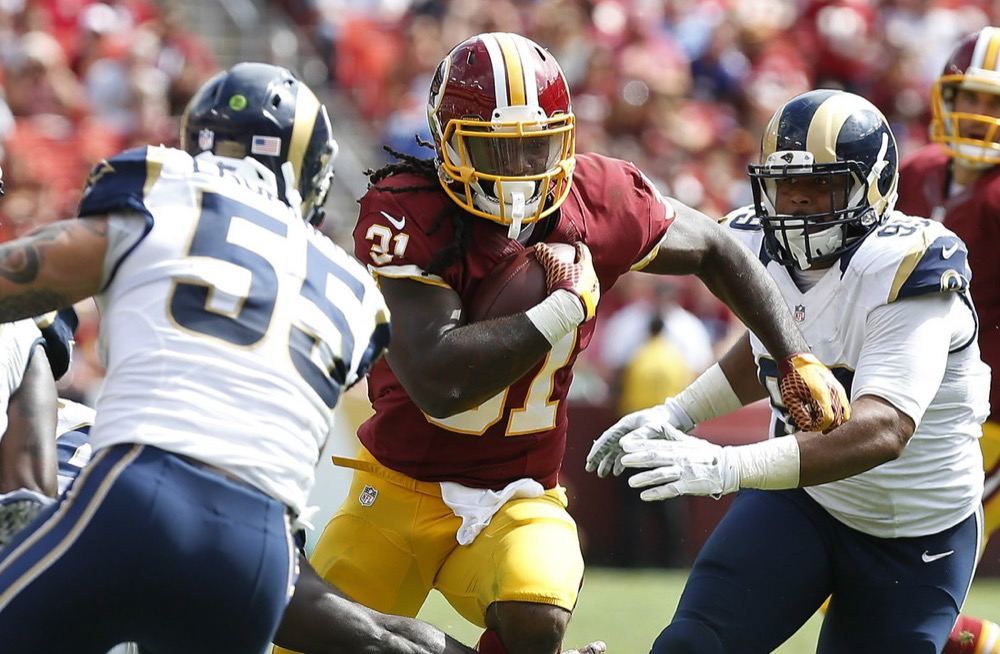 Fantasy football owners won't select Matt Jones in the early, early rounds of drafts. That's understandable considering the running back's up and down rookie season. Just don't sleep on the Washington Redskins' starter. Yes, starter and potential three-down back at that. Should he end up producing RB1-type numbers, Jones could become one of the year's swing players.
The basic numbers from year one won't impress: 490 yards on 144 carries (3.4 ypc) with three touchdowns in 13 games. That he caught 19 passes helps. That he couldn't shake a nasty fumbling habit or the injury bug won't. Those issues remain until they don't. We might not know if there's a new norm until deep into training camp or preseason.
That said, the potential is immense. The 235-pounder brings the power to run through tackles, the speed to run past defenders and the hands to help quarterback Kirk Cousins on passing downs. 
Here's another reason worth considering Jones' candidacy for a breakout season: Who else do the Redskins have? Alfred Morris is with the Cowboys. Chris Thompson will serve as the change-of-pace option, but he's not built for heavy work. Seventh round pick Keith Marshall can fly, but his injury history at the University of Georgia makes Jones look like Cal Ripken Jr. 
Washington might add a veteran before the season kicks off, but it's unclear there is anyone out there that would be a clear threat to Jones' job. The Cousins-led passing game appears so robust that one might wonder how often any opposition stacks the box with defenders. Probably not much with tight Jordan Reed plus receivers DeSean Jackson, Pierre Garcon, Jamison Crowder and Josh Doctson running routes.
Meanwhile Jacksonville's T.J. Yeldon, a comparable talent, now splits work with Chris Ivory. Jones offers more upside than Baltimore's Justin Forsett and Cincinatti's Gio Bernard.
Any fantasy NFL owner that targets receivers early while drafting a top tier tight end and quarterback, thus waiting on selecting a second RB, especially outside the top 15-20 should consider Jones then watch for him to potentially make fantasy news headlines.