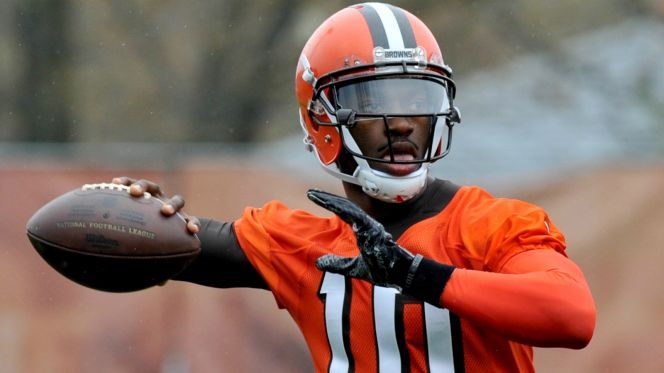 Tom Brady 
What to do, what do. The Deflategate scandal apparently is never going away, but as of now Brady is expected to go away at the start of the 2016 season with a four week However, Brady is countering the suspension ruling with his legal team, so we'll see. If his side prevails, the Golden Boy is a must start QB1 with top-5 potential thanks to Rob Gronkowski and company. If he misses time, Brady is still worthy of a mid-round pick with a draft-and-stash plan for your fantasy NFL team. 
Joe Flacco
Get ready for another round of America's favorite football news pastime, asking whether Joe Flacco is elite. That's rarely been a debate in the world of fantasy football. Just to make sure we're all on the same page, the answer is no. No, no. No. That's truly the case coming off a torn ACL that ended the former Super Bowl champion's 2015 season. Though Flacco is expected to participate in training camp, his receiving corps won't make anyone feel better about the situation. Mike Wallace is a perennial tease and Steve Smith is almost out of gas, though never fight. Even as a QB2, owners can do better. We're talking bye-week option at most.
Tony Romo 
Injuries once again knocked Romo out of the lineup, including last year's season-ending broken collarbone. Even with the risk of another injury, don't knock Romo off your fantasy wish list. There are better QB1 options, but the Dez Bryant  factor gives Romo major upside. If Ezekiel Elliott, the fourth pick in the NFL Draft, lives up to the hype, Romo's play-action passing should work with ease. Don't plan on targeting Romo as your one and only, but those who wait on QB could get nice value with the Cowboys' leading man. 
Robert Griffin III 
The glory days for RGIII seems so far away and the situation in Cleveland won't make it any easy to recapture. For now consider Griffin Cleveland's Week 1 starter, but that won't mean much for fantasy owners. He has a new squad of receivers and an able coaching staff to work with, but, shrugs. Unless Griffin gets those legs into high gear with downfield scrambles or receivers like rookie Corey Coleman take off immediately, it's almost impossible to imagine viewing Griffin as a viable fantasy option, let alone starter. Let someone buy the name value.