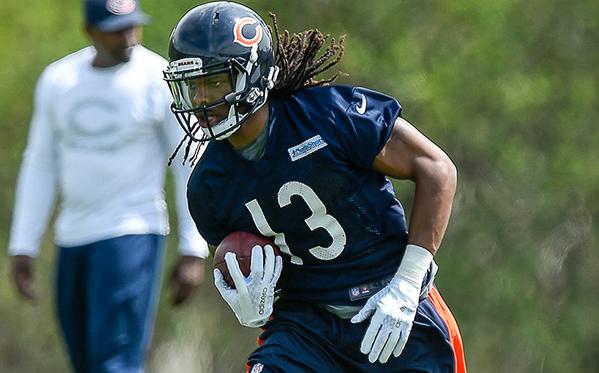 Written by Brian Murphy
27 June 2016
Every team has completed its offseason minicamps and workouts. The next time we have football players doing organized, sanctioned football things, they will come during training camps in late July. Until then, let's address a big question surrounding each team that fantasy NFL owners will be debating over up until draft day. In the first edition of this series, let's cover the NFC North. 
Chicago Bears: Will Kevin White be worth the wait?
I'm sure White would have preferred to make an immediate impact on the NFL, but he was grounded for the entirety of the 2015 season by a left shin fracture. Now healthy and raring to go, the Bears have a starting wide receiver gig with his name all over it. Currently, according to ADP data, White is a seventh-round pick, the No. 32 WR off the board, between the Dolphins' DeVante Parker and the Cardinals' John Brown. I have a feeling White's draft stock will rise once people get to see him perform during the preseason. Remember, he has been compared to Andre Johnson, DeAndre Hopkins and Larry Fitzgerald. White is going to post significant numbers this year if his health sustains. I think he will be worth a fifth-round pick by late August.
Detroit Lions: What does life after Megatron look like for the receiving corps?
On Saturday, Calvin Johnson reiterated yet again that he is done with the NFL. While Lions fans and fantasy owners are holding out for a change of heart, Golden Tate and Marvin Jones are atop the team's WR depth chart. They are backed up by T.J. Jones, Jeremy Kerley and tight end Eric Ebron. There are no dominant studs in that group, but not all hope is lost. Tate, while thoroughly mediocre last season, was the apple of Matthew Stafford's eye while Johnson was out of the lineup for three games in 2014 (40 targets, 24 catches, 349 yards, two touchdowns). However, at his current fourth-round position, the price tag is a bit too rich for me. Jones, who has a ninth-round ADP, possesses the skills to be a No. 1 wideout, but inconsistency has been the story of his three-year career. The cupboard isn't bare with Megatron retired, and Stafford can still be a valuable QB2. But as to who will be the most productive pass-catcher in Detroit, your guess is as good as mine. This could be a frustrating situation for fantasy owners from week to week.
Green Bay Packers: Which Eddie Lacy will we see this season?
Weight loss has been the focus of Lacy's offseason after he reportedly tipped the scales at 260-plus last year. The extra pounds and nagging injuries dragged his numbers down to where he recorded career-lows by wide margins in a host of categories. The reviews so far have been positive, although there is still work to be done. The Packers would like him to keep shedding weight -- he is reportedly in the 240 range -- and work on sculpting his body. Lacy's commitment to getting in shape is promising as it ostensibly shows his desire to reach his previously lofty heights; he was fantasy's No. 6 running back in 2013 and 2014. And he can return to that level. He's only 26 and still the clear lead back in a very good offense with a dynamite quarterback. Some fantasy owners may never trust him again after such a disastrous campaign, but Lacy's situation and ceiling remain appealing.      
Minnesota Vikings: Will Teddy Bridgewater have a breakout season?
The Vikings have done a nice job of putting Bridgewater in position to succeed. Wideouts Stefon Diggs, Laquan Treadwell and Charles Johnson have loads of potential. While the offensive line needs to improve its protection of Bridgewater, the Louisville alum lines up in front of a future Hall of Fame running back who is still an elite player. After a pair of similar seasons in which he threw just 14 touchdowns, Vikings brass has talked this spring and summer about seeing more from Teddy in the fall. They want him to be more aggressive and throw more deep balls. Will the Vikings, who attempted the fewest passes of any team last year, actually follow through on those wishes? It's not easy to wean off of Adrian Peterson when he is exploding through defenses, but I don't think Minnesota selected Treadwell in the first round for him to be just a decoy. Bridgewater is only a QB2, but one I would be willing to invest a no-risk pick in just to see if he blossoms. The pieces for a breakout are in place.    
Previous editions
Pressing questions from the NFC West