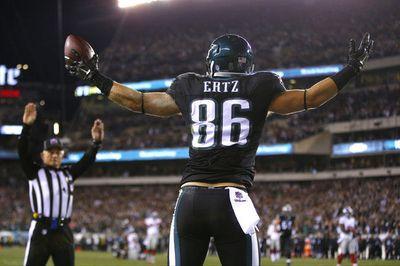 Outside of Rob Gronkowski and one or two others, tight end is a hit or miss position nearly every week for fantasy players, based solely on the fact that they can either spend the majority of their day blocking or catching passes depending on scheme. While we generally know which tight ends are worth targeting, there are still those hidden gems that can give your team the extra positional edge this season.
Delanie Walker
Walker career stats look unimpressive at first glance for an 11-year veteran, but become much more interesting after you focus your attention past 2013. Walker spent a large portion of his career sitting behind Vernon Davis in San Francisco, which at the time also had a peak Frank Gore who garnered most of the fantasy attention. In 2013, Walker jumped ship for Tennessee, where he immediately became the most consistent offensive option on that team. Over his past three years in Tennessee, Walker nearly doubled his yards total from all of his years in San Francisco combined. At some point age will catch up, but 2016 looks to be another potential career year for Walker as Marcus Mariota continues to improve as a quarterback
Zach Ertz
At 6'5'' and 250 pounds, Ertz has the frame of Gronk, but lacks the numbers. Here's why he could start posting impressive numbers starting this season. In the mass confusion of the Eagles organization last year, Ertz amassed 853 yards with the second most targets on the team behind Jordan Matthews. While the scoring option has emerged in Ertz's game quite yet, a 1000 yard season is definitely on the horizon.
Eric Ebron
Matthew Stafford's favorite target is gone, some guy named Calvin Johnson, so where do the balls go to next? Some will say Golden Tate, but don't overlook Ebron. The tight end could not get the ball enough while Megatron was around, so that restricted him to a red-zone threat. With Johnson's retirement, the field now opens up for Ebron to see more targets, more yards, and more overall production in the offense. With his frame, he could be a matchup nightmare for the Lions' opponents
Ladarius Green
Based on Pittsburgh's offense last season, it's difficult to suggest the tight end is one to watch in the passing game. Then again, Martavius Bryant is facing a season-long suspension and Heath Miller retired, all of which opens the door for Green, who was signed as a free agent after showing flashes with San Diego. Now Green has an opportunity, the kind he didn't have behind Antonio Gates in San Diego. Expect him to capitalize and thrive with Big Ben and the Steelers.