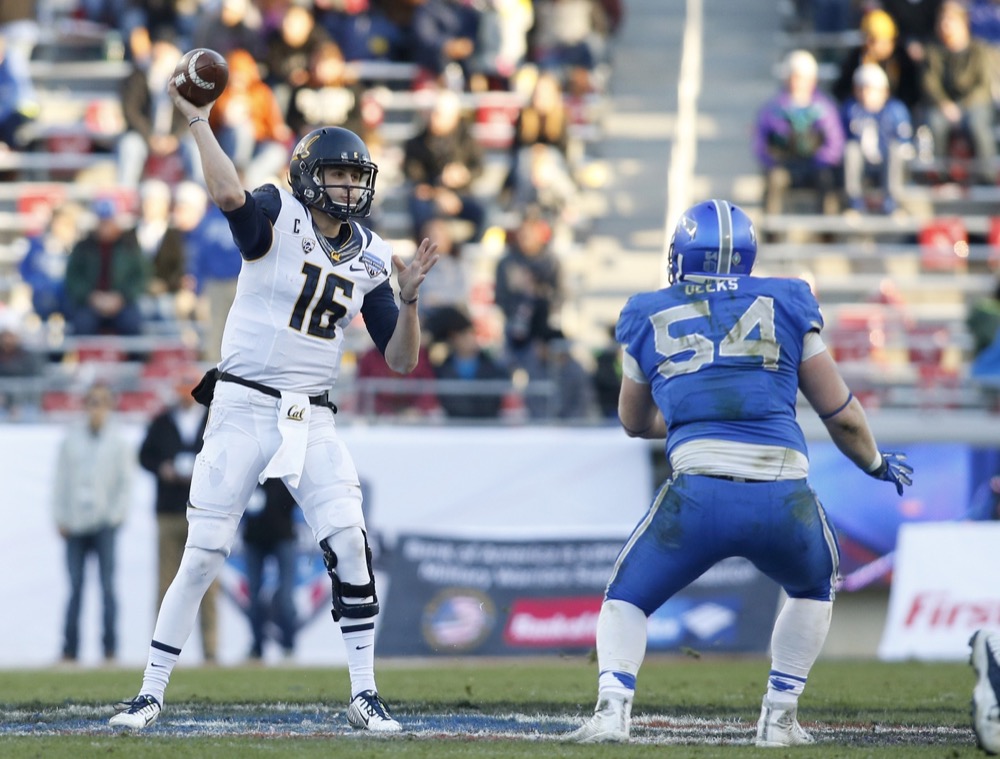 Here's the truth about the NFL: If you don't have a legitimate, playmaking quarterback, your chances of winning big go down plenty. That's why teams search high and low for signal callers in the draft. Rookies aren't always a great source for fantasy football help, but then again... 
Jared Goff 
Moving to the West Coast and doing so without a viable QB, the Los Angeles Rams gave up plenty to move all the way up to the first overall pick where they selected Jared Goff. The lengthy pass shined at Cal, finishing with a career completion percentage of 62.3 while passing for 12,191 yards, 96 TDs, and 30 INTs. Though Rams GM Les Snead indicated holdover Case Keenum could start Week 1, the rookie will likely see playing time as the season progresses. Goff is arguably the most "NFL ready" QB to come out of the draft, making his debut in the NFL all the more anticipated. Fantasy owners in redraft league can take a late round flyer and hope to catch lightning in a bottle.
Carson Wentz 
The second overall pick, Wentz actually landed in a better situation with the Eagles than Goff to the Rams. The pick by Philadelphia was a strategic move to create a long-term solution for the QB position, though it caused some drama in the locker room with Sam Bradford, who signed a two-year, $35 million contract. Bradford isn't going anywhere at least for 2016, so Wentz will have time to make the adjustment from North Dakota State, where he tossed 45 touchdown passes. Though his timeline as a starter is questionable, expect him to see at least some playing time during the 2016/2017 season. When he does, he'll have more weapons than Goff.
Paxton Lynch 
Over the course of the post season, the Broncos have lost two of their starting quarterbacks, meaning of course Brock Osweiler and Eli Manning's brother (we kid, we kid). Though the team acquired Mark Sanchez as an interim solution, Denver looked to the draft to find a new potential franchise QB. Lynch seemed to be the man for the job. Drafted as pick #26, the former University of Memphis QB has a style of play that is cohesive with the Denver offense. Lynch's stats have improved over the three years of playing at Memphis, with a total of 8,863 passing yards, 59 TDs, and only 23 INTs. 
Jacoby Brissett 
The New England Patriots don't mind taking young quarterbacks even with that Tom Brady guy around. This year, they took the North Carolina State product in th third round after he threw for a combined 5,268 yards, 43 TDs, and 11 INTs. Though Brissett did not have the same pre-draft attention as Goff or Wentz, there was a reason the Patriots drafted him. It will be interesting to see where Brissett ends up in the future, whether he is starting for another team or filling in for a retired Brady.
Dak Prescott
Last season Dallas suffered from not having a consistent backup QB when Tony Romo was injured. Enter Prescott, the Cowboys' fourth round pick. The rookie out of Mississippi State is a dual threat, passing for a total of 9,376 yards, 70 TDs, and 23 TDs and rushing for a total of 2,521 yards and 41 TDs over the course of four years.  Should Romo fall prey to another injury, Prescott could take over the starting role. It will be exciting to see what Prescott can do when he makes his NFL debut, especially with the strong OL in Dallas. The real question is whether he can build enough trust with the Cowboys to make him the true heir apparent whenever Romo is done.