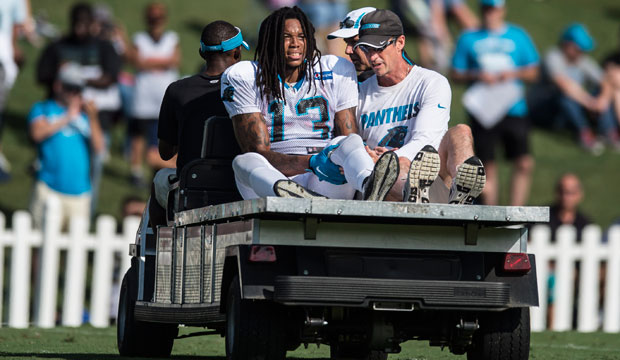 Written by Brian Murphy
31 May 2016
Football is a brutal sport. Any casual fan or the Buffalo Bills' general manager will tell you that. Injuries are a part of the game. They are a recognized occupational hazard with sometimes career- and life-altering consequences. It wasn't long ago when tearing the anterior cruciate ligament in your knee put many players on the fast track to retirement. And while the injury still affects players at all levels at alarming rates and requires a long and arduous rehabilitation, there are plenty of examples of players who have made it back from a torn ACL to perform at elite levels (See: Tom Brady, Adrian Peterson, Rob Gronkowski, Jamaal Charles, just to name a few).
Two players looking to experience similar post-injury success are wide receivers Jordy Nelson and Kelvin Benjamin. Both players suffered their tears in August and have been rehabbing since. Both are also reportedly on schedule to suit up for Week 1 of the regular season in about three months. So which player should you favor in your fantasy football drafts? Let's take a quick look at their cases.
Jordy Nelson, WR, GB                                      
Nelson was coming off a Pro Bowl campaign when he went down in a heap untouched during a preseason game versus the Pittsburgh Steelers. In 2014, Nelson took 98 receptions for 1,519 yards and 13 touchdowns. He finished as fantasy's No. 2 wideout in standard leagues. It was the best season for a guy who already had two years with at least 1,200 yards and eight touchdowns on his resume. Nelson's main weapon is his speed – one of his nicknames is "White Lightning" by the way. But he's not a one-trick deep threat. Nelson can run the entire route tree and can fight through man-to-man coverage, something Packers head coach Mike McCarthy has admitted was a problem for his receiving corps last season. Being Aaron Rodgers' No. 1 receiving option is a feather in his fantasy cap, and Nelson's skill set will keep him productive even as Father Time takes away his straight-line explosiveness. Nelson turns 31 this week.
Kelvin Benjamin, WR, CAR   
Benjamin had just one NFL season under his belt when his knee gave way during a training camp practice. But 2014 was quite a debut year for the former first-round pick. Benjamin put up more than 1,000 yards and nine TDs. Many of his big plays came off of jump balls, because no matter the defense against him, Benjamin can sky over just about anyone with his 6-foot-5 frame. That size makes up for Benjamin's lack of speed, and the Panthers definitely hope he can improve upon his 50.3 percent catch rate. However, Benjamin showed a tremendous rapport with quarterback Cam Newton and, for all of his warts and all of the parts of the game he hasn't quite mastered yet, he concluded his rookie year as fantasy's No. 16 WR. The 25-year-old may be only scratching the surface.
Verdict
According to FantasyFootballCalculator.com's average draft position data, Nelson is currently the fourth pick of the second round in standard 12-team leagues right now. Benjamin is the sixth pick of the third round on average. That's quite a gap; Nelson is the draft's No. 8 wideout while Benjamin is No. 16.  And I think I would rather take Benjamin has the lesser price. He should be able to improve his hands, and it helps that Newton is getting better as a passing quarterback. Of course, you can't get much better than Rodgers already is, but I think Nelson, foremost because of his age and reliance on acceleration, will be more hampered by his knee injury than Benjamin. Yes, he can do other things as a receiver than run fast, but I am concerned about how much he may have to adjust his game. Plus, there's more competition for targets in Green Bay than there is in Carolina, and the Packers should be able to run the ball better this season, which, in theory, should reduce their pass attempts. Give me Benjamin and his high likelihood to notch double-digit scores a round later than the Packers' veteran.
However, there is no disputing that the real winners here are Newton and Rodgers as they get their top target back in the fold. Not surprisingly, those two are the first QBs coming off the board in drafts right now.