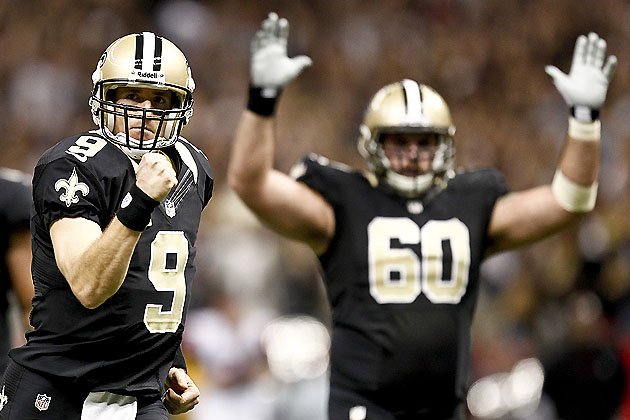 Quarterback: Drew Brees has aged well over the years and 2014 was another productive offensive season for the thirty-six year old QB even when the Saints were mired in losing. He is the Machine's fourth QB with an ADP in the fourth round. Although Bree's All-Pro TE Jimmy Graham has departed, we will bet on Brees making do with even limited talent on the field.
Running Back: Both Mark Ingram and C.J. Spiller may be over drafted in standard leagues. Ingram certainly has a stronger outlook and he is projected in the fourth round by the Machine. Ingram is remarkable consistent last year, but his 2014 contract year might have possibly been a fluke. His 74.2 yards per game average will surely decrease with the signing of C.J. Spiller.
Spiller is extremely interesting in Sean Payton's scheme. There is always an injury possibility which makes his 6th round projection a risk. Spiller is going to be utilized as a passing down back and will surely be fantastic in PPR leagues because Brees is a master at checking down to his backs.
Wide Receiver: It's too bad Brandin Cooks was injured Week 11 last season. His numbers will surely jump when he becomes the Saints' number one target and having a QB as accurate as Brees means his upside is impressive. The Machine has Cooks as early as the third round. It is helpful that Cooks can play as an outside and slot receiver.
Marques Colston has lost a step or two, but he was still quite productive in 2014 with 902 yards and five scores. Colston can be a serviceable WR3 and possibly a WR2 because he will be the primary pass-catcher who makes up for Jimmy Graham's production. Hopefully he will be getting more looks at the end zone which is why Colston has some decent upside.  Look for Colston to make our fantasy updates every now and then.
We are not sure who will become the Saints' number three WR, but the competition is Nick Toon and some other unnoticeable receivers.
Tight End: Josh Hill
Josh Hill is nothing to get excited about. He certainly won't be Jimmy Graham but Hill may be a good asset especially with his low ADP. The Machine has him in the 16th round because even though he has limited talent, he will be getting consistent snaps. Consider him a TE2 on your fantasy roster.
For the most updated sporting news, keep reading ASL!