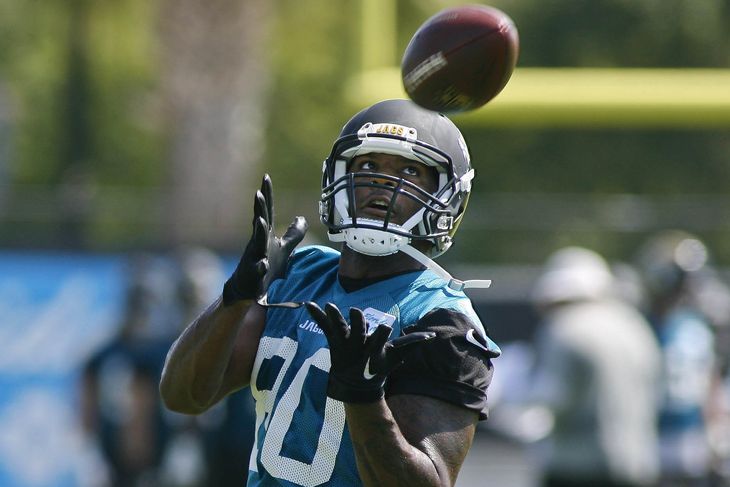 Overall picks generated by "The Machine" are listed next to each player.

Fantasy News
QUARTERBACK

Blake Bortles (166) will start for the Jaguars this season. The third overall pick in the 2014 draft completed 58.9% of his passes for 2,908 yards, 11 TDs, and 17 INTS. Though his rookie season wasn't stellar, Bortles has used the offseason to work on his mechanics. Jacksonville is looking to make Bortles a franchise QB, which has led many to believe that Bortles will greatly improve this season. Though he is a bye-week or QB2 option at best, fantasy owners should keep in mind the time that Bortles has had to further develop and the upgraded receiving corps he now has to pass to.

RUNNING BACKS

Rookie T.J. Yeldon (101) has been named the starting RB for the Jaguars. Yeldon has been herald as the solution to the Jaguar running game, and is expected to be a three down back. Throughout his three years at the University of Alabama, Yeldon ran for 3,322 yards and 37 TDs. Averaging 5.76 yards per carry, Yeldon has potential to be a huge factor in the Jacksonville offense. With the opportunity that Yeldon has under the Jags, fantasy owners should look to draft him as an RB2 option.

Toby Gerhart and Denard Robinson will be supporting Yeldon in the running game. Gerhart had a disappointing 2014 season rushing for just 326 yards and 2 TDs. Though there are other options in the Jacksonville backfield, it looks like Gerhart may have a partial role as fullback. Robinson led the Jaguars in rushing last season running for 582 yards and 4 TDs. Though Robinson will be splitting reps with Yeldon, there are better bye-week options.

WIDE RECEIVERS

Allen Robinson (56) has the potential to be a breakout star for the Jaguars. During his rookie season Robinson caught 48 passes for 548 yards and 2 TDs in 10 games. Listed as WR1, it looks like Robinson is fully recovered from a stress fracture in his foot that he suffered last season. If Bortles improves, it is possible that Robinson can be a 1,000-yard receiver. Look to draft Robinson as a WR2 or flex option.

Allen Hurns (173) led the Jaguars in receiving last season. Hurns caught 51 passes for 677 yards and 6 TDs. Going into his second season, it looks like Hurns will have to compete with fellow wide-out Marqise Lee (170). Lee received for 422 yards and 1 TD last season. The competition for WR2 will likely be decided during training camp. Look to draft Hurns or Lee for bye-week options.

TIGHT END

Julius Thomas (79) is a top 10 TE, adding a new dynamic to the Jaguar offense. Though many have questioned his overall talent considering he was getting passes from elite QB Peyton Manning, Thomas is still a pro-bowl, veteran TE in his own right. Last season Thomas caught 43 passes for 489 yards and 12 TDs. Thomas is an easy TE1 pick, as he will be quickly integrated into the Jaguar pass rotation.
For the latest in sporting news and fantasy updates, stay tuned to ASL!