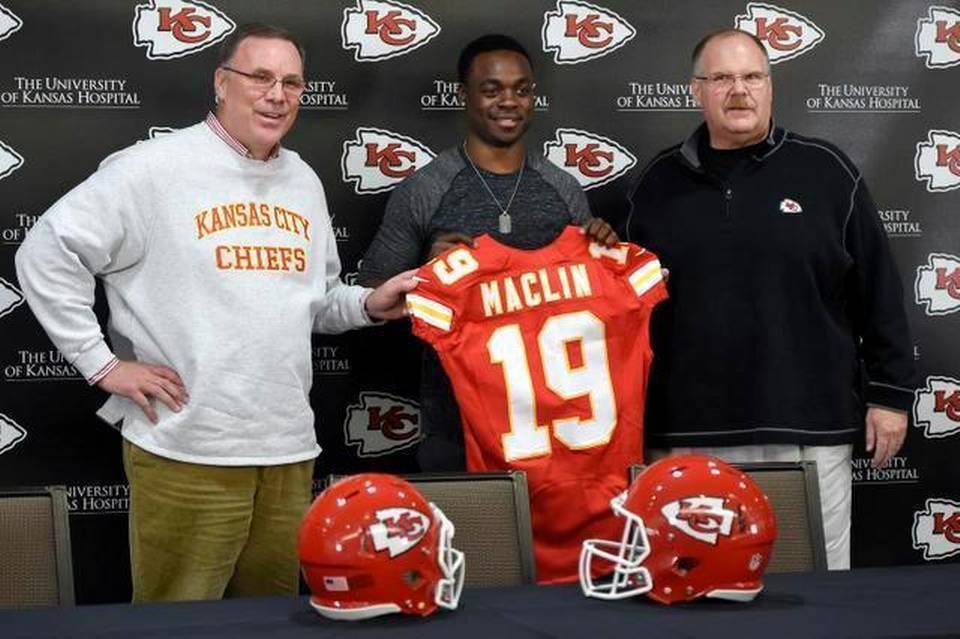 WR Fantasy Football News
Jeremy Maclin – Eagles to Chiefs: It looks as though Alex Smith may at long last throw a touchdown to a receiver, a feat he didn't accomplish in 2014. In WR news, Maclin is coming off his most productive year at the position after scoring more than 190, and now he will bring his talents to a KC offense on which he will be the featured target. He is falling down the draft boards in many cases because of the Chiefs' poor passing performance last year, but look for him to surprise many with a strong 2015. Chalk up the lack of production on Kansas City last year to the bad receiving talent on the roster, not the system or the quarterback. Maclin should put up solid numbers under his original coach. Andy Reid's west coast style game plans create opportunities for exciting and athletic playmakers and Maclin performs best in a spread offense. He's a reliable 2nd fantasy wide receiver this year.
Percy Harvin – Jets to Bills: This seems to be a player whose production has always been over-hyped because of his name. Percy Harvin has been plagued by injuries throughout his career, but has managed to stick around due to impressive and exciting preformances between his maladies. It is wise, however, to stay away from him this year because he will likely go too high in the draft for his realistic potential and quite conceivably could get injured again. The quarterback situation in Buffalo is untrustworthy and so is he.
Andre Johnson ­– Texans to Colts: This is a move that will work wonders for the former Texan's fantasy value. There isn't much of a complicated thought process to it. Andrew Luck is a top 3 QB and the Colts offense favors smart receivers who can understand complicated playbooks and be in exactly the right place at exactly the right time. The Indy offense is perfect for experienced veterans like Johnson because in it, football intelligence is as vital has blazing speed or pure athleticism. It helped revive Reggie Wayne's career and should do the same for Dre, who hasn't seen a good passer since Matt Schaub declined. An all-pro season isn't in order, but expect consistent WR2 numbers from Johnson. Hard calling a potential Hall of Famer candidate a fantasy sleeper, but Johnson could qualify this season with a little Luck.
Torrey Smith – Ravens to 49ers: Smith will join his former teammate Anquan Boldin in San Francisco for the 2015 in what has proved to be a dynamic duo in the past. The two have extremely complimentary styles of play. Smith's outstanding speed, raw talent, and big play ability make him a dangerous deep threat while Boldin's refined routes, experience, and reliability have shown the veteran to be a staple of consistency for any offense. The Niners' young quarterback Colin Kaepernick should benefit from being able to throw to a pass catcher who relies less on complicated NFL-style routes and more on athletic ability to get past defenders in Smith. Look for the former second-round pick out of Maryland to continue to have a similar role to what he had with Baltimore for the majority of his career. He won't get an overwhelming amount of targets, but those that come his way will have big potential in terms of fantasy points. Smith should be on your radar as a bench receiver with upside around the 100th pick or so.
Keenan Allen – Chargers: Let me explain. I know that Keenan Allen was not among the NFL free agents this offseason, but he will be greatly affected in this upcoming year by some key signings that San Diego made. Namely, those important signings came on the offensive line. The Chargers had one of the worst units in the game last year, if not the worst. That meant imbalance with the ineffectiveness of the run and too much pressure for the success of the pass. With the somewhat unlikely -but intelligent- resigning of veteran King Dunlap, a long-armed and physically gifted athlete who was staple of the line last year, and the acquisition of the strong and mobile Orlando Franklin, a former Bronco with good size and impressively quick footwork, the Chargers have revamped the offensive line. The trend hopefully will continue, but if things stand as they are, Allen should experience a large boost to his numbers in 2015.
For the most updated WR fantasy news, stick with ASL all season long!