Dallas Cowboys - Darren McFadden and Joseph Randle
This offseason was, dare I say, "boring," for Jerry Jones, who was trying to replace a record-breaking runner and fantasy RB stud. Maybe he is buying into to the, "Jerry Jones could run a thousand yards behind that offensive line," hype? He did not draft a running back. He could not keep DeMarco Murray, and he couldn't trade for Adrian Peterson, who has been in RB fantasy news and practically begged to get out of Minnesota earlier this year. Instead Jones signed a veteran back, with injury and consistency problems, Darren McFadden. His competition is Joseph Randle, a third- year pro from Oklahoma state who had an eye-popping yards per carry average and really flashed his brilliance last season.
Joseph Randle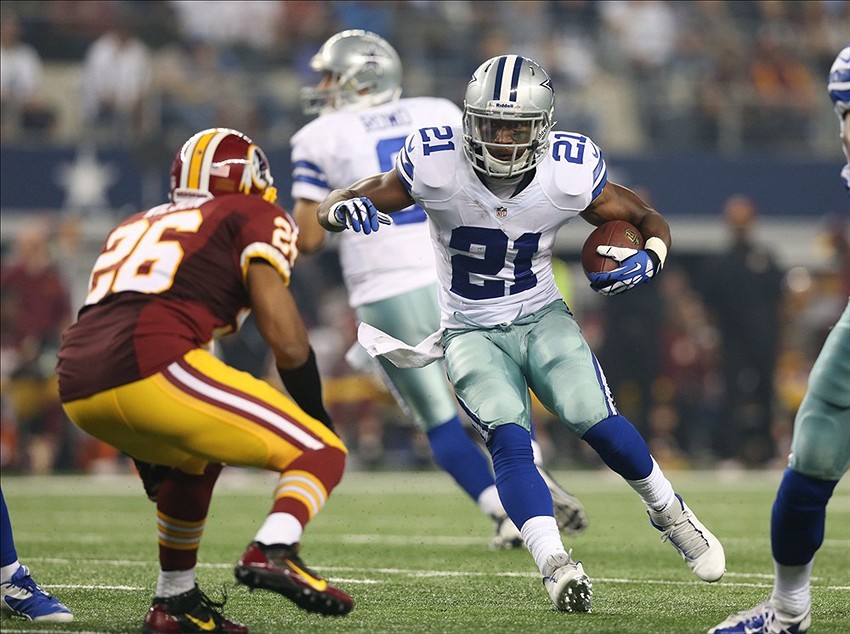 Despite McFadden taking first team repetitions in the beginning of June, some believe it will be Randle who starts next season. Randle ran for more than 340 yards on 51 attempts (6.7 ypc). Joseph has had the luxry of being behind an offensive line with little, if any, weaknesses but a 6.7 yard average is something that can't only be made by a o-line, but by the ball carrier as well. The coaching staff has looked at Randle's yards per carry average this offseason and said they have taken notice of his big-play potential and the ability for him to be a third-down back.
Darren McFadden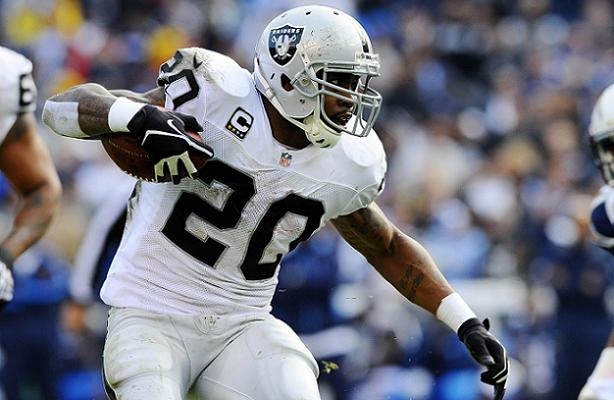 The signing of Darren McFadden was an interesting choice. He still has the speed and the ability to break the occasional tackle, but even with the best offensive line in the league, he will be hit, and odds are he will get hurt at some point. In 2014, McFadden averaged 3.4 yards a carry after running the ball 155 times for 534 yards. McFadden is in a situation where he can't get much credit for good play. If he has a good season it will be because of the offensive line, but if he has a bad season it will be Darren being Darren. Jerry Jones has the confidence in him that most don't, "You've got a good chance to not live up to expectations," he continued, "Because when you are drafted that high, people think that you are going to be the next Jimmy Brown.  So, yes he would have liked to have had a more productive career.  But the kinds of skills that got him drafted with the fourth pick in the draft, he still has."
Prediction - Joseph Randle and Darren McFadden
Joseph has improved this offseason and impressed last season, which is much more than McFadden did. The third-year running back will prove much more durable and consistent than Darren. Randle will get seventy percent of the carries while Darren McFadden will get the other thirty.
Oakland Raiders - Latavius Murray and Trent Richardson
After a promising year for quarterback Derek Carr, the Raiders are trying to find a feature back to pair up with their young quarterback for years to come. Oakland is bringing in two new running backs, including Trent Richardson and Roy Helu jr. Helu will mostly be used in the backfield as a swing man or in the screen game. Latavius Murray is another running back who has the offensive coordinator, Bill Musgrave, excited to start working, "I have positive impressions, very positive impressions. Tremendous size and speed." Richardson is a third year player who is on the verge of being forced into retirement due to his very disappointing play.
Trent Richardson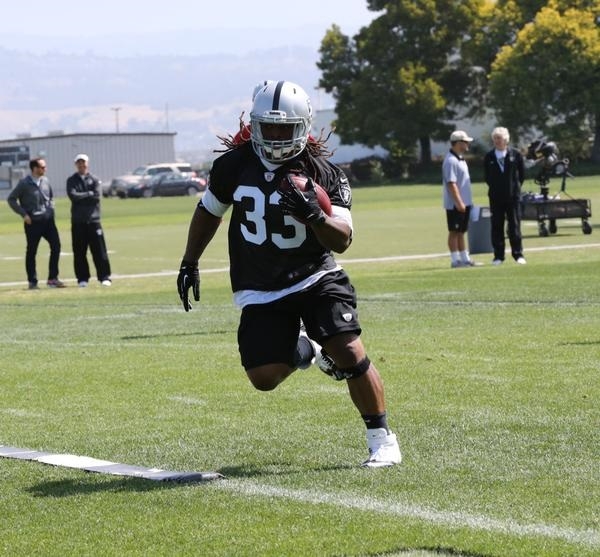 Trent Richardson ran for 519 yards in 15 games last season on 153 carries. . Trent has averaged a 3.1 yards per carry average over the last two season which is last in the league for running backs with at least 150 carries and have played both the 2013 and 2014 seasons. Richardson did have some shining moments in his rookie year but his 2014 campaign really hurt him, but new head coach Jack Del Rio thinks he will turn a new leaf, "I really believe if he can recapture that then he has a chance to maximize that potential. And that potential is great," when asked about his hunger and desire to improve.
Latavius Murray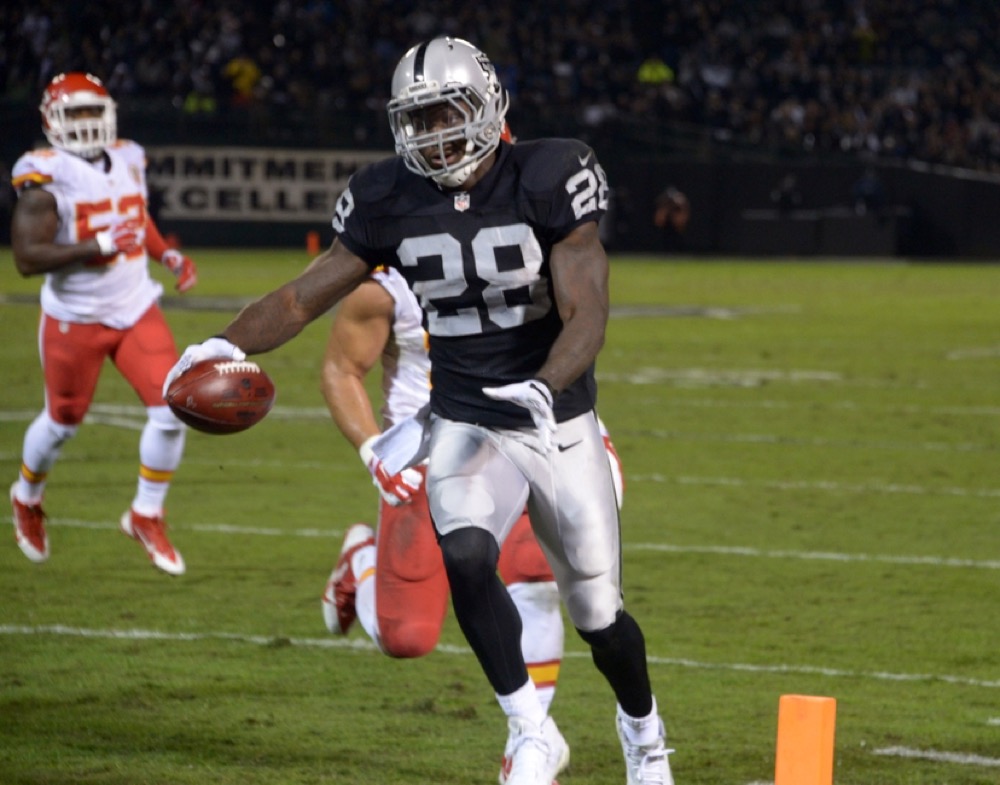 In 2014, Latavius Murray did not run the rock much at all in the beginning of year, but once the Raiders coaching staff finally realized that Darren McFadden was just not reliable whether it was injuries or running ability, Murray got his opportunity. Murray carried the ball 82 times for 424 yards and averaged 5.2 yards a carry. His game against the Kansas City Chiefs in week 12 was Latavius' break out game where he ran for 112 yards on four carries and two touchdowns. Going into 2015, he only has 82 career carries so while he does have flashy numbers, they are also very unreliable.
Prediction - Latavius Murray
Murray is a running back who has size, speed, and ball carrier vision. His 5.2 yards a carry will be a number that has the coaching staff salivating at the opportunity of giving him 20 carries a game.
Stay tuned to RB news with ASL!