New York Jets - Eric Decker and Brandon Marshall
Despite sharing multiple compliments and giving each other nicknames, one of these wide outs will have to fight and emerge as the number one wide receiver. Both receivers held that distinction on their respective teams and posted decent to good numbers despite inconsistent to abysmal play from their quarterbacks.
Eric Decker
Decker's 2014 season was a bit disappointing. After averaging 86 receptions, 1,176 receiving yards, and 10.5 touchdowns in his last two seasons in Denver as Peyton Manning's, "left hand man." With New York, The veteran wide receiver found himself in the end zone only five times and had less than 1,000 yards for the first time since 2011. Decker has the ability to be a number one receiver, but he needs another quality target on the other side that can relieve some of the pressure that he endured last season. One advantage that he has over Marshall is the familiarity and timing with starting quarterback Geno Smith.
Brandon Marshall
Even with a rising star in Alshon Jeffery on the other side of the offensive line, Marshall caught 61 balls for 721 receiving yards and eight touchdowns while carrying multiple nagging injuries throughout last season. This season, Marshall has a new quarterback who he has moved in with and is taking the, "older brother," role with Geno Smith. Having a  personal relationship is a step in the right direction in the gelling of new players, especially when it is a quarterback and a wide receiver. Marshall is a large red zone receiver who can make tacklers miss in open space which is something the Jets have not had consistently for some time.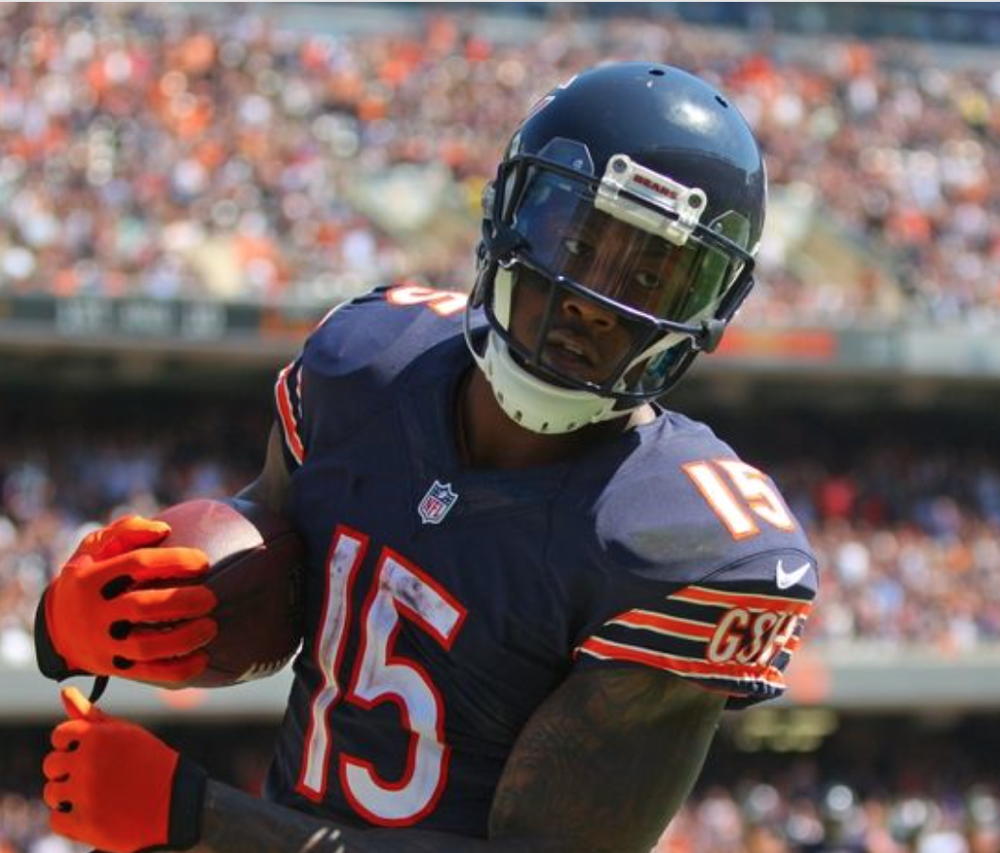 Prediction - Brandon Marshall
If he can stay healthy, Marshall's size, consistency, and experience will outshine Decker, making him his roommates go to guy.
Indianapolis Colts - TY Hilton and Andre Johnson
Hilton had the luxury of being Andrew Luck's go-to guy in Indianapolis this past season, beating out 36-year-old Reggie Wayne and Donte Moncrief, a rookie who was a surprisingly quality player. Andre Johnson was in a constant dispute with Texans management about a contract, was riddled with injuries, and had two below average starting quarterbacks during the 2014 season.
Andre Johnson                                                
Despite changes and inconsistency at quarterback, Johnson caught 85 balls for 936 receiving yards and three touchdowns while missing one game for a concussion. In  2013, his last season where he played all 16 games, Johnson topped 1,400 receiving yards. Johnson comes into a season with the best quarterback he has ever played with. If he stays healthy, there is a strong chance his numbers look like 2013.
                                                            
T.Y. Hilton
Hilton has proven himself as a dangerous weapon with blinding speed and great hands. He finished last season with 82 receptions for 1,345 yards and seven touchdowns, leading to his first Pro Bowl selection of his career. With an improved backfield, there might be a slight decrease in pass attempts but Luck will continue to throw his way and lots overall. Even though Hilton. has the experience and timing with Luck, Johnson experience and competitiveness will make this a tight battle for targets.
Prediction - T.Y. Hilton
There won't be an outright answer from camp, but the numbers and targets will show that the familiarity between Luck and Hilton is too much for Johnson to overcome.
Stay tuned to ASL's WR fantasy news for the most complete news source!