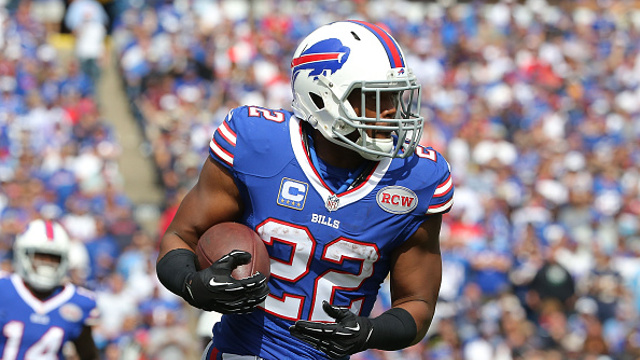 At age 34, Buffalo's Fred Jackson is the oldest running back in the NFL. He vowed to be productive and make the Bills backfield as competitive as possible, but the fact is, he's a long shot to even make the team. Rumors are swirling that Jackson is the odd man out to make the Buffalo Bills 53-man roster. The team payed a hefty price to acquire 2013 rushing champion, LeSean McCoy is who obviously one of this season's top fantasy football keepers. McCoy will undoubtedly take on the lion's share of work in Rex Ryan's ground and pound scheme.
After McCoy, the Bills sport a trio of younger backs who have yet to prove themselves in the NFL. Anthony 'Boobie' Dixon was hardly productive as a runner last year, but he is seven years younger, a bigger bruiser and stole away 100+ carries from Jackson in 2014. Bryce Brown is ten years younger and immensely talented on his feet and could turn out to be one this year's fantasy sleeper picks. Brown's biggest problem is holding onto the rock. His best numbers were posted as a backup for the Eagles behind McCoy and he can now return to that role in a different uniform.
The Bills also used a fifth-round draft pick on Florida St. running back, Karlos Williams. Fifth-round picks aren't dead-set locks, but typically their chances are very good. Bills offensive coordinator, Greg Roman, wants to keep just four running backs on the roster to make room for other skill positions. Cutting Jackson can save 2.5-million cap space for the Bills this season and give the franchise more flexibility in years to come. All signs point to the youth winning out, so what does that mean for Jackson?
A year after finishing as a top 10 back in fantasy, his production dropped more than two-fold and Jackson was the number 24 running back in 2014. Father Time has never lost a battle and it may be in Jackson's best interest to retire as a Bill to a fan base that has cherished his efforts for the past seven years.
Let ASL be your guide this season for all NFL fantasy sleepers!