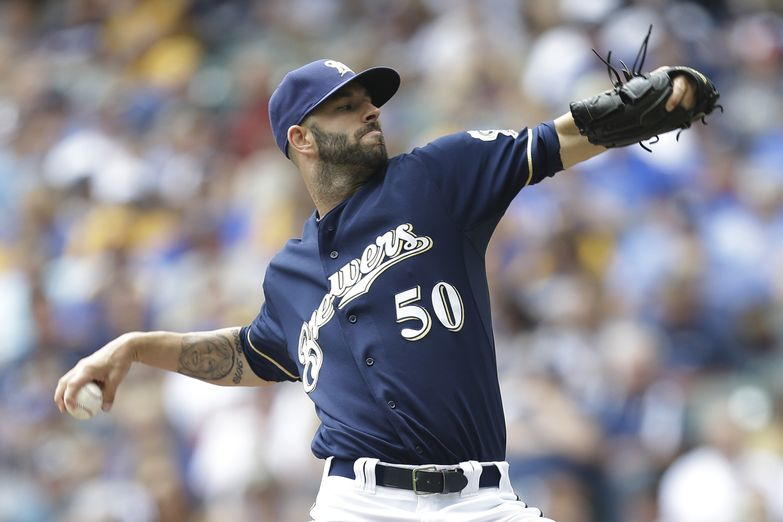 With the upcoming draft, we have been covering a wide variety of fantasy baseball sleepers, but this list is more about the potential busts. Pitchers who have limited upside and would be better off on any other team besides yours.
Mike Fiers - Milwaukee Brewers
Calling Fiers' 2014 campaign lucky is unfair and a discredit to a collection of solid outings. Plenty of owners saw Fiers fall into their lap late off the waiver wire. He registered an outstanding August and a fine September, though he wasn't going as deep into games. Fiers September included an increase in hits and walks allowed. In 2015, he likely will return to those workman like numbers. His personal dip is indicative of the entire Brewers team in 2014, which saw the wheels fall off the wagon of their division lead and playoff spot late in the regular season. There is no need to avoid Fiers like the plague, but certainly be aware that his previous production certainly isn't sustainable for 2015.
CC Sabathia - New York Yankees
Though Sabathia was injured for the majority of 2014 and it's unfair to judge him on that alone, his steady decline in production over this latter half of his career is reason enough to avoid. In his last full season of work, 2013, Sabathia allowed the most runs in MLB. He tallied his worst ERA+ in his career and also allowed 28 home runs, a career high for the former ace. Sabathia's decline is written on the wall. Add a trying injury recovery to that and you have a player to steer clear of in 2015.
Corey Kluber - Cleveland Indians
Kluber put in an outstanding 2014, securing the Cy Young Award—and rightfully so. But, there is reason for hesitation. A Cy Young Award does not guarantee future continued dominance—just ask RA Dickey. There is no reason to solely look at Kluber's 2014 campaign in the same sense that you can't just assume Justin Verlander is a bum pitcher because he struggled last season. When drafting a fantasy baseball team, you have to factor in a pitchers' entire body of work. 2014 was Kluber's first year with more than 25 games started and 150 innings pitched. He also had never previously had a season with an ERA+ over 100, the league average, or a FIP under 3.30. It's fair to think that Kluber figured it out in 2014 and will be a stud from now until the day he calls it quits. But it's also fair to hold out reservations and not overspend on him in an auction draft.
A. J. Burnett - Pittsburgh Pirates
At 38-years-old, Burnett has announced that this will be his final season. He obviously sees his own decline, and you should too. Last season he posted one of his highest career WHIP and worst career ERA+. He is headed back to the Pirates, so he should see an increase in wins from last year, where he only posted eight. However, Burnett is no longer investing in his own future, and neither should you. With his age and decline, Burnett's best days are behind him.