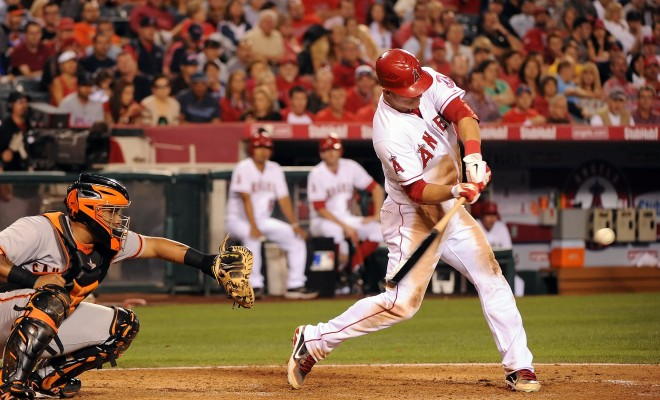 Mike Trout - Los Angeles Angels
Arguably the best player in MLB Fantasy, Trout is poised for another MVP season. Trout, just 23 years old has been on a tear since he has come into the league. The 2014 MVP finished batting .287 with 36 HR and 11 RBI. That was his lowest batting average since he has come into the league but his power numbers continue to get better. Trout has vowed to become a better hitter and strikeout less. He will help your fantasy team in every facet of the game is worth the first overall selection in the draft.
Andrew McCutchen - Pittsburgh Pirates
The 2013 MVP, is next up on our list. Andrew McCutchen has been unbelievable for the Pirates in the last few seasons finishing in the top 3 in MVP voting the past couple of years. If it wasn't for Clayton Kershaw's remarkable 2014 season, McCutchen could have easily been holding 2 MVP trophies. He finished last season batting .314 with 25 HR an 83 RBI. He's been dealing with a lower back issue, but is expected to be completely healthy for the upcoming season. Look for his power numbers to stay steady as well as his batting average. McCutchen is as close to a sure thing you can find in this years draft.
Giancarlo Stanton - Miami Marlins
Stanton is coming off an incredible 2014 campaign. His season was cut short after his terrifying injury but he is completely healthy for the 2015 season. Stanton finished last season with 37 HR and 105 RBI batting .288. Stanton is often considered the most feared hitter in the league because of his ability to take any pitch to any part of the park. His unbelievable power to go along with his great eye makes Stanton one of the premier players in our game today. Stanton will look to lead the Marlins to the playoffs, and will only do so by having a similar season to last years.
Paul Goldschmidt - Arizona Diamondbacks
Goldschmidt's 2014 season ended only 109 games because of a left hand fracture. We only saw glimpses of the type of player Goldschmidt can become. In 2013, Goldschmidt had a stellar campaign batting .302 with 36 HR and 125 RBI. He brings a big power bat to your lineup as well as the ability to hit for a high average. If he is able to stay healthy throughout the 2015 season, he will likely have another great season and prove to fantasy owners that he is one of the top bats in the league.