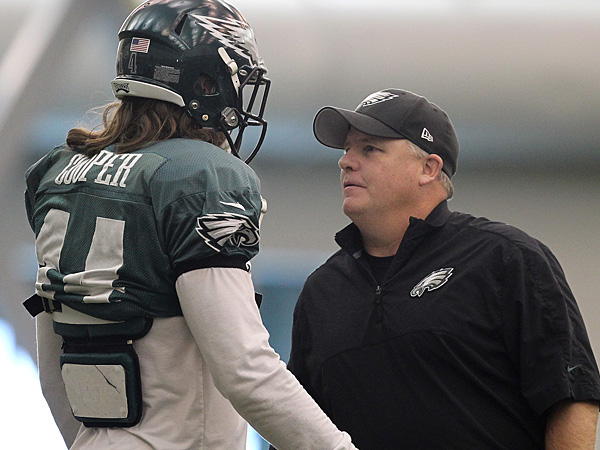 I simply want to ask: "What was such a problem that required a complete overhaul of the Philadelphia Eagles?" Someone define for me the problem with the Eagles that needed a nuclear bomb solution?
Let this upcoming thought sink in before you pass by it too quickly, because I have written it a few times in the past weeks/months…
Nick Foles was 15-4 (78.9%) as a starter for Chip Kelly (including one game he didn't start, but came in quick for Vick…and won the game). With the awful, 'wrong for the system', lead-footed Nick Foles…Chip Kelly won 78.9% of his NFL games. In a 16-game season, a 78.9% winning percentage equates to 12.6 wins in a full season.
My question remains—what was so radically wrong with that pace that the entire thing had to be blown up?
How many wins were being left on the table?
LeSean McCoy was there too. So was DJax in 2013, then Maclin returned 2014. The crazy gambling defense was there as well. Chip Kelly was there…and they won 78.9% of their games—under Foles.
How many yachts can you waterski behind, Mr. Gekko?
You do a minor tweak to a 78.9% winning percentage 'system'…you don't fire sale it within two weeks and replace all the parts.
My wife's minivan had no issues for the first two-years of its 'life'. It has been a champ. The other day our van had a very slight hesitation when I hit the gas pedal coming off a light, but it never happened again the rest of the day. That little blip did not cause me to rush the van back to the dealership and ask them to replace the engine, transmission, and frame because of a minor hiccup.
In Chip Kelly's case, in my minivan analogy, he has not only taken the no-problem van into the dealership for a massive overhaul—he then replaced all those key components with rebuilt parts that had mostly failed in other vehicles prior. He definitely did not check the Carfax. Most of the new parts have serious wear and tear, and have failed (physically/injury-wise).
How the world generated such a hatred for a 78.9% winning percentage QB–I have no idea. Tim Tebow was lauded as 'a winner', as was/is Marcus Mariota….both 'winners' due to a 'system'.Nick Foles won in a 'system' too…a lot. He is reviled for it. I have no words left to explain why this is.
The world, and Chip Kelly, DID love Michael Vick as Kelly's anointed starter in 2013…and Vick went 1-3 (25.0%) as the main QB for Philly—and Kelly's was ridiculed as a joke following an embarrassing blowout at Denver. Somehow the 'system' that makes all QBs great didn't work with Vick. Thankfully, Foles would come in and save Kelly's precious 'system', and took the Eagles to the division title.
The world loved Matt Barkley—"best player in the draft," many experts told you in January 2013. They would later backpedal from that, and Barkley would fall all the way to Kelly at pick #98 in the draft—despite having Vick and Foles under contract. Barkley was perfect for the 'system' per Chip Kelly. However, last season Barkley was doing so well he was discussed as likely to be cut. He was beyond a nightmare in his one start (0-1, 0.0%) in 2013. However, Barkley stays, and Nick Folesmust go.
You think Chip Kelly knows QBs? He picked Michael Vick to start over Nick Foles in 2013…which was a massive mistake; history judged. Matt Barkley is/will be judged a disastrous bust—another 'system' guy surrounded by massive weapons in college who then flopped in the NFL…FLOPPED in the 'system'.
Kelly's QB brilliance also led to Mark Sanchez being pushed as better than Nick Foles. Sanchez took a 6-2 team on its way to winning another division title, and went 3-4 as a full starter (42.8%) when it mattered (excluding the meaningless Week 17 win over NYG). Once the spotlight got hot…Sanchez lost three in-a-row, and did what he always does…gets rattled, and throws inexplicable picks. That darn 'system' couldn't fix Sanchez or Vick…and couldn't make Barkley a real QB. FYI, Sanchez signed an extended two-year/$9M deal, and Nick Foles must go.
But trust me…Chip Kelly has got his next QB move figured out…
I thought Chip Kelly was going to have the most brilliant offseason in NFL history. The man who is single-handedly re-defining offense, and practice methods, etc. would certainly use his smarts to run circles around the NFL in personnel moves, right? Wrong.
I still think Chip Kelly is a football genius, but he has totally destroyed everything he has built in a matter of two weeks. He has lost credibility with the football community and players. He has the fans ready to turn on him (the ones who haven't already). If/when all this personnel overhaul activity fails in a glorious hailstorm…it will undermine everything interesting he was doing in the other areas.
History will recall these past two weeks as the time NFL owners will conclude going forward that no head coach would ever have full personnel power ever again.
I now totally get what Jerry Jones is thinking. An outsider can do this just as well (or poorly) as an insider, or a football 'genius'. Jerry Jones' personnel moves are evolving, and improving—while, I don't know what you call what Chip Kelly just did the last two weeks.
When you look at these major moves in time-line order, the illogical nature and abject desperation of them takes more shape. There have been so many flashy, coffee-talk moves to debate we could lose sight of what happened in totality. Let's take a walk through the time-line:
McCoy-Alonso trade…
I loved this deal. RBs are in high supply and mostly interchangeable in today's NFL. You especially do not want to spend huge chunks of your payroll and large guarantees on the position where the asset is most likely to be hurt or decline in performance. Kelly ditches McCoy and saves $10M in salary cap instantly for 2015, and gets a useful linebacker (Kiko Alonso) who is cheap (less than $1M in 2015)…with an NFL Draft class upcoming without a ton of ILB options. It's a brilliant move.
The Eagles address the LB need, so that's taking +1 step ahead. The Eagles save $10M on a RB, and can deploy that money all over–that's +2 steps ahead in total. This is a great start to the offseason, but it will become unraveled soon enough.
Scoreboard: Approx. $9M cap space banked for 2015 from this move
Jeremy Maclin walks…
Another smart move. I like Maclin, just not for the likely $8-10M per season it would take to keep him. You can draft a much cheaper WR, if needed…especially if everything is about 'system'. Maclin cost $5M last year, so now that's opened up too. This is smart if you redeploy the money properly.
Scoreboard: Approx. $14M cap space opened up for 2015 from the trade and no more Maclin
Cary Williams cut…
This was a bit of a shocker, to me.
Williams was playing like a #1 CB last year. Realize in today's NFL when you get hung out on an island like the Eagles do with their CBs, and the rules favor 'no touching'—you will give up some yards and points as a CB. The Eagles did do just that, but if you single out Cary Williams and equivocate his play as the reason for Philly's yards allowed–you're out your mind. It was the 'system'…on defense.
Williams' crime was more questioning the coach's methods publicly. Thus, he had to go. The coach (Kelly) can be a noted 'questioning authority', football anarchist—it's just his players cannot question the coach. The coach can humiliate the former GM/current employee publicly by proclaiming his prior year #1 draft pick (Marcus Smith) a bust in multiple press conferences, but a player cannot question the coach's decision-making in public.
Understand how it works now?
So Cary Williams, a top CB is ditched. It's a loss of a talented CB, but is also money saved towards cap, and we all assume it will be spent on a DB for sure…you'd think–maybe Darrelle Revis orDevin McCourty?
As we've seen the offseason unfold—Williams questioning the coach's mindset and system last year may have been a reality–a reality, that I (and others) wasn't ready to hear. Williams may have been right all along…something might have been rotten in Denmark.
Williams would have cost $8M this year, with a year remaining, but did cost a $1.7M hit for 2015 to cut.
Williams just signed a sweet deal with Seattle. So why couldn't Kelly have traded Williams instead of cold cutting him? This is now twice in my memory banks that the Eagles have given away assets of some value with nothing in return—cutting DJax only see him have a mega-deal signed, and now Williams to a smaller degree. Why weren't they traded for something, anything?
Scoreboard: Approx. $20M cap space saved so far with all the moves above.
Enter…Byron Maxwell?
Get rid of Cary Williams all you want, but Byron Maxwell is your 'big answer'? He's savvy, but athletically limited going into a system that requires solo-island coverage by the CB. Seattle cut the field in half because of Richard Sherman, plus had great defensive talent all over, and opposing teams could only have success throwing at Maxwell—and they had some, even though everyone knew it was coming. Maxwell was a solid CB on the most favorable system and team he could ever be on…now he is going to a team with a wide-open style that's completely different, and bucking up against his talents. *Unless they change defensive philosophy in 2015…
At best, Maxwell is no better than Williams…at worst this is going to be a disaster. If you thoughtBradley Fletcher struggled at times in this 'system', watch Byron Maxwell.
Philly filled a need here, I guess. However, this took a big hit from their 2015 cap space–which is $8.5M this year for Maxwell with $26M guaranteed committed. Devin McCourty accepted $28M guaranteed from the Pats…about 10% more than Maxwell. Do you think McCourty is more than 10% a better player than Maxwell? I don't think Maxwell is 90% of Cary Williams…and Seattle says, "Thank you, Chip!"
Scoreboard: Approx. $12M in cap space savings left for 2015, based on all the moves above….and a fresh $26M guaranteed commitment to Maxwell.
"Piss off to you, sir (Chip Kelly)"…
The Wizard of Oz curtain started to get a real yank when Mark Ingram was desired by Philly, but went to the Saints. Oz/Kelly really got exposed by Frank Gore agreeing to a deal in principle with Chip…and then walking away from it to go to Indy.
If a head coach is respected and/or liked and/or is building something magical…he will get players taking a minor discount to come join in the fun. However, key veteran players are actually snubbing Philly at this stage in the time line (no McCourty, no Ingram, no Gore, etc.). Out of nowhere Chip Kelly went from being seen as a 'mystic' that would attract free agents, to turning Philly into a somewhat toxic team free agent players eschew…the Eagles have suddenly become Raiders East or Jacksonville North, in a sense. It's a situation where you can't get talented players to come willingly or at any friendly discount, so you and your giant offseason bank account have to overspend frantically…and often overspending on lesser players…your 3rd and 4th options at various positions.
Kelly is taking hits in local and national media for ditching respected players and veterans like McCoy, Maclin, and DJax. Kelly is taking massive hits locally and nationally as appearing to have no real personnel plan. It may be all over-sensationalized, but the reality is that many players appear to be voting against Chip Kelly with their feet, and bank accounts. Thus, he is left to pursue the Ryan Mathews' of the world.
Frank Gore's snub might have been the Happy Days "Jumping the shark" moment on Chip Kelly. Kind of like Rick Pitino's cosmic blaze entry into the NBA, and then disastrous ending running the Boston Celtics (Robert Parish never did walk through those doors, did he?). In case you forgot,John Calapari used to coach and run the New Jersey Nets. On field geniuses with huge personalities and bravado don't always instantly win as personnel heads at the next level…great in college, but they rub pros/adults the wrong way. People with options tend to exercise them…away from situations like this. Not every great head coach can evaluate and properly price talent to the marketplace—a marketplace they have little familiarity with because they are extraordinarily busy coaching. It's a (dual) role that lends itself to failure for most all who traverse its rocky path.
Foles for Bradford…
I like Sam Bradford as a QB talent. I think everyone did. It's just that most of us have a brain with memory capability. I recall that Bradford has racked up so many injuries back to college that it is sad and tragic. The re-occurrence of injury is almost assured in the next 1-3 years. I've had multiple medical people tell me, when I did a little research on ACL injuries: "One ACL repair is OK to overcome. Two to the same knee—it's pretty much over in the NFL."
Bradford is definitely not something you or I or the Rams would invest heavy on in 2015…because of the fear of a looming re-occurrence…but not Chip Kelly. Not only is he an unconventional offensive genius, he also has no need for conventional biology. He went ahead and added a QB due $13M in 2015…with just the one-year remaining on his contract.
This Bradford move is breathtakingly bad for business.
If the Browns did something like acquire Bradford for a conditional 3rd-round pick, and paid him $13M for one-year as well, I would clap my hands. The Browns have to take shots on players like that. No one wants to join Cleveland willingly…that's not a cheap joke; that's reality. We'd all clap and hope it worked out well for the Browns. We would absolutely expect it NOT to work out, but we would get their 'reasonable desperation'. The Browns have been lovable NFL losers for a while now, and have trouble bringing in talent…we all get that.
However, Chip Kelly spit at a 78.9% winning percentage QB (Foles), and basically gave him away to the Rams in exchange for a QB who is 78.9% likely to blow out his knee again…or shoulder…or whatever body part. The only player more likely to get injured this year is Ryan Mathews…and, oh so close on the Eagles landing him too (update: Of course, they added Mathews. This week couldn't be complete without one more injury-history reach-signing).
Sam Bradford has never produced a winning record in the NFL as a starter.
Sam Bradford racked up a 15-26 (36.5%) record in his first three NFL seasons…Nick Foles was 15-9 (62.5%) in his first three NFL seasons.
Sam Bradford threw 45 TDs in 41 games (1.1 per game) in his first three NFL seasons… Nick Folesdropped 46 TDs (1.6 TD passes per game) in his first three NFL seasons, and ohhh by the way: More TDs thrown, but played in 13 less games than Bradford in his first three seasons.
Sam Bradford threw 34 picks in 41 games (0.8 per game) in his first three NFL seasons…the god-awful turnover machine (so says the media) Nick Foles threw 17 picks in 28 games (0.6 per game) in his three NFL seasons.
Sam Bradford posted a 58% completion percentage in his first three NFL seasons… Nick Foles - 61.6%.
Sam Bradford achieved a 75.0 QB rating in his first three seasons…Nick Foles 94.2 QB rating.
Sam Bradford had two ACL surgeries on the same knee in the last two seasons… Nick Foles none, ever.
Let's not even mention the fact that Bradford was drafted, and handed everything—the starting job, and had WRs and TEs acquired for him, and working with the 'first-team' ever since day one. Nick Foles was racking better numbers while working under two radically different head coaching philosophies, and barely working with the first-team in his first two years prior to stumbling into the starting lineup.
Hey, maybe if Bradford stays healthy all year, and really picks up the Chip Kelly 'system'—he could have a great season. I mean, almost like what Nick Foles was producing in said 'system'. If the Eagles don't win 13+ games in 2015…then this borders on a failed experiment compared to Foles' winning percentage.
You cannot trade Nick Foles for Sam Bradford, plus pay 10x as much payroll to him for one season in the hope Bradford stays healthy against all odds…so that if everything goes right, he'll be about as good as Foles. It's the stupidest, most expensive gamble I've seen…it didn't need to happen. There was no reason this HAD to happen.
It is the height of Chip Kelly arrogance…and really amazing stupidity. Not that Kelly is stupid, obviously he is not. He is way smarter than I am, but not on personnel/risk management…sorry. Sam Bradford is/was a great QB prospect…Kelly's not chasing after a Johnny Manziel or anything silly. I get liking Bradford, but you cannot build your whole fortune on Bradford not getting hurt…or letting down. There was no problem to solve. The Browns have problems. The Jaguars and Bills have problems. Nick Foles and his 78.9% winning percentage was not a problem needing a weak-handed, 'all-in' change.
All these Chip Kelly moves have been so swashbuckling that Kelly has now painted himself into a corner he almost cannot escape—everything has to go right and no key player with a history of injury issues gets hurt again, and thus he gets the Eagles deep into the playoffs…OR he will be forcibly removed from the 'city of brotherly love' by its inhabitants by this time next season…or by October this year. Everyone is ready to draw and quarter him—he did it to himself.
He is drawing to a near impossible 'inside straight' here, and discarding all the wrong cards…and drawing even worse ones.
Scoreboard: The Eagles are now approx. $1M more spent in salary cap toward 2015 after all the moves listed above….plus the extra $26M guaranteed commitment (Maxwell).
What does it mean when Jerry Jones has more fiscal discipline and personnel restraint than your coach/GM, Philly? A.K.A. welcome to Philly, hated Demarco Murray!
The last one off the Chip Kelly bandwagon, please turn off the lights.
I thought the LeSean McCoy trade was genius because super-expensive RBs are the most ridiculous investment in the NFL. One-year heavy deals make sense for the best RBs, but you don't want to lock in long-term with big guarantees. When McCoy was traded—I thought Kelly was a genius. However, all he did is flip McCoy, and spent even more on Demarco Murray. If ditching McCoy was smart…then making a last-second overspend on Murray (who brilliantly used your panic to his advnatage) is beyond ridiculous planning.
If Murray was the plan all along, that deal would have been done a while ago…with no other RB flirting. There would not have been a Frank Gore 'thing', nor a Ryan Mathews one-night stand (later a commitment). All Chip Kelly looks like now is a desperate person who will sign or trade for anybody…as long as there is some questionable injury history. There is no plan. Kelly is flailing away, as we all watch him burn.
The last few weeks have been the greatest/fastest destruction of a football idol, that I think I have ever seen.
If you take all these high-profile moves together, it looks like this:
Murray for McCoy (Even exchange? In 2013, you would have laughed this out of existence. In 2015 it's supposedly brilliant)
Maxwell for C. Williams (Even-ish?)
Bradford for Foles (Let's say Bradford is better…do you really think he won't get hurt again?)
Money saved with passing on Maclin, but used for Brandon Graham and Mark Sanchez (yikes)
Kiko Alonso for Trent Cole (Will be OK, if Alonso doesn't go down again)
Would you trade?…
McCoy, C. Williams, Foles, Cole, and Maclin
FOR
Murray, Maxwell, Bradford, Sanchez, B. Graham, Alonso?
If you think it looks like an even swap of talent…what if I told you doing the deal would cost you about $6-10M more dollars in 2015 payroll, and lock you into $55M+ more in fresh guaranteed contracts ahead.
Hey, at least you have a QB for the future who is definitely never going to get hurt again…and will probably weasel a $50M contract extension in April just to add nitroglycerine to this forest fire. 
LATE ADD: No way Ryan Mathews gets hurt…
I was a fan of Ryan Mathews…before I realized he would be hurt every other week. I really likedSam Bradford, before injury ripped his career away. Now they are together…all under one roof.
You know, I love Colin Cowherd, but he has lost his mind—when McCoy was traded he went on all day about how RBs are meaningless, and that the move was so smart to free up cap space…and I absolutely agreed. Since then, Philly has added $26M in guaranteed dollars with RBs Murray and Mathews…plus another $3.5M guaranteed due to Darren Sproles…but he's now talking about how brilliant these RB adds are? Colin, come on!
What I noticed with Mathews' deal, and then went back and looked at Murray's too—I see what is happening. The deals are being back-loaded. The bigger money is due later. Either Chip Kelly'smaster plan pays off in 2015 with a Super Bowl worth of future insolation from scrutiny…or if it fails, the payroll burden shifts to the future GM.
Conclusion:
The last laugh is on you, Philly fans.
If all this doesn't work out, Chip Kelly leaves for any college program he wants in January 2016…for even more money than he makes now. To start 2016, Eagles fans could be left with no coach, a bunch of guaranteed contracts plus a super expensive RB (in an era where that is totally stupid) and a free agent QB (Bradford) with Mark Sanchez as the listed starter. Kelly will have the last laugh, and land on his feet and then some.
Howie Roseman has to be laughing his ass off right now. However, Kelly cannot hear him from the other building he was banished to.
OR
Everyone stays healthy. Bradford leads the Eagles to a 14+ win season and the Super Bowl, and I write a few thousand words about how I was wrong. That might happen, Chip Kelly is that good—I just think it's a ticking time bomb now. We will look back at this period in 3-5 years and marvel at the wreckage that was the Phill 2015  offseason.
They will probably make a documentary about in 20 years or so on like a '30-for-30'.
Fantasy Football implications…
 — This is a minor FF-hit (bad) for Nick Foles. Not because of the precious 'system', but because of the volume of plays/activity in Philly vs. St. Louis. There likely is a small tick down in FF-output—if not just for less rushing action/TDs from Foles, as he ran the ball decently in Chip's 'system', for a lead-footed guy.
There is an upside hope: Foles lands in a great spot here—eight home/dome games. The hidden bonus to me: As Jeff Fisher landed in St. Louis, he started off as a run-centric team with a limited Sam Bradford at first…and then Fisher started cutting Bradford loose later. When the passing game ramped up, Bradford's numbers started humming…and then he got hurt. It showed me Fisher is not just sold out to the running game (from his days in Tennessee). I thought Bradford was a sleeper every year…and was really having a nice 2013 when it got derailed by injury. Foles now steps into the same dynamic.
I like Foles for 2015+, because I think he could be great as it is, but I think additional 2015 FF-excitement with Foles hinges on what STL does at WR in the draft. This looks a whole lot better withAmari Cooper or Kevin White at pick #10…which means don't get too excited for Stedman Bailey or Kenny Britt just yet.
I could 'dig' Cordarrelle Patterson being traded there as well.
 — Sam Bradford is a really good QB. I don't want that lost here—I just think you cannot bank on a multiple-ACL + major shoulder injury guy.
The same people who scoff at Ryan Mathews being a walking injury waiting to happen, are probably constructing stories on how Bradford has to be clean in order to be traded for, etc. Sam Bradfordbefore his injuries = terrific. Post-multiple injuries = skeptical and doubtful. Good to take a cheap Dynasty risk on (too late now), but not to bank on.
 — Jordan Matthews is fine. He did even better with Mark Sanchez last year…he is coming into his own. He's fine with Bradford or Sanchez…especially with Maclin gone.  He could be a breakout NFL fantasy star this season.
 — Zach Ertz, to me, was connected with Foles. I am not a fan in general, but even less so minus Foles.
 — Jared Cook maybe is an ounce more interesting. Foles spreads it around, and Cook cannot catch well…so I'm not too hot.
 — Tavon Austin gets a bump assuming Cooper or White joins the fray.
 — You would have never believed LeSean McCoy having a total and utter collapse in 2014 after his 2013…so don't be cocky on Demarco Murray + Chip Kelly = McCoy-2013…it may mean it equals McCoy-2014.
More on all this and other NFL player news when our Fantasy Football Draft Guide hits this summer!
**Fantasy Football Metrics and College Football Metrics IDP Dynasty (three-year) projections now exist on the Fantasy Football Management technology: "The Machine." See "The Machine" here (link): The Machine via FFM
– R.C. Fischer is an NFL Draft analyst for College Football Metrics.com, and a football projections analyst and writer for Fantasy Football Metrics.com. He is also a lead writer for 'Play The Draft.com'. His group also provides player projections for Advanced Sports Logic's football software "The Machine." See "The Machine" here: The Machine via FFM