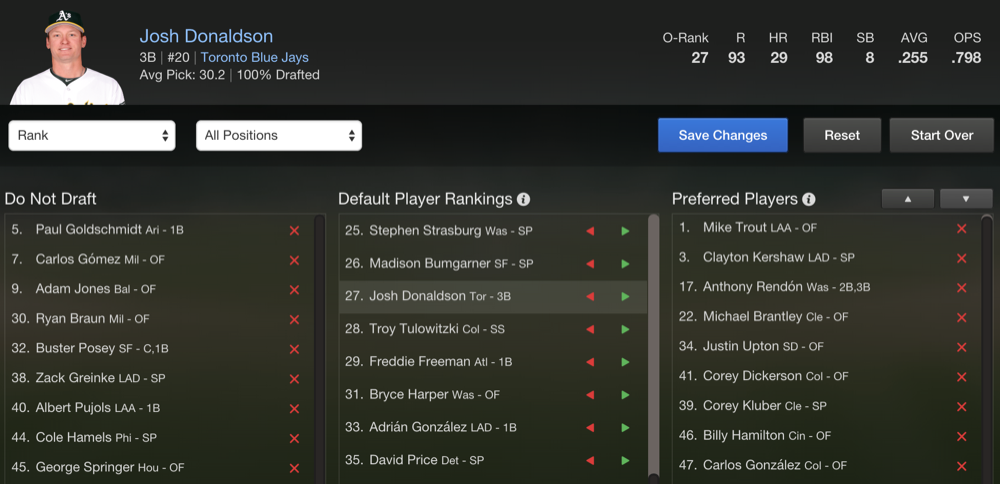 Fantasy Baseball News -
With a new season set to unfold, MLB fantasy owners can get themselves started off on the right foot with an effective draft strategy. Every baseball fan knows that a lot can change over the course of 162 games, meaning your fate is by no means sealed on draft night. But implementing a solid plan can help you set a strong foundation for your team and get ahead of the competition.
Keep the following points in mind when you make your selections:
Know your league:
The size and scoring format of your league can make a significant difference in how you draft. An owner vying with 11 others will need to look at roster depth and player valuation differently than one in a smaller league. In addition, specific scoring categories can make a player worth a premium in one league and virtually worthless in another. More leagues are counting less-traditional statistics such as holds and quality starts. Make sure you know if yours is one of them. Players in head-to-head leagues will sometimes tank individual categories (typically the more erratic ones like saves), but you should use the draft to ensure your squad is productive in every area.
Be smart in the early rounds:
Make-or-break is a somewhat dramatic term to use at any point in a fantasy baseball draft. However, the importance of the first few rounds in shaping your team cannot be overstated. It's hard to whiff on your first draft choice and not have it considerably alter your fortunes. Let the draft board come to you in the opening couple of rounds, and try to select well-rounded players who will make a daily impact for your team. If Clayton Kershaw is the best player available when you make your first pick, don't hesitate to take him. But in general, try to set one or two cornerstones for your lineup into place before building your pitching staff.
Consider positional scarcity:
Some positions simply have fewer viable options than others. After Buster Posey, for instance, the pool of catchers grows increasingly less attractive. Take note of what the pecking order looks like for each position and strategize accordingly. Unless you're taking the premier catcher, shortstop or second baseman, you can afford to look at other areas first. Make sure you're getting ample production out of your corner infield spots, outfield, and starting pitching. Don't blow a pick on a subpar player just because you need to fill a position.
Take risks later in the draft:
There's an element of fortune-telling to any fantasy draft. Winners and losers are often separated by whoever strikes gold on the right breakout star. Today's fan enjoys access to an unprecedented level of statistical analysis and projection to help identify potential fantasy baseball sleepers. Some of the factors that lead to a breakthrough season, however, aren't found in the numbers. Examine team depth charts and consider factors such as age, injury history and positional versatility to develop an idea of who might get an opportunity to shine in 2015. It's better to gamble a little in the mid-to-late rounds of the draft than to wait and hope you can scoop an emerging player off the waiver wire.