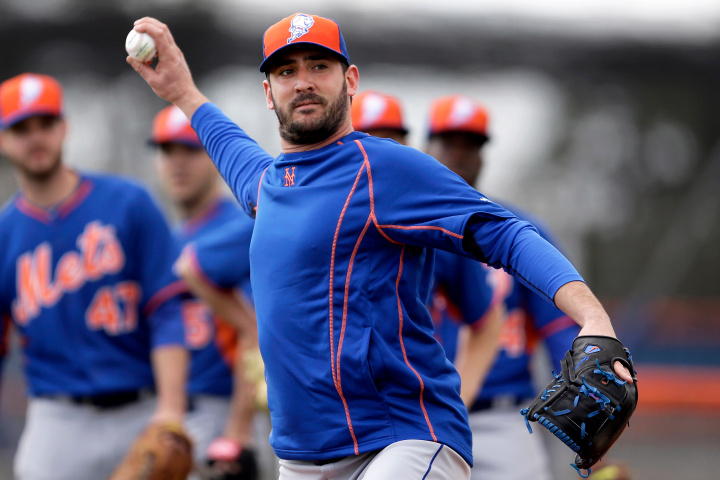 New York's crosstown rivals find themselves in similar situations concerning the starting pitchers expected to lead their staffs. The Yankees and Mets hope that Masahiro Tanaka and Matt Harvey will be able to set aside injury woes and help their respective teams entering the 2015 season. Both suffered partial tears in the ulnar collateral ligaments of their right elbows. While Harvey underwent Tommy John surgery and missed all of 2014, Tanaka chose to forgo the procedure and treat the injury with three months of rest and rehab.
Fantasy owners must decide how much these injuries dampen the young starters' prospects in 2015. Both have put up sparkling numbers when they have taken the mound, albeit in relatively small sample sizes. Harvey earned an All-Star starting nod in his first full season in 2013, posting a 2.27 ERA and a stellar 9.6 K/9 rate. Arriving from Japan to much fanfare, Tanaka surpassed even the most optimistic expectations in the early stages of his debut season, collecting 12 wins to the tune of a 2.51 ERA before going down with his injury in early July of last year.
The early word on both pitchers' first Spring Training bullpen sessions has been expectedly positive. It's difficult, however, to not feel better about Harvey's chances to have a healthy, productive 2015. He has already put the Tommy John experience behind him, while Tanaka, if he re-aggravates his elbow, the surgery may become unavoidable.  
The Mets expect to be more competitive this year, which may lead to a boost in win totals to go along with Harvey's other strong statistical categories. An elbow injury is never a minor concern for a pitcher, however, and it might take several starts for these guys to find their footing.  
Neither should be the first starting pitcher you draft, but their talent and upside are too hard to ignore completely. These pitchers are not fantasy baseball sleepers that will catch anybody by surprise. 
Tanaka simply appears to have more potential factors in his way that could diminish his fantasy value, such as the Yankees floating the idea of using a six-man rotation to ease the load on him and other injury-plagued starters. Don't be afraid to roll the dice, but leave yourself a safety net in the form of other more dependable starting pitchers.