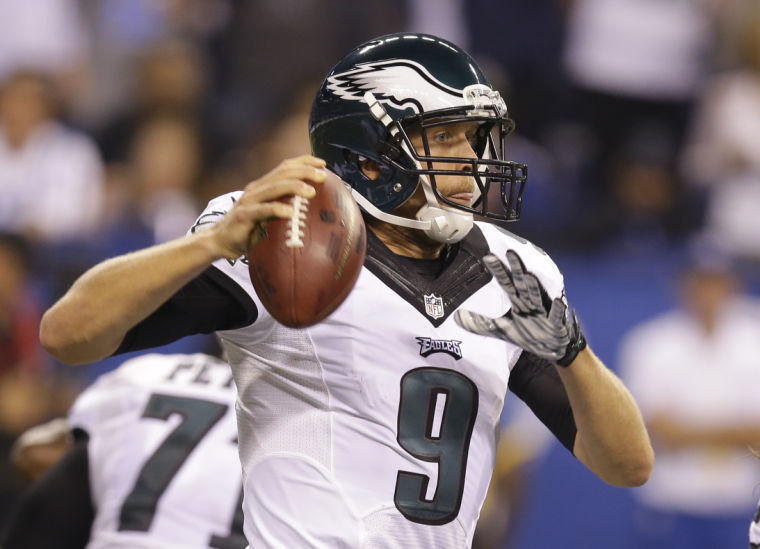 QB Fantasy Football News -
There's so much news swirling around Eagles quarterback Nick Foles, it's almost impossible to keep it all straight. Seeing that I am the world's foremost expert on all things Nick Foles, there's no doubt that you'd like my take on the almost-trade for Josh Gordon with Cleveland.
Add to that, Xavier Cromartie's current prediction in his CFM Mock Draft 3.0 that the Titans will trade the pick to Philly in exchange for Nick Foles (and now other Mock Drafters are following suit)…and now we got a lot of Foles-based chatter to discuss.
I know, I write a lot about Foles, but is there any other player in the NFL who is such a lightning rod right now? The two main QB-based stories from the 2015 NFL Draft right now are: (1) Jameis Winston v. Marcus Mariota. (2) Will Philly move up for Mariota? If Philly is moving up after Mariota, then Foles is likely on the move—which sets off a whole chain of events in the NFL, and Dynasty-Fantasy Football 2015.  
First, I want to tackle the Gordon for Foles info…
I have to start by saying Mike Lombardi is now my new favorite football mind in all the NFL. Lombardi came out of working on the media side of things after 5+ years to become the GM for Cleveland in 2013. He fought with Norv Turner over Brian Hoyer v. Brandon Weeden…and he was right (Hoyer). He fought with the owner (who is as bad as they get), and got fired—onus points in my book. He swindled Indy for a #1 pick in exchange for Trent Richardson (which everyone hated for the Browns at the time, except me and a few others, and now that trade is sheer genius). He jumped to the Patriots in early 2014, after his unceremonious firing by the Browns—and 'ta da', the Pats befuddle experts by taking Jimmy Garoppolo, who is a thousand-times better than the football media's preferred QB prospects:  Johnny Manziel and Blake Bortles.
…and he almost dumped Josh Gordon in exchange for Nick Foles to begin 2013.
We have to analyze the timing here…
Before the 2013 season, no one in the football media really liked or cared about Nick Foles. He relieved the disaster that was Michael Vick (who helped get Andy Reid fired), and played well for a cold rookie to end the 2012 campaign. Despite the encouraging finish, Foles was mostly ignored—by the media and his own coaches (as Vick would earn the start for 2013…but not for long).
Before the 2013 season, Josh Gordon had not 'broken out' yet. He was flashing at year's end 2012, but was going to begin the 2013 season suspended for a few games—he was a talented, troubled enigma at the time of the Foles-Gordon offer. It was about halfway into 2013, where Gordon exploded to a superstar status. Lombardi knew what most did not, and still do not want to face—Gordon was a pending train wreck. Lombardi was rumored to be in attempts to trade Gordon multiple times that season.
A very savvy personnel man (Lombardi) was trying to swipe Nick Foles, but Philly denied him. You might interpret that as "Ohhh, Philly really likes Foles then!" I'm not so sure. I think that was a low-point to nab Foles. Philly loved them some Michael Vick (which was brilliant), and they just draftedMatt Barkley (like I said then—disaster). If they loved Foles back then, they sure had a funny way of showing it.
The non-deal was more likely a fear of Josh Gordon, and the fact (as I have been railing), there are no trades made in the NFL…because most GMs are frightened creatures, if that were not so, there would be deals happening all over—like in all the other major sports. Lombardi tried to make it happen, but I'm sure Philly's recently bounced GM, and his 2012 stated desire for Kirk Cousins overNick Foles, was not 'confident' enough to make a deal.
The fate of the Cleveland Browns under Lombardi, with the Gordon and Richardson trades, could have been special. Instead, the new Browns GM (Ray Farmer) is about to get harshly penalized for rules violations, and the genius owner is looking at mega-busts with his two first-round picks from 2014.
Which leads me to my next thought: Nick Foles will NOT be traded this year.
Again, go back to my rule of NFL GMs as 'scared puppies'. No team is going to step up big for Nick Foles, because they all, by and large, follow the media–which controls the majority of vocal fans…and the media discounts Foles, thus so do the vocal fans…thus the majority of NFL GMs, with no conviction, will not buck the media—because if they are wrong, the media/fans will crucify them. It takes a bold GM to make a Foles deal, but bold, confident, 'not afraid of being fired' GMs are not likely needing to overtrade for a franchise QB…because they probably got one already. Mike Lombardi doesn't need Nick Foles in New England. Only crappy franchises that keep striking out at the QB spot need Foles, but those junk teams with junk GMs wouldn't know a real QB from a hole in the ground…thus they'll keep chasing…or deferring to the Head Coach for picks like Blaine Gabbert, and Jake Locker, and Blake Bortles, and E.J. Manuel, etc. a.k.a. the media's preferred fantasy QBs.
Even the places where a Foles fit is very logical, a trade at this time doesn't make sense. Philly trading with St. Louis, doesn't help them get high enough to take Mariota. If a team were going to make a big run at Foles, and if he were truly on the open market—a deal would have happened by now. A team desperately wanting Foles cannot wait—there is no real 'plan-B' franchise QB just sitting out there. If Philly wants to trade Foles in order to bring in Mariota…they cannot deal with most teams who would might want Foles (STL, BUF, NYJ)…it leaves them too short of where Mariota is likely being picked.
It would take brass balls mixed with desperation mixed with genius to make a Foles deal with Tampa or Tennessee…because those two franchises do not possess any of those three attributes. I just think Tennessee and Tampa are horribly run, and wouldn't possibly see Foles as an answer at all.
Really, the only logical time for Philly to make a deal is when they know Marcus Mariota will be available…and he may not be at #2. So unless Tampa wants Foles, we won't see a Foles deal (if it happens) until draft day. Tampa may want Jameis Winston, but one more character hit surfaces, and he's falling out of the 1st-round. Tampa may be forced into taking Mariota because Winston's draft his stock plummets (which I think might happen). If Philly preemptively traded up to #2 today, as Xavier Cromartie and others are speculating, only to see Mariota gone at #1…then what? Especially, if it took Foles being traded away to move up. Philly cannot wake up with Matt Barkley as their starter. Foles only goes in a deal if Mariota is absolutely in hand. It's too early to figure that out yet—unless Tampa bites, and trades the #1 overall.
**Fantasy Football Metrics and College Football Metrics IDP Dynasty (three-year) projections now exist on the Fantasy Football Management technology: "The Machine." See "The Machine" here (link): The Machine via FFM
Many have asked me: "What's Foles' Fantasy Football value on a deal to Tennessee (or wherever)?"
As a pro-Foles 'in every way imaginable for Dynasty/Fantasy' guy, I want Foles gone from Philly for three reasons:
1) I think if he stays in Philly, they will eat him (and Chip Kelly) alive. Philly's vocal fans (a.k.a. the local media and conventional wisdom) want Pontius Pilate to free Barabbas, and to crucify Jesus. Unless, Foles stays, and wins a Super Bowl in the 2015-16 season, there will always be complaining…and it's about to become deafening on Chip Kelly. If I were Nick Foles' agent, I would take out a huge insurance policy, and play without the worry of a new contract in 2015 (whether as a starter or on the bench behind whomever for Philly).
I'd then have my client Foles become a coveted free agent in 2016. We would leave Philly no matter what. There is no joy to be found there.
So I hope for Foles sake he is traded…soon.
**See the 2015 NFL Draft and 2015 Dynasty Rookie Draft, like never before with our Moneyball-style scouting reports and rankings. Go to www.collegefootballmetrics.com **
2) I think if a team trades for Foles now, it's an 'all-in' deal. They are banking their future on him. A commitment is being made…which is a much better work environment than being vilified at every turn by your home-town fans. I want Foles to go where he is wanted.
3) So much is made of Chip Kelly's Offense 'making QBs', which is funny since Michael Vick, Matt Barkley, and Mark Sanchez have all pretty well sucked royally. Only one QB among them nearly broke NFL efficiency records, and has a huge winning percentage as a starter, along with a better thanAndrew Luck career TD-to-INT ratio (2.7-to-1 vs. 2.0-to-1)…and we hate that guy, apparently.
Guess what?
I think the Chip Kelly Offense is all wrong for Nick Foles. I mean, Foles is great so he can almost set NFL records in it and all, but I see him much better in a traditional down field passing game. Just let him sit back and pick apart the defense vs. all the trickeration screen passes, and fake hand-offs, etc.
Nick Foles was made for Bruce Arians's passing game. He actually works in Norv Turner's offense as well. There are many places Foles could flourish—I was long-shot hoping Peyton retired, and Foles would wind up in Denver.
The main point is: Foles is not a Chip Kelly story. We may even find out Chip Kelly was more aNick Foles story than anyone wanted to believe (a la Belichick-Brady).
15-4 record (78.9%) = Nick Foles as the starter (or main snap QB) for Chip Kelly in the NFL
  5-8 record (38.4%) = NOT Nick Foles as the starter (or main snap QB) for Chip Kelly in the NFL
Mike Lombardi making a move for Nick Foles…it shows there was some general interest before Foles exploded in 2013. I don't know why there would be less interest in Foles today after all he has accomplished under the circumstances the past two seasons. Foles is going to be fine whatever happens. Just sit back and enjoy the show.
For Fantasy Football QB news purposes, I think Foles works on any NFL team, obviously some teams have better weapons and lines than others, but by and large, I think Foles is one of the top NFL QB in-waiting and he'll have Fantasy value wherever. He is an experienced, established, high-functioning passer…who will only get better. I'd love him on any team, with Philly becoming my least favorite option.
For more QB fantasy news, stay tuned to Fantasy Focus!
– R.C. Fischer is an NFL Draft analyst for College Football Metrics.com, and a football projections analyst and writer for Fantasy Football Metrics.com. He is also a lead writer for 'Play The Draft.com'. His group also provides player projections for Advanced Sports Logic's football software "The Machine." See "The Machine" here: The Machine via FFM