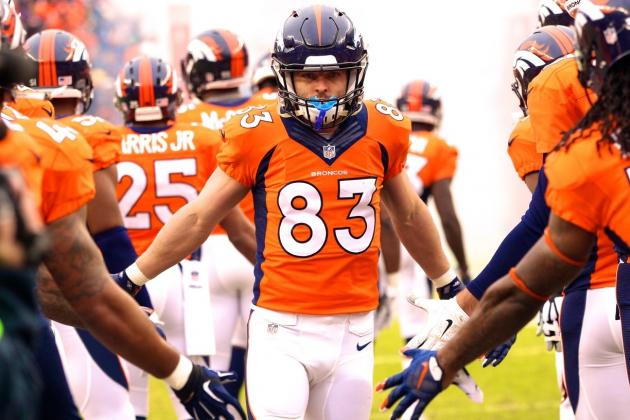 WR Fantasy Football News -
It's not exactly breaking WR fantasy news that Wes Welker has been arguably the best wide receiver in the slot during the last ten years in the NFL. Of course, he's had the great fortune of having Tom Brady and Peyton Manning throwing him passes for a majority of his career. With 890 receptions, Welker is now 20th on the all time receiving list for receptions.
With his 34th birthday on the horizon, the free agent is strongly considering retiring due to his history of concussions and having caught just 49 passes this past season. Welker will likely be playing for a fourth team if he does not retire and he has to ask himself if he wants to risk another concussion to play football for a team that doesn't have a future Hall of Famer under center. 
The only way fantasy WR stud Welker will remain in Denver is if he takes a significant pay cut to sign a one year deal and if Peyton Manning decides to return for a final season or two. It's looking like Manning will return for at least one more year and Welker may want to take one final shot at a Super Bowl ring before he hangs up the cleats.
Even if Manning comes back, it's a long shot that Welker will remain in Denver. He's likely to hang up his cleats unless he can find a one-year home for a title contender such as Seattle or a team with a Pro Bowl quarterback like Tony Romo or Matt Stafford.  
However, given his age and concussion history, him playing at all would be a surprise for next season.
For the latest in WR news, keep reading ASL!