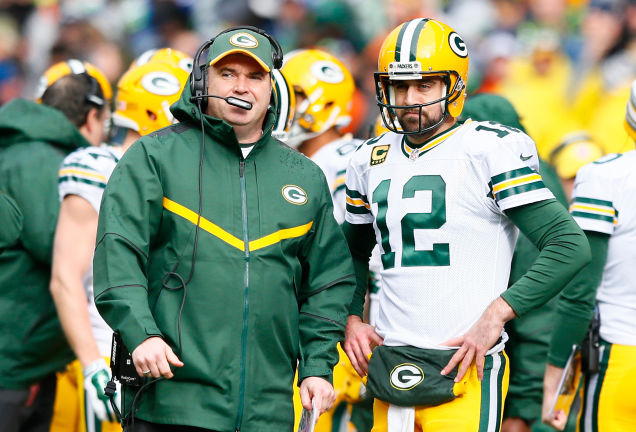 Green Bay Head Coach Mike McCarthy is giving up the reins of offensive play calling. That has to be blasphemy right?
McCarthy came to the decision just weeks after the Packers melted down against the Seahawks. Now the questions shifts to who will start calling the shots in Green Bay. Packer's offensive coordinator Tom Clements would be the likely candidate to take on this role.  This could have significant NFL fantasy implications.
Giving up this much control will be a tough pill to swallow for McCarthy who has helped mold Green Bay into an offensive power house. It seems that some players and coaching staff questioned the urgency and effectiveness of his play calling during the fourth quarter of the NFC Championship game. Rodgers even said, "When you go back and think about it, at times we weren't playing as aggressively as we usually do."
It would seem that the play calling is not the issue in Green Bay. Via Football-Reference.com, Green Bay has finished in the top 10 in eight out of the nine seasons. We could name about 95% of the other teams in the NFL that would kill for that type of productivity.
Regardless of the success McCarthy has had in the past, it seems that change is imminent. One plus of this change is that McCarthy will acquire new features of the head coaching job other than play calling. Green Bay fans shouldn't be too worried by this change. The bad news for opposing defenses is that with the reigning MVP Aaron Rodgers at the helm and more focus on play calling, the Green Bay offense could develop into something even more lethal, both on the gridiron and for fantasy football teams.
For the latest on NFL player news, keep reading Fantasy Focus!