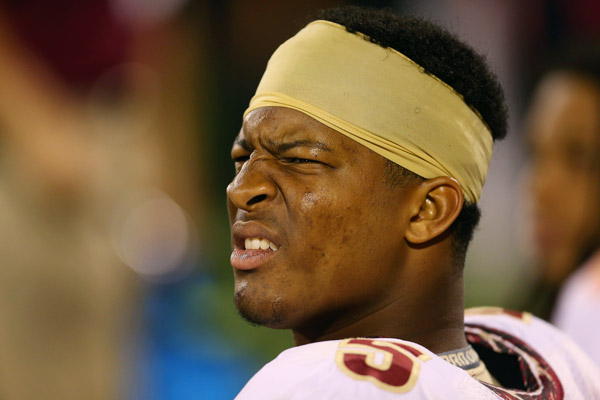 I recently had an opportunity to interview the best player/trader in the 'Play The Draft' (PTD) universe (and arguably the most astute Mock Drafter in the world)—Xavier Cromartie.
Xavier won the coveted 2014 Senior Bowl prize package, despite joining two weeks after the PTD contest began, and also beginning $1M+ behind the leaders (everyone starts with a $12M amount to trade with). He ended up winning the Senior Bowl Challenge by $350,000+. He joined a second public PTD league for fun…and won that by $2.6M+.
Xavier Cromartie "…is the team to beat" in 'Play The Draft' 2015.
Do you think Xavier was just lucky in his NFL Draft knowledge in 2014? In 2007, which was the last time ESPN had a big-time sponsored Mock Draft contest, he won that too. What did he win? An all-expense paid trip to Bristol, CT for an ESPN tour, and lunch with Trey Wingo. Oh yeah, plus he won a Hummer H3 (the contest was sponsored by Hummer). In 2005, he narrowly missed ESPN's top prize in the same contest.
Xavier Cromartie is the 'Oracle of Play The Draft', which doesn't roll off the tongue, and may be copyright infringement from Warren Buffett, so I will dub him: "The Prophet of PTD." The 'Prophet' and I, had a chance to discuss his 2014 'Play The Draft' experience, and look ahead to 2015…
RC: How did you find 'Play The Draft', initially?
Xavier: I first competed in 'Play The Draft' in 2013. A friend tweeted a link to it. I knew instantly that I wanted to play it. Unfortunately, I heard about the game only a week or so before the draft, but it gave me a chance to learn the rules. I remember that I had some big moneymakers that year. The biggest was D.J. Hayden, who went from not being in the first round to possibly being the Raiders' pick at #3 overall. I missed on Ryan Nassib, and the false-rumored Doug Marrone connection at pick #8 overall. I guess I never expected a team to take E.J. Manuel with their 1st-pick because "he had the biggest hands." I remember being annoyed by that pick, because in my final mock draft that year, I had the Rams trading up to #8 overall for Tavon Austin and the Bills getting a QB at #16… Except that QB was Nassib instead of Manuel.
RC: Would you call yourself and active trader in PTD? Did you deal every day, or content to sit and hold…or a blend of both?
Xavier: I analyzed my team daily, and made changes if it made sense to do so. Thankfully, PTD does not have the 24-hour, real-time nature of most markets, and so there's enough time to trade without missing out on the moves.
RC: How often do you check on your PTD account in season? If 'every day', how early—like first thing? I ask because, out of nowhere, the first thing I did each day was click my account to find out what happened overnight. I had to know! Did you get like that as well?
Xavier: I signed-in twice per day, usually. I checked in the morning to see how the numbers changed. But more importantly, I scrolled down for the daily R.C. Fischer article. No one on Earth could be a better representative for PTD. I remember reading your first article and being immediately intrigued. "Finally, someone who thinks the way I do." I hadn't heard of you before then, but soon afterward I was reading everything on Fantasy Football Metrics and College Football Metrics as well. Anyway, I absorbed information throughout the day, and then devoted some time at night to determining whether I should make any changes to my fund. 
RC: Would you say that playing PTD helped/forced you to follow more prospects across the board—that you otherwise wouldn't have (like Guards, etc.)…or were you already 'way into' the NFL Draft, and followed them anyway?
Xavier: With or without PTD, I start to lose interest in the draft/prospects once we get into round four. But PTD requires me to pay a lot more attention to the potential second/third round prospects than I otherwise would. Why do I do it? I'm not really a die-hard football lover or follower of any team or fan of the players. I love the football-related challenge. I was born to do analysis. My university degree is in philosophy, and I have many years of experience in using technical analysis to trade markets. Analyzing the NFL Draft is a perfect match for my talents. You can't really program a computer to do it like in chess, because it's more than pure calculation; it requires human understanding.
RC: When you think back on 2014: Who would you look back and remember fondly as your best play and one of your top fantasy sleeper picks? Who would you look back at 2014 with scorn—what player hurt you with a big loss, or never got the heat you hoped for?
Xavier: The three big moneymakers in the weeks leading up to the draft (and my gains) were Cody Latimer (+100%), Joel Bitonio (+75%), and Tom Savage (+40%). On draft day, I banked onJaWuan James (+180%) to go to Miami and Dominique Easley (+110%) to go to New England in round one. My biggest regret is that I took out Marcus Smith (+150%) for draft day after holding him for weeks. I knew that Smith had a chance to go late round one, but I had to make room for players who had what I thought were better probabilities. 
There's one particular loss that still haunts and confuses me: Martavis Bryant (-30%). I thought that if Pittsburgh didn't take this much-needed, tall red-zone threat at #46 overall then there would be plenty of other potential landing spots in the mid-to-late second round. He fell to pick #118 overall. Remember that Stephen Hill was taken with pick #43 purely on athleticism in 2012. The Jets had two fourth-round picks in 2014, and they passed on Bryant twice for WRs Jalen Saunders andShaq Evans. So they were purposefully attempting not to repeat the mistake they made with Hill. In other words, they think that drafting an athletic marvel should be avoided at all costs. Are you kidding me? Jalen Saunders is 165-pound WR with nowhere near Dri Archer/Tavon Austin's speed. At that weight, he better run a 4.1 if he's going to play in the NFL. The Jets already waived him in September. Meanwhile, Bryant scored 9 TDs in 11 games as a rookie.
RC: Who do you think the lightning rod player will be in 2015—the guy who's price goes high-low-high and all over because of rumors and diversions, etc.?
Xavier: The first thing that comes to mind when you talk about volatility has to be quarterbacks. So many QBs who were mocked as the first overall pick early in the process ended up plunging, likeJimmy Clausen, Geno Smith, Matt Barkley, Teddy Bridgewater, and Jonathan Football. You could pick either Bridgewater or Manziel as the most volatile guy last year. Other major causes of volatility are character concerns (Isaiah Crowell, Da'Rick Rogers, Colt Lyerla) and medical red flags (Da'Quan Bowers, Jamar Taylor, Jesse Williams).
This year, the glaringly obvious choice for volatility is Jameis Winston, a QB with character concerns. Another obvious choice is WR Dorial Green-Beckham, who also has character concerns. We can throw in RB Todd Gurley as well because of his torn ACL. One prospect with some genuine intrigue is WR Sammie Coates. I cannot wait to see what numbers he puts up at the NFL Combine. We know his athleticism will be spectacular, but everyone rails on his catching ability.
End.
**See the 2015 NFL Draft and 2015 Dynasty Rookie Draft, like never before with our Moneyball-style scouting reports and rankings. Go to www.collegefootballmetrics.com 
Thanks to Xavier for giving me some time to pick his brain on fantasy football keepers and NFL fantasy sleepers!
Do you think you can take down the "Prophet of PTD" Xavier Cromartie in 2015?
You have your chance now—Xavier has been bouncing between #1-2 rank in the PTD 2015 'FRX Insiders' contest from the day it opened, and is getting ready to crush spirits in the Fantasy Football Metrics contest starting 2/9. Don't worry, there will be plenty of other contests available that he will not be in–if you'd like to avoid him…which is probably a wise move. However, I'm thick-headed, and looking forward to trying to defeat the PTD Prophet in my own contest!
You can join as many PTD contests as you wish—so come join the war with me, or just laugh at me as I get humiliated trying to knock off Xavier (who is about 100+ spots ahead of me right now—I'm pacing myself)! It's never too late to join the race in 'Play The Draft', so come along for the ride—you will enjoy the NFL Draft process like never before, I promise!
A new season of "Play The Draft" has begun. 'Play The Draft' website 
— R.C. Fischer is an NFL Draft analyst for College Football Metrics.com, and a football projections analyst and writer for Fantasy Football Metrics.com. He is also a lead writer for 'Play The Draft.com'. His group also provides player projections for Advanced Sports Logic's football software "The Machine." See "The Machine" here: The Machine via FFM