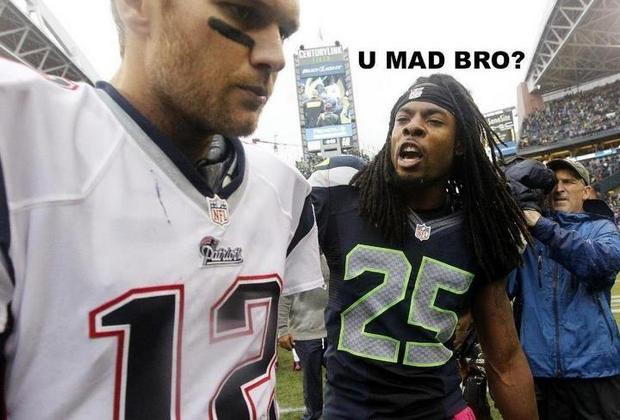 QB Fantasy Football News -
It was almost 13 years ago to the day, February 3, 2002, when Tom Brady first lifted up the Lombardi Trophy in New Orleans. There's no question that Brady, perennial fantasy QB stud, and the New England Patriots have their work cut for them against the current defending Super Bowl champs. Seattle's defense is a well-oiled machine that often takes no prisoners on the field.
However, the Legion on Boom exposed some cracks in the armor two weeks ago against a hobbled Aaron Rodgers when they got clobbered in the first half and pulled out a very unlikely overtime win against Green Bay.
The Seattle versus New England game should be a very close and entertaining matchup. A fact that has almost been lost in the shuffle with all of the foolish ramblings about "IdiotGate" and Marshawn Lynch's disdain for the media.  Any QB news?
There are many story lines to focus on, but one of the most important is the mountain-sized CHIP on Tom Brady's shoulder. He's more motivated for this game than any other during his storied career for several reasons.
FOUR SUPER BOWL RINGS – There is no greater motivator for any quarterback in the game than getting on the short list with Joe Montana and Terry Bradshaw.
More than any defender in the game, Brady can actually feel father time closing in on him. He's 37-years-old and his time is definitely running out.
You Mad, Bro? Damn right he's mad. Brady never goes a full day without remembering being called out by the cheery defender named Richey Sherman. I have always wondered if Sherman's taunt would come back to haunt him, today we will find out.
Deflate Gate – Just another motivator for a quarterback who has already played in five Super Bowls and is hell-bent on adding his 4th ring.
For the most up-to-date QB fantasy news, stay tuned to Fantasy Focus.