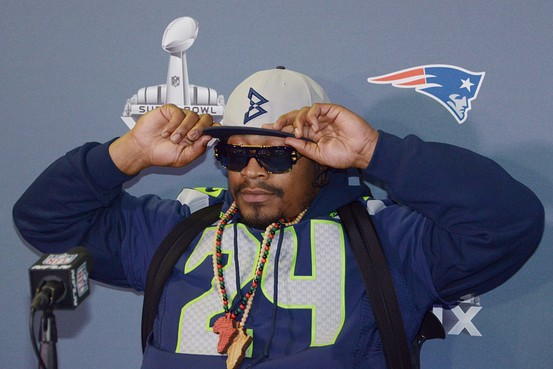 RB Fantasy Football News
The media world has long been guilty of showing disrespect and a lack of humanity to the individuals they place in their crosshairs. Mindless and uniformed reporters can dish it out, but they rarely have to take any abuse themselves.
This has produced a journalistic culture of bullies hell-bent on snagging its next set of victims. The fact that one athlete, Marshawn Lynch, has decided to stand up to them, has understandably set off a media firestorm. How dare someone ignore the ignorant and inflammatory questions because they have had enough?
This the same media that droned on about "Deflategate" so often that sports fans had to shut off their televisions and radios for a full week until they could actually hear about the actual Super Bowl again.
Yes, Lynch makes millions of dollars and is expected to deal with the simple-minded questions. However, the fact that he doesn't answer the bullies the way they want actually threatens them.
Lynch is a phenomenal fantasy RB, but is he really that interesting? Even when he did speak this week, it was largely ignored.
 "So y'all can go make up whatever y'all want to make up because I don't say enough for y'all to go and put anything out on me."
In RB news, the fact that Lynch has become the focal point of the Super Bowl because he won't play ball with the media circus is sheer comedy. Reporters have no idea how to react when someone won't be coerced into a verbal sparring match with them. I'm not Seattle fan by any stretch, but wouldn't it be great theater if Lynch actually snagged the Super Bowl MVP honor?
You don't have to like Lynch at all, but it's refreshing to see someone remind the revered 4th estate that it has crumbled into nothing more than a whining nightmare version of the National Enquirer.
Stay up to date on RB fantasy news with ASL!