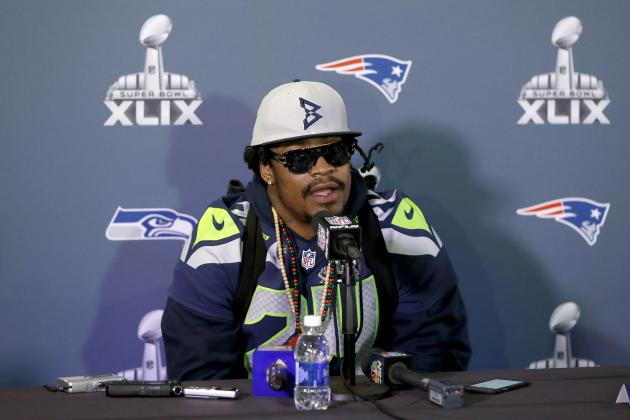 RB Fantasy Football News - 
In RB news, fantasy RB Marshawn Lynch spent the few minutes he attended Tuesday's Super Bowl media day repeating the same phrase over and over again (29 times to be exact), "I'm just here so I won't get fined." He followed up is Tuesday performance by answering every question "You know why I'm here."
With Beast Mode being one of the most popular players playing in the Super Bowl, his behavior raises some good questions. Should Lynch get fined for not sufficiently answering any questions? Should the players even be required to speak to the media?
According to league officials, Lynch will not be fined due to the length of time he spent on the podium or the answers he provided. However, Lynch was wearing a hat with his "Beast Mode" logo on it which could subject him to a fine after the Super Bowl is completed. Lynch wore the the hat on both Tuesday and Wednesday so it could be two separate fines.
With Lynch's behavior and the storm of attention it brings, it begs the questions as to whether players should have to speak to the media or at a minimum, should they care if he continues to do what he does?
Many Seahawks players have stated how unfair it is for the NFL to fine them for wearing products that are not approved by the NFL and how they shouldn't be required to speak to the media as part of their NFL contract. It is their right to have that opinion and it seems reasonable for them to protest this, but given the fact that the NFL has done an impeccable job marketing and promoting their league, players who are being paid millions of dollars a year can be subject to speak to the media and give the fans what they want.
Lynch has a right to feel the way he does and the media has a right to do what they do. Lynch should want to provide some juicy soundbites to create excitement for the game because he will only be building his brand and creating excitement for the game. 
Lynch won't change his opinion about the media and the media won't ignore Lynch because he refuses to talk to them. I just hope it doesn't affect his ability to perform on Sunday because he will need a few "Beast Mode" plays in order to host the Lombardi trophy on Sunday night.  Lynch plays big in big games and this is not the first time he's treated the media this way. This is not a big story but it needs to be talked about because the people who really lose in this situation are the fans and the people who support Lynch and want to know what he thinks about the upcoming game.
Keep reading ASL's RB fantasy news for the best fantasy info!