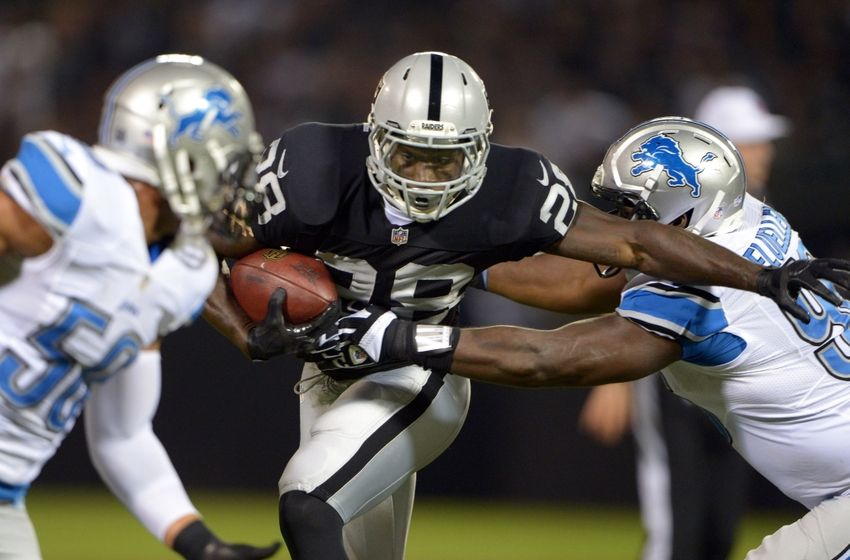 *I'm getting a lot of questions the last 24-48 hours on Latavius Murray, and I know why, so let me address it for once and all…
Remember…"I'm never wrong. I'm just temporarily not right."
Do you know how much it warms my heart to see Latavius Murray being discussed by his new offensive coordinator (Bill Musgrave) in such glowing terms? Musgrave's exact quote: "I'm looking forward to getting on the field and finding out what he's (Murray) all about and what his strengths are so we can tailor our run game so it's right up his alley."
Say what?
He said that in an NFL that uses running backs like disposable diapers these days…
In an era where Demarco Murray (option for the fantasy football keepers list) can lead the league in rushing and be an MVP candidate—and get offered a long-term deal like that of a really good Kicker…
In an era where no one knows who the Patriots RB will be from one week to the next…
In this day and age, an Offensive Coordinator actually singled out a young RB who was barely noticed by his previous two NFL head coaches (FYI, both fired/not retained for their brilliance), and said he would tailor the running game to him. Are you kidding me? H&R Block getting my billions back is not this exciting.
You know why it warms my heart, right?
In 2013, the NFL said Latavius Murray was a 6th-round RB talent. Miami took RB Mike Gillislee17 picks before Murray. 50 picks prior the 49ers wasted a draft pick on RB Marcus Lattimore—a healthy Lattimore was not as good as a healthy Murray. A several-times injured Lattimore was ridiculous pick…and the same people who decided upon that also just traded Jim Harbaugh for Jim Tomsula.
In 2013, NFL Draft analysts either didn't know who Latavius Murray was, or gave the obligatory 'best NFL fantasy sleepers' label…but would not have the guts to include him in their top-5 or top-10 RBs in the class.
In 2013, our computer scouting models said Latavius Murray was a #1 or #2 ranked RB talent in the 2013 draft class. For which, we were deemed insane or gutsy…either way, alone on an island—which is my favorite kind of scouting island.
In 2013, many of you placed your Dynasty Rookie Draft trust in our scouting call here (and it was pretty cheap to do so). Some of you had to 'tap out' on him by 2013 end. Some tapped in early 2014. I can't blame you. I had to chuck him in some leagues too. It was not Murray's fault—it was the fact that the Raiders are friggin' idiots. That's a crass statement, but absolutely spot on analysis. I say it like that because I feel for Raiders fans—your own coaches and GM are authoring their demise with impunity. They could have been playing Murray all along in 2014. They didn't, until the very end.
You can never get enough Darren McFadden or Maurice Jones-Drew, while you lose every single game you play, can you?
The Raiders have won like three games in the last decade (actually 3 of their last 19, and 4 of their last 22). What do those three wins have in common? Latavius Murray had 60 or more yards rushing in the game. All of the 16 losses in the last 19 games…Murray had less than 60 yards rushing, and usually no touches in those defeats.
Now here we all are in 2014. Some of you kept the faith all the way—and for that, the Lord (a.k.a. The Computer) hath blessed you. Some kept tabs on Murray, and scooped him off waivers when we started giving the alert 2014 mid-season. You too have been blessed.
Why are you blessed?
You probably think it is because Murray showed his skills, finally, and might be in for a very nice opportunity in 2015…you hope.
No, no, no, no, no, no…
Ladies and gentlemen…
You realize Latavius Murray is on a rocket ship ride to becoming a 2015 redraft top-10 RB, right? A possible late 1st-round pick in some 2015 redrafts? A possible late 1st-round pick in Dynasty startup, perhaps?
You don't realize any of that because it's not true…not yet, but it's coming.