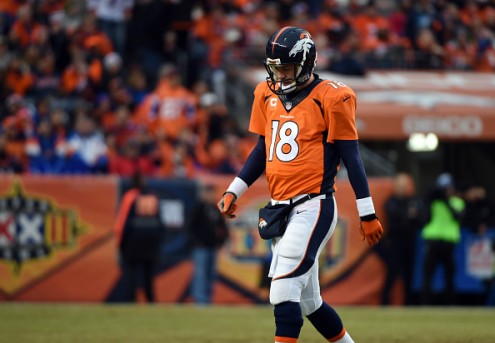 QB Fantasy Football News -
Denver's general manager John Elway got right to the heart of the matter when he spoke to reporters today, he absolutely wants fantasy QB stud Peyton Manning back to the lead the Broncos next season.
The Broncos have been consistently great in the regular season during the past three seasons, but have not met expectations when it comes to the playoffs. It's obvious that Elway and the rest of the front office want the man who continues to battle father time back on their team come next season. Even if the 38-year-old Peyton Manning isn't at his best physical state, he still is better than 80% of the quarterbacks in the NFL.
So let's get down to the main questions at hand, will Manning return and should he return? It was just revealed to the public that Manning has been playing with a torn right quadriceps. However, it's still clear that Manning and the Broncos are not the same team in the playoffs as they are in the regular season. During his career, Manning has lost his first playoff game an astonishing 9 times.
Despite this fact, Manning is still getting to the playoffs and both teams he's played for (IND & DEN) have been nothing but competitive. There's still some unfinished business and an ample amount of drive from Peyton and the Broncos to get that monkey off their back and win a Super Bowl.
Manning has been in the league for 17 years and should have at least one more year in the tank left. His style of play, where he sits in the pocket and gets the ball out of his hands quick, makes it harder for opponents to lay big hits on the 38-year-old.  
Manning should get ample rest during the off-season and even be limited in OTAs and the pre-season – similar to how the Vikings handled Brett Favre when he had his two year tender in Minnesota. Manning should be able to withstand playing at least one more full year in the NFL, even with this new quadriceps injury and father time looking over his shoulder.  Hopefully he can stay out of the injury QB news this season.
Stay tuned to Fantasy Focus for recent QB fantasy news.