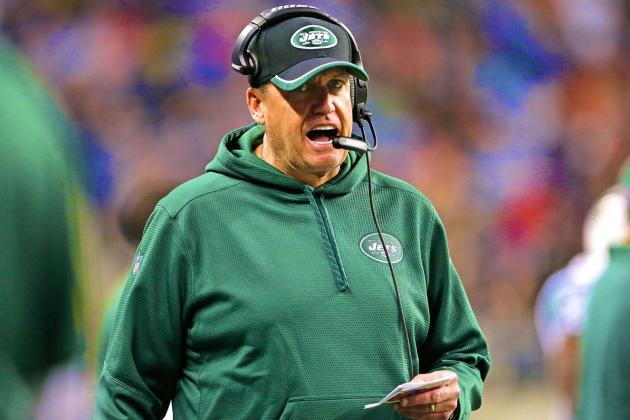 Well, this seems boring, but I think you'll agree in the genius of it by the end of this piece…
…maybe.
One of the NFL trends I enjoy is the coaching carrousel, selfishly, so I can research coaches who I was not as familiar with—and trying to figure out their impact on their new team/FF. It's like a fun little puzzle to tinker with. No puzzle here with the Bills. Do I really even need to write this piece about Rex and the Bills? Is there anyone on the planet with a different take on his impact?
Of course, the easy thing to do is go…"Well, the Bills had an awesome defense…and Rex Ryan is a defensive genius…so now the Bills defense will be even better." You know this because the Jets allowed 31 TDs/6 INTs on 64.1% Comp. Pct. through the air last season—one of the worst, if not thee worst, pass defenses in the league.
I'll admit that Rex is a great defensive coach, and we all thought the Bills-DST would already be pretty nice for 2015…so now we still do, I guess. Nothing new here.
We all felt that E.J. Manuel was a joke and was never close to the list of top fantasy sleeper picks. Some of you thought he just 'needed coaching', because you're insane…or you're the Bills GM reading this. EJM is Geno Smith bad…and we see how delightful Rex was with Geno. Don't worry, Bills fans! Rumor has it the guy who was the O-C for Colin Kaepernick—the one who coached him into three-years of regression is on the way to fix EJM. Get those playoff tickets ready.
This is the fresh start the new ownership is bringing in?
This is the best the Bills President and GM could do—their elbows firmly on the pulse of the up-and-coming coaches? My assumption would be: The Bills President and the GM have one more year until never being in those roles again in their lives—unless they pull off a terrific 2015. Rex Ryan gives them a guy with some track record of walking and making an instant 'rah-rah' shift, and who has been able to take great defenses with junk QBs to the doorstep of the Super Bowl instantly—and we all should respect that. Rex is also not afraid of New England, and has shown an ability to hang with the Pats—that's key for the Bills too. For one year, one game, Rex is terrific…over a five-year period, he is suspect. At some point, talent acquisition and offensive coaching have to come into play.
Really, like most things, it comes down to QB. The Bills don't have one. There is likely no QB savior in the draft. Unless the Bills find a QB, then all the defensive enthusiasm won't matter.
Whatever you thought of the 2014 NY Jets…think the same of the 'new' Buffalo Bills (even if Jay Cutler is the QB)—great defense, bad offense, 8-8 record…plus or minus a win. Always formidable, but not a dynasty in the making.
HOWEVER…
That is a generic evaluation of the team with Rex. The more immediate, critical thing to consider: The gift of the 2015 schedule. You'll see what I mean in the next section…
**See the 2015 Dynasty Rookie Draft & Team Builder, with our Moneyball-style scouting reports and rankings. Go to http://advancedsportslogic.com/products/dynasty-rookie-draft?ref=blog **
Fantasy players impacted by the Rex Ryan hiring…
Best Fantasy Football Keepers - 
 — I am a little giddy of what this might mean for Bryce Brown. I think Rex Ryan is a realist. I also believe he can change troubled players from troubled to bad-asses. Once Ryan gets a load of Bryce Brown—it could be a Fantasy match made in heaven. The coach who loves the run the ball, a coach who will have to run the ball, has three-choices (today): aging Fred Jackson, tugboat Anthony Dixon, and the potential next Adrian Peterson—Bryce Brown.
If Brown has a prayer left in the NFL/FF…this is the best thing that could have happened. I assume (from public and private sources) that Doug Marrone and the GM and President fought like cats and dogs. Marrone willing to do anything to spite management…Bryce was management's guy. Bryce MAY have been a pawn in that (or Bryce makes his own bed…). They traded for Brown in the offseason, but Marrone kept Bryce inactive most of the season–and when Spiller-FJax went down, Marrone turned to something calling itself 'Boobie'. This may be Bryce's best, and last chance.
 — Every year of the Rex Ryan era in New York was a disaster in the passing game. He has an awful QB situation today in Buffalo—it's hard to envision Sammy Watkins is going to a next level, but he will get heavy targeting…it just may not be catchable. I think Rex and Sammy have a Clemson connection over the past few years as well. I expect Sammy to get enough touches to be plausible, but he likely cannot go to the next-level because of the QB. However…
I assume the Bills will also look for a new QB for right now…the Bills-2015 are much like the Oakland Raiders-2014. Everyone is under employment pressure, and they will sell their soul to win now…the future be damned. Thus, you trade for, and pay heavily for, Matt Schaub. The Bills are going to trade for Schaub…figuratively. They need a one-year 'fix', and Jay Cutler makes a lot of sense. Cutler + Watkins is exciting-ish. Cousins + Watkins = a tragic FF-comedy.
 — You might get excited for the Bills-DST, one of the better NFL fantasy sleepers, for 2015, not just because of Rex, but because the schedule kinda lends itself to a run that the Texans had this year. A so-so team with an awesome schedule. The Bills will get the Jets 2x, but also has JAC, TEN, WAS. There are five wins already built in. If they split with Miami, they might just have to win three of the other nine games on the schedule to get another winning season on record. What if the Bills second Patriots matchup is in Week-17…and it doesn't matter to New England (same as this year when Buffalo beat them Week-17)?
Because of the schedule, Buffalo should be a playoff contender in 2015…like this past season. Which makes the Rex hiring make a ton of sense, even if it doesn't make a bigger picture sense to all of us. The 2015 schedule is begging for the Bills to go 9-7 again. If they do, Rex and friends will be painted as genius.
…if they flameout with this schedule…'oh, my'.
– R.C. Fischer is an NFL Draft analyst for College Football Metrics.com, and a football projections analyst for Fantasy Football Metrics.com. His group also provides player projections for Advanced Sports Logic's football software "The Machine." See "The Machine" here: The Machine via FFM