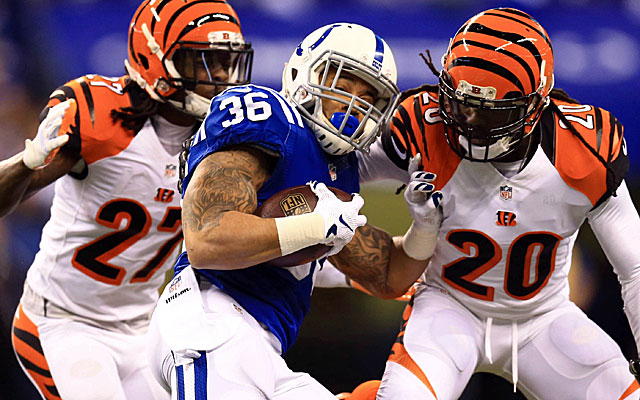 Well, my dream came kinda true in this game…Zurlon Tipton got extended time, on-purpose, ahead of Daniel Herron.  
There is some level of satisfaction in knowing that when I scout these players early in a calendar year, and a guy like Zurlon Tipton (11 carries for 40 yards, 1 rec. for 6 yards on 1 target) really pops for us—and is a prospect many scouts/analysts would have never considered to be on the list of fantasy sleeper picks. But we saw him as a top-10 RB in the class (maybe even top-5 when healthy)…it's a good day to see him start the 2nd-half of a tight playoff game.
It wasn't Disney-esque. He didn't run for 200+ yards and become the buzz of the week, but it was a good performance. Dan Herron was having issues with fumbles, and Trent Richardson was active (but sick), and so to start the 2nd-half, there he was—Tipton starting, and taking carries. After another Herron fumble, while the Colts were trying to salt the game away—it was Tipton plowing through the Bengals…running clock, and not fumbling. He didn't have any breakaway runs, but had some decent carries—enough to show he belongs.
From UDFA, to making the main roster opening-day, to cut the following week, to practice squad, to the Colts relying on him to secure the win in the playoffs. I'm a proud football scout 'Papa'. I am still hoping for more. I've seen him show that he belongs, but he can do more—he is kinda like Benny Cunningham. I hope Tipton has a better 2nd-year than Benny…a.k.a. being the best RB on the team, but mostly defers to a flashy name because 'draft pick justification'.
If Herron fumbles right away next week—Tipton gets another chance. That's all I'm watching that game for.
Our Dynasty Stash, featuring an analysis of Zurlong Tipton for 2015, analysis for 2014-15 is now on sale:   Dynasty Stash Package 2014
More Details on our Dynasty Stash 2014-15 items: Dynasty Stash Package 2014 (Long Description)
 — No A.J. Green, so I had hope–but Mohammed Sanu (3 rec. for 31 yards on 7 targets) did little…locked down by IDP Vontae Davis (4 tackles, 1 PD). Davis held him quiet earlier in the year as well.
 — Refer to your 2014 FFM Fantasy Football draft guides for more info, but Rex Burkhead (1 carry for 23 yards, 3 rec. for 34 yards) really had a nice showing here. Burkhead should be used by an NFL team, not buried. There is no reason why you draft RBs highly in this era to begin with, but especially back-to-back drafts…when you have Burkhead just sitting there.  He is definitely one of the better NFL fantasy sleepers.
For the price, you give me an NFL choice between Gio Bernard (3 carries for 6 yards, 8 rec. for 46 yards) and Burkhead—give me Rex. Gio should be denoted as a total waste of a high draft pick today. Not that he's a bad player, he's just as good as a fifty other RBs with decent hands floating around in or out of the NFL.
Burkhead's outlook for Fantasy Football? Ha! You think some GM (or his own team) will display 'vision' on this? If you're looking the next Brian Leonard for FF, here you go. It's sad about the 'box' some of these young players get painted into.
A new season of "Play The Draft" is coming in January 2015. Look for our FFM contest and prize package to be announced soon. 'Play The Draft' website 
  — Coby Fleener came up big with the bright lights on…1 rec. for 18 yards on 2 targets.
In 2014, Fleener scored zero TDs against teams who made the playoffs (8 games, including this one).
Against non-playoff teams this season = 8 TDs (9 games).
Against teams picking in the first five for the NFL Draft (a.k.a. the worst five teams in the NFL), Fleener had six of his 8 TDs (5 games).
However, anything attached to Andrew Luck (31-44 for 376 yards and 1 TD/0 INT, one of the best fantasy football keepers) has FF-value.
 — Terrance Williams 2.0, Donte Moncrief (3 rec. for 54 yards and 1 TD on 3 targets) scored a TD in this game. With all the WR talent in the football universe…I cannot believe how FF-serious we'll all have to take Moncrief, but we will.
…anything attached to Andrew Luck (31-44 for 376 yards and 1 TD/0 INT) has FF-value.  Is this becoming an NFL trend?
**See the 2015 Dynasty Rookie Draft & Team Builder, with our Moneyball-style scouting reports and rankings. Go to http://advancedsportslogic.com/products/dynasty-rookie-draft?ref=blog **
 — The anti-Andy Dalton (18-35 for 155 yards, 0 TD/0 INT) sentiment has oddly changed in the national media. I was surprised to see so many compliments and excuses (AJG and Gresh out) about his play. I like Dalton, always have, but he's just not getting any better. He's a fine/plausible QB in the NFL, but he took a huge step back with Hue Jackson this year…or the big contract did it to his mindset.
I didn't expect Cincy to win, and I get guys are missing, but Dalton has to be better than what he did in this game. Dalton's season numbers were really nice, and improving his first three years—and then a giant step back with Hue Jackson this season. For Fantasy/Dynasty purposes, I'll look at a Dalton bounce back in production when Jackson is gone…with Jackson there, FF-dead money.
– R.C. Fischer is an NFL Draft analyst for College Football Metrics.com, and a football projections analyst for Fantasy Football Metrics.com. His group also provides player projections for Advanced Sports Logic's football software "The Machine." See "The Machine" here: The Machine via FFM