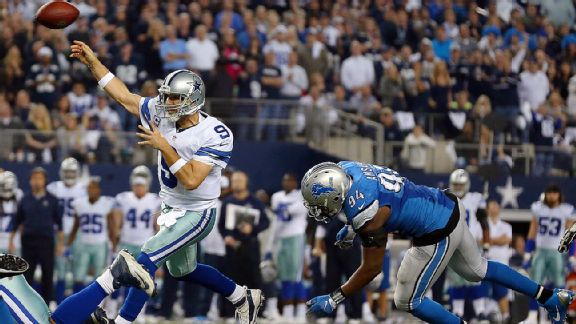 QB Fantasy Football News -
The Cowboys are already 6-point underdogs for Sunday's Ice Bowl 2 in Green Bay, but don't tell Dallas and fantasy QB Tony Romo. Romo, constant focus in our QB news, got knocked down by the Detroit defense for three miserable quarters and responded with the greatest comeback win of his career.
Romo found a way to turn that clutch switch on at the right time and take that playoff monkey off his back. Usually Romo's critics are criticizing him for not doing enough when they lose or how the Cowboys win in spite of him. Romo won this football game by working his 4th quarter magic is showing us why he finally should be considered an elite quarterback in the NFL.  
For the first time in playoff history, a team that is 8-0 on the road (Dallas) and a team that is 8-0 at home (Green Bay) will square off against each other. Boy is this going to be a battle come Sunday. Romo versus Aaron Rodgers in the playoffs, what more could one ask for? One thing is certain - we do not need a meteorologist to tell us that it is going to be cold in Green Bay, Wisconsin in January. Tony Romo is going to have to be productive in temperatures that will be around 10 degrees.
Both of these two teams tend to rely on their offense outscoring the other offense and not so much on their defenses. The Cowboys offense is definitely capable of outscoring the Packers with the weapons they have in stock. Tony Romo, Demarco Murray and Dez Bryant are having their best years as professionals thus far and are clicking on all cylinders.
People think that the Green Bay Packers are invisible at home and this is where those people are wrong. Since 2012, the Packers have lost 2 of their last 3 playoff loses at Lambeau, and again, the Cowboys are a perfect 8-0 on the road this year which is almost unfathomable. Something else that needs to be noted is the injured left calf of Aaron Rodgers. If Rodgers is seen limping around too much, the Cowboys are going to tee-off on him and expose that vulnerability. With a new and improved Tony Romo and company, the Dallas Cowboys have a great chance of taking down Rodgers at Lambeau come game time.
Stay tuned to the latest QB fantasy news with Fantasy Focus.