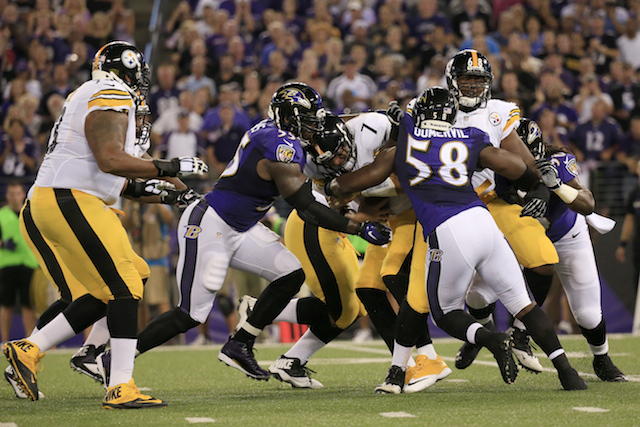 Wild-Card weekend is here and it's win or go home from here on out. There are two excellent AFC math-ups this weekend with the Baltimore Ravens taking on their division rival Pittsburgh Steelers on Saturday and The Colts hosting the Bengals on Sunday. Both games will be rematches from earlier this season but many things have changed since those match-ups occurred.
Let's take a look at the key factors in each game and who should come out on top.
Baltimore Ravens @ Pittsburgh Steelers, Saturday @ 8:15 PM EST. 
The Ravens and Steelers split the season series with the home team winning big each time. The Steelers won't have the services of All-Pro Running Back Le'Veon Bell, so it will be up to Big Ben and Antonio Brown to carry the Steelers on offense. On the flip-side of the ball, the Ravens boast one of the best Front 7's in the NFL, but they have a decimated secondary that has been their Achillies' Heel all season. Antonio Brown Brown and Big Ben should produce big numbers through the air, but can the Steelers scratch out a win without an effective running game?
The Ravens will have a more balanced attack with a solid running game and a pair of big-play receivers in Steve Smith Sr. and Torey Smith. The additional of Offensive Coordinator Gary Kubiak has made Baltimore an excellent zone running team with a deadly play-action passing game. The Ravens will be going up against a Steelers team that also has been decimated with injuries and is a shell of themselves compared to the Dick LeBeau defenses of the past.
While both teams have surprisingly been led by their offenses all year, look for a defensive battle and a win for the home team. The Ravens were only 1-6 against teams with winning records this season, while the Steelers were 5-1 against playoff teams (3-0 at home).
Cincinnati Bengals @ Indianapolis Colts, Sunday @ 1:15 PM EST
In Week 7, the Colts completely dismantled the Bengals to the tune of 27-0 and completely changed the outlook of the Bengals season. In that game, the Bengals were held to 32 rushing yards and then starting Running Back, Giovanni Bernard, was injured for several weeks. Since Bernard's injury, Rookie Running Back Jeremy Hill has come in and produced big numbers and is dominating touches out of the backfield even with Bernard back in the lineup. Hill was recently voted as the team MVP by his teammates and the Bengals now have one of the best one-two punches out of the backfield. 
In NFL player news, A.J. Green did not play in Week 7 due to a foot injury and Green has all but been ruled out of this weeks match-up as well with a concussion, bad news for playoff fantasy football owners. Ahmad Bradshaw did most of the damage for the Colts out of the backfield in Week 7 and has since been put on season ending I.R. The Colts running game has not been the same since without Bradshaw. What did we learn from this Week 7 match-up? Pretty much nothing. The Colts were a different team back then and the Bengals are a different team now.
This game will come down to turnovers. NFL fantasy stalwart Andrew Luck can sling it with the best of them but threw seven interceptions in two playoff games last year. His counterpart, Andy Dalton, has yet to win a playoff game (0-3) and has struggled in prime-time games throughout is career. Without A.J. Green, I don't think the Bengals will be able to keep up with a Colts team that should be able to play some inspired football in front of their home crowd.
I see this being a close game with the Bengals finding success in the running game and their defense to keep them in the game. Until the Bengals win a playoff with Dalton under Center, you won't see me picking them to win a playoff game on the road. Look for the Colts to come out on top as Luck outplays Dalton in Lucas Oil Stadium.