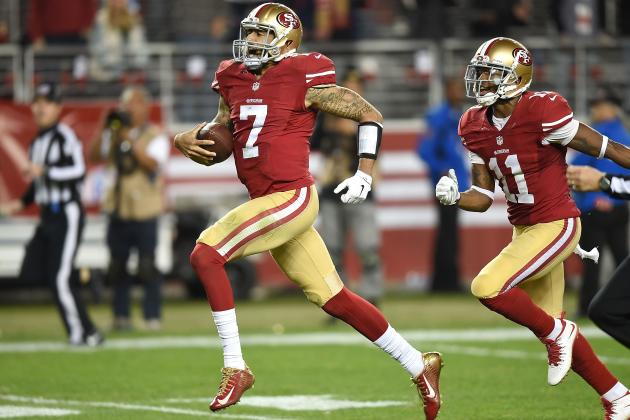 NFL Trends
DEN-CIN
 — From Weeks 11-16, Peyton Manning was the 20th ranked Fantasy PPG (4pts per pass TD) QB, just behind Mark Sanchez. How the mighty have fallen! If Denver gets bounced in the first-round of the playoffs, then I think the odds Peyton retires is like 30-70…and that will send shockwaves through many Dynasty/Fantasy entities (Demaryius, Julius, Sanders, et al).
 — Jermaine Gresham has 4 TDs in his last five games. His yards and reception counts have been so-so (until MNF), but he is scoring TDs. In the critical game in Week 17, he is a suddenly hot TE option.
JAC-TEN
 — HOU is still in the playoff hunt, and faces JAC at home this week. Blake Bortles is going to get destroyed by the Texans defense that has its secondary healthy again—plus that Watt guy.
 — It hasn't mattered all FF-year, BUT Bishop Sankey could take 15+ touches against an Indy defense that has nothing to play for this week. Antonio Andrews probably sees some time too.
PHI-WAS
 — I would be FF-worried that Mark Sanchez gets the start, and then Matt Barkley then comes in quickly—or at least playing the 2nd-half. Philly has nothing to play for in Week 17.
 — Zach Ertz catch counts in each game since Sanchez took over, before his 15 catch game in Week 16: 1-1-4-4-0-2-1. Week 16 was a blip…plus you might have Matt Barkley a lot in Week 17. Be careful of the trap of looking at last week alone with Ertz.
 — Silas Redd fell off in the 'Roy Helu role' in Week 16, and there was a move to Chris Thompson as the RB target guy—Thompson had 3 targets, Redd zero last week. Thompson would be an option for deep NFL fantasy sleepers for PPR in Week 17.
SD-SF
 — Honestly, I missed this. I watched SD-SF, and thought Colin Kaepernick had some huge, splashy game. He broke the long run in that game, which was FF-cool, but did you know he had just 114 yards passing with 1 TD/0 INT. Even in an offensive explosion, he's an awful passer and a far cry from the list of best fantasy football keepers.
 — Dontrelle Inman could be the secret weapon against KC this week: 7 catches for 79 yards on 9 targets in Week 16, his debut…or he is is a weapon that gets ignored. Philip Rivers has shown before that he'll stick with his tried and true guys.
 — FYI, the best RB the Chargers had Saturday…Ronnie Brown. He might take a shock amount of work Week 17.
MIN-MIA
 — Damien Williams: 6 catches for 50 yards and 1 TD on 6 targets in this game. Those are obviously nice numbers, but I was impressed with the way he was catching the ball. I never noticed how nice a receiver he was. My bad. Nice hands. He could be a Week 17 sleeper on more carries to go along with this growing role in the passing game.
 — IDP Dion Jordan…memba him? He had 5 tackles and 1 sack last week…a sign of life for the former #3 overall draft pick in 2013.
 — Charles Johnson catch counts since his Week 11 'breakout': 3-2-4-5-3. Man, do I wish the Vikings would go to another level with Cordarrelle Patterson.
BAL-HOU
 — Torrey Smith 10 TDs in his last 11 games. How much has he raised his pending free agency value? Honestly, he has really not done much more than be 'the guy on the field'. I haven't seen him taking tops off defense or dominating opponents—I've just seen him open as Steve Smith gets a lot of coverage heat.
 — Justin Forsett's last three games rushing numbers: 13.3 carries for 46.0 yards (3.5 ypc) per game.
 — IDP D.J. Swearinger is supposed to be a big tackle producer, but in his last six games: 4.2 tackles per game.
DET-CHI
 — After several weeks of being inactive, or barely used…Reggie Bush took over the lead role early in the game last week: 7 targets, 6 catches, 98 total yards and 1 TD. He's back to 'normal' (whatever that means) for Week 17.
 — Last two weeks for IDP rookie LB Christian Jones: 12.0 tackles per game as a starter. He's got nice odds of 10+ tackles again this week. I'm not a huge fan long-term, but he's working right now.
 — After racking up five 100+ yard games from Weeks 4-10, Golden Tate has not hit the century mark in his last six games. He's been under 65 yards in three straight games.
CAR-CLE
 — IDP DT Kawann Short in the last three weeks: 3.3 tackles, 0.7 sacks per game
 — IDP rookie CB Pierre Desir in his first heavy playing time Week 16: 7 solo tackles, 2 PDs
 — I have not trusted Jonathan Stewart since DeAngelo Williams went down, but in his last four weeks: 19.5 carries, 109.3 yards, 5.6 ypc per game. I was the fool. Foolish because I love Stewart, I'm just so used to holding an empty bag with him. I back on his side, which means he'll have one of his limbs ripped off on the first play this week.
 — He missed a game, and had a BYE, but from Weeks 11-16…Cam Newton has been the highest scoring (PPG) QB in Fantasy (4pts per pass TD)—22.8 PPG.
ATL-NO
 — Jacquizz Rodgers took the majority of carries with Steven Jackson down in this game, but I'll take Devonta Freeman for FF-output in Week 17. Freeman out-gained Rodgers 84-32 yards in this game.
 — I'd be worried about anything Saints-related on offense this week. I can't imagine Drew Breeswill play much, if at all this week. Anyone normal would sit Brees in Week 17, but if I know the NFL…he'll play most of the game risking the entire franchise's future.
TB-GB
 — The last two weeks of IDP Safety Brad McDougal: 12.0 tackles, 0.5 PDs per game. This has developed out of nowhere. He started out in college (Kansas) as a WR, but moved to Safety and racked up 182 tackles in his final two seasons. He has bounced around the NFL a little, but has made a splash the last two weeks. He's a solid, not special athlete, but has great instincts and is a willing tackler.
 — Charles Sims last three weeks of rushing yards in games: -4, 34, -1. He is averaging 2.4 yards per carry. I told you…
He is a solid receiver at RB, though.
 — Josh McCown's last five games: 4 TD/7 INT…10 TD/13 INT on the season. It is criminal that he is still playing QB for Tampa.
A new season of "Play The Draft" is coming in January 2015. Look for our FFM contest and prize package to be announced soon. 'Play The Draft' website 
KC-PIT
 — Last three weeks for Albert Wilson: 4.0 rec. for 69.7 yards on 6.7 targets per game. He is becoming more integrated each week.
 — The last five games of catches for Martavis Bryant: 2-1-4-3-1 (2.2 per game). He's rapidly becoming Terrance Williams for FF.
 — Shock number: How many times has Jamaal Charles rushed for 100+ yards this season? How about…once. Week 11 against Seattle. Just one rushing TD in his last five games as well.
NE-NYJ
 — In his last nine games, IDP Jamie Collins is averaging: 8.3 tackles, 0.8 stuffs, 0.2 Forced Fumbles. Every time I looked up at this game…Collins was in the middle of the action.
 — If Rob Gronkowski or Tom Brady steps foot on the field in Week 17, I will absolutely lose my mind.
 — Assuming the Pats play Week 17 as a preseason game, Jimmy Garoppolo is a decent play, and Brandon Bolden is one of the best fantasy sleeper picks as well.
 — IDP Calvin Pryor with more playing time Week 16: Nine tackles in this game (but only 3 solo).
NYG-STL
 — Rookie NYG IDP Devon Kennard over the past six games: 5.7 tackles, 0.8 stuffs, 0.3 Forced Fumbles per game. He's a deep sleeper IDP for Week 17.
 — Finally, Kenny Britt makes me look good after getting excited about his situation weeks ago…and it's also happening once I gave up on him. He had a career high 9 catches for 103 yards in this game. Thanks!!
No thanks against Seattle this week.
 — Rookie NYG IDP Kerry Winn the last two weeks: 5.0 tackles, 0.5 sacks, 0.5 PD, 0.5 INTs per game.
BUF-OAK
 — Buffalo's run defense is terrific, as we all know. The Bills had a ton to play for in Week 16.Latavius Murray ran like a boss against them. He is going to be a star—and thus, our computer scouting models are genius. You thought we were crazy ranking Murray as a #1-2 RB in the 2013 draft class with Le'Veon Bell?
We're only about two weeks away from College Football Metrics opening for 2015!! Can you believe it?
 — This game marks Sammy Watkins having three or fewer catches in five of his last six games, and under 75 yards receiving in six of his last seven. He did score a TD for the first time in seven weeks.
 — IDP Miles Burris the last six weeks (much of this with Sio Moore hurt): 7.2 tackles per game, and 13 tackles in this contest.
IND-DAL
 — It is possible Zurlon Tipton will get 15-20+ touches in Week 17. After all, he was the top Indy RB last week!! It was in garbage time.
If they announce he is starting this week, you know…I'm all in for Week 17. I don't place Tipton on a level with a Latavius Murray. I just think he is really good (one of the best in the 2014 NFL Draft), and is more talented on anyone on the Colts right now.
 — Donte Moncrief is one of the most overrated WRs from the 2014 NFL Draft. He's OK, but football analysts act as if he is up with the top guys in the class. He's been a joke when Indy most needed him this season. In the last three games: 5 catches on 11 targets for 38 yards…total in all three.
 — Terrance Williams drives me nuts. He has 0-2 catches in a game in nine of his last 10 games, and 11 of his last 13 games. He has yet to hit 80+ yards in a game this season. He does have 8 TDs this season…on his 34 catches YTD.
Our Dynasty Stash 2014 analysis is now on sale:   Dynasty Stash Package 2014
More Details on our Dynasty Stash 2014 items: Dynasty Stash Package 2014 (Long Description)
SEA-ARI
 — These are the kind of moves that matter…
The #1 Fantasy scorer (4 pts per game) in total FF-points from Week 9-16 is…Russell Wilson.
He was also #1 in Fantasy PPR (4pts per pass TD) from Weeks 11-16, among those QBs who did not miss a game (Cam was 0.1 higher in PPR but missed a game with injury).
All these time ranges were at the same time I was proclaiming Wilson as your only hope to take down Luck-Rodgers for the future in Dynasty. Guess what? He took them out this year down the stretch. He single-handled saved many of our Fantasy seasons.
Hey, we do the best you can in the draft leading into the season, but this makes two years I have delivered some major gifts to you at QB mid-season: Foles last year, Wilson this year. Those who took my draft advice of two QBs before others get their first…if your 2nd one was Wilson…how'd that work out? Guess, not taking that 3rd RB in the 7th-round of a redraft worked out after all!
 — Let me just say this: If Logan Thomas starts, and plays a full game, he will get sacked a minimum of 5x. I wish he was playing a DST that needed the Week 17 game, because then he might go down 10x.
 — Sure, now Luke Willson does something. I cry about him on and off for two years, to no avail, but as soon as I strike him from my mind—two TDs and 139 yards this week. It's a blip—he only had three targets. There is no uprising here, as much as I'd like to see one.
– R.C. Fischer is an NFL Draft analyst for College Football Metrics.com, and a football projections analyst for Fantasy Football Metrics.com. His group also provides player projections for Advanced Sports Logic's football software "The Machine." See "The Machine" here: The Machine via FFM