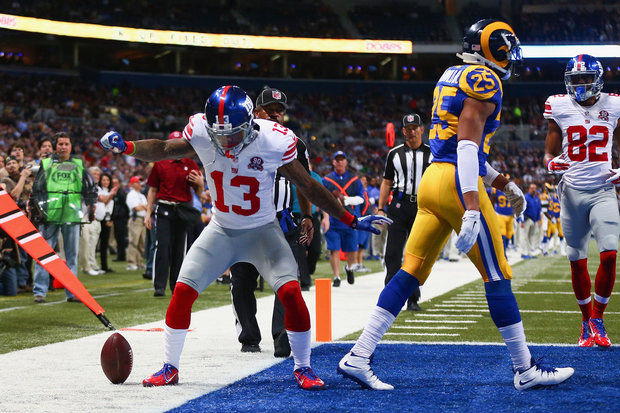 NFL player news - 
1) Odell Beckham Jr, WR, Giants - And the award for the 2014 Fantasy Football Postseason MVP goes to (drum roll, please) Odell Beckham Jr. Averaging 26 points over the final three-game stretch, Beckham's competitor was Dez Bryant, with 17. In four of my five leagues, the owner holding the trophy has Odell Beckham on their roster (including myself). Of course, I would be remiss if I didn't recognize Dez Bryant, Alshon Jeffery, Antonio Brown, Randall Cobb, Calvin Johnson, and even Marques Colston. Each of these guys deserves high praise for rock steady point production in the playoffs.
2) LeVeon Bell, RB, Pittsburgh - Had LeVeon Bell not dropped a 13 in the title game, he would have been the easy choice for MVP. However, with a 41.5 and 23.9 the two weeks prior, odds are Bell is the reason you're playing in Week 16. DeMarco Murry also had a yeoman's effort on Sunday after playing through the obvious pain of a broken hand. Despite playing with one arm, Murray still delivered a courageous 11 NFL fantasy points.
3) Marshawn Lynch, RB, Seahawks - While Beckham tore up the entire postseason, my Week 16 MVP goes to Marshawn Lynch. In what was supposed to be a brutal matchup in Arizona, Lynch went Beast Mode for a league best 23.3 fantasy points. I know of countless leagues won on his signature run. Credit is also due to a number of first round running backs who lived up to their billing. Finishing inside the top ten in postseason scoring we find Eddie Lacy, Matt Forte and Arian Foster. Running backs are still the foundation to a fantasy title
4) Russell Wilson, QB, Seahawks - Remember the preseason, when everyone was saying "Russell Wilson can't score. He plays in a run-based offense, behind a mediocre line, opposite a stout defense"? 846 rushing yards and six touchdowns later Wilson has finished 6th in fantasy scoring on the season. He saved his best for last, exploding in Weeks 14-16 producing 28.6 fantasy points, including a championship week best 39.75 points! BOOM.
5) Tony Romo, QB, Cowboys - Odds are if you limped into the playoffs starting Matt Ryan, Tony Romo or Eli Manning, the future was bleak. Struggling for most the season, each of these veteran signal callers looked more like a fading QB2, than a title contender. All they did was deliver elite level production finishing 2nd, 3rd and 5th in playoff fantasy scoring. The common bond; each has a stud WR1, a solid WR2, plays opposite a sub-par defense, while having a plus schedule (although Eli vs. St. Louis was unexpected). While Ryan produced a respectable 20 points on Sunday, if you started Manning or Romo, wear your ring proudly.
6) Antonio Gates, TE, Chargers - Preceded only by Shannon Sharpe and Tony Gonzalez (with much love to Mike Ditka and Kellen Winslow Sr.), Antonio Gates is amongst the forefathers of the tight end revolution. At the twilight of his career, when everyone said he was washed up and injury prone, Gates continues to show why he has a place reserved in the Pro Football Hall of Fame. Finishing fourth in fantasy scoring on the year, Gates delivered a game for the ages Saturday night. When the smoke cleared, Gates had rewarded fantasy owners with an astounding 21 fantasy points. Amongst the greatest to ever put on a pair of cleats.
6) Joique Bell, RB, Lions - Although we are more than satisfied when elite players produce, it's the outliers who show up late and elevate our team from good, to league champion . Winning the Postseason Sleeper Award is Joique Bell (although a big game from C.J. Anderson on Monday night could sway the vote). After a tumultuous season in which he finished 16th in RB production, Bell had three RB1 performances averaging 16.7 fantasy points per game, good for 5thplace. Jonathan Stewart and Matt Asiata are two other names who jump off the list. After being liberated from their team's committee, both rewarded fantasy owners ballsy enough to start them with top-eight production. Put them in your draft plan.