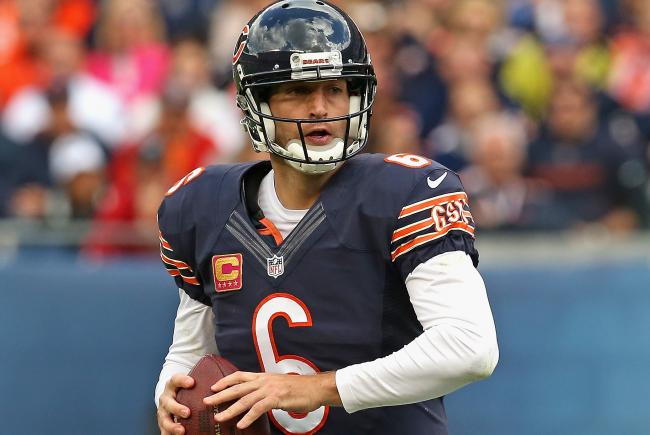 QB Fantasy Football News -
The Chicago Bears shocked the NFL world this week when they announced that they have benched their 100-million dollar quarterback, Jay Cutler. After suffering under some of the worst coaching the NFL has seen in a long time, the Bears predictably used Cutler as the team's scapegoat.
In QB fantasy news, Coach Marc Trestman will be starting Jimmy Clausen (fantasy QB dud) in Cutler's place and many people are speculating that the Bears will now release Cutler or trade him at the end of the season. Cutler may be gone, but Trestman will not be far behind after what the team has done since his arrival. 
There's no guarantee that Cutler is being banished from Chicago, but the embattled quarterback desperately needs a change of scenery.
Was it a good decision to bench Cutler? Who knows, but given the fact that Cutler can't win with all the weapons at his disposal, and the lack of emotion he displays, it wouldn't bother many Bears fans if Cutler has taken his last snap in Chicago.  
Let's take a look at one team in each division that could benefit from having Jay Cutler under center. 
AFC West:
The Broncos, Chargers and Chiefs are all content with their QB's so the only possible place Cutler might end up is Oakland. Derek Carr has shown signs of being the future in Oakland but the Raiders and their fan base doesn't seem too excited about the Raiders winning in the near future. Cutler could provide some off-season buzz for a very passionate fan base and a team with some young talent.
AFC South:
There are two teams that could be a nice landing spot for Cutler. Houston and Tennessee are both in need of a QB, but if given the choice, Cutler would much prefer playing for Houston. Adding Cutler to the Texans would make them an instant playoff contender and Cutler would greatly benefit from joining a team with a good defense and a head coach that gets the best out of his quarterbacks. Of all the logical landing spots, Houston sounds like the best fit to me.
AFC North:
There may not be a good fit in the AFC North. Two teams teams have a Super Bowl winning QB, one recently signed a 100-million dollar contract and the other just drafted Johnny Football in the first round. Depending on how Johnny Football plays in the last two games may determine of Cutler would be a good fit in Cleveland. As of now it looks like there is no fit in the AFC North.
AFC East:
The Jets and the Bills might be good fits for Cutler if they don't see a future with EJ Manuel or Geno Smith. The Bills appear to be the better fit considering they have an excellent defense, a lot of young talent on the offensive side of the ball and are a decent QB away from posing a decent threat to New England. 
NFC West:
The Rams would be a great fit for Cutler. They have stellar defense and are a playoff-caliber team if they were in pretty much any other division in football. Since Sam Bradford can't stay healthy and can't be depended on, Cutler would provide some reliability and be a QB that won't be afraid to but heads with the likes of Seattle and Arizona.
NFC South:
The Tampa Bay Bucs might also be the best possible fit for Jay Cutler of any team. They are coached by the former Bears Coach, Lovie Smith, and Cutler actually had some decent years in Chicago under Smith. The Bucs have some good weapons on offense and Coach Smith should be able to shore up the defense in the near future. If the Bucs can keep Vincent Jackson, they will have two monsters on the outside and they may be able to get Doug Martin back on track which would give them a very good chance to win the division in one or two years. Whether Cutler ends up in Tampa Bay will be a clear indication of how positively Lovie Smith feels about Cutler's ability to be franchise QB.
NFC East: 
With the status of RGIII in limbo, Cutler may actually be a good fit in Washington. Washington has some weapons on the offensive side of the ball and the defense ranks well against the run. Cutler may be a good fit and exactly what Jay Gruden wants to fit his West-Coast system. Cutler would love playing in a division where defense is optional and with Cutler in Washington, the Redskins could cause some headaches for for the Eagles and Cowboys.
NFC North:
There likely won't be any interest from the  NFC North since each team has had a front-row seat to the dumpster-fire known as Jay Cutler. Minnesota would be the only possible place that Cutler can land and it doesn't seem likely given the fact that the Vikings drafted Teddy Bridgewater in the first round of the 2014 NFL draft.
For the most up-to-date QB news, stay tuned to Fantasy Focus!