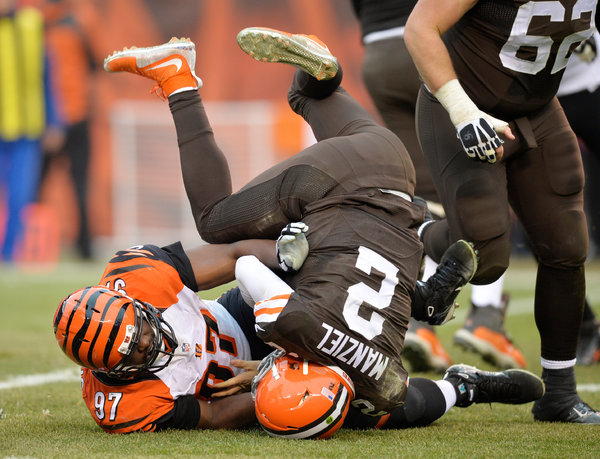 — Well, how was that for a Johnny Manziel (10-18 for 80 yards, 0 TD/2 INT) debut? Manziel was once at the top of the list of fantasy sleeper picks, but is now a total bust with the added bonus of having locker room and off-field issues at every turn.
I realize rookie QBs can flounder early. This wasn't a floundering…it was one of the worst QB performances you will have ever witness. I would have expected this from Logan Thomas or Ryan Lindley, etc., if/when they were thrown 'into the fire' off the bench never having played with the 1st-team in the regular-season…but you would expect a little better from a 1st-round draft pick. This is the guy that many of the mainstream football analysts touted as their initial #1 QB and/or overall prospect in the 2014 NFL Draft. Manziel's performance in this game was abysmal.
Someone needs to find that homeless man who told the Browns' owner to "draft Manziel," and fire him.
Manziel had two interceptions in this game. He should have had between four and six of them. His downfield throws that were actually completed were all blind throws that were mostly wounded ducks than actual NFL passes. This was an embarrassment to the NFL…'this' being when Manziel's payroll check clears the bank this week.
The Carolina-DST (Cleveland's next opponent) is suddenly in-play for Week 16 title matches and is one of the better NFL fantasy sleepers for this week.
Will the Browns wait a year to admit their error, or will they draft another QB in 2015? Either way, the Browns are screwed unless they dig up the right veteran QB next year (and it's not Hoyer). Josh Gordon (3 rec/ for 48 yards on 4 targets) and Jordan Cameron (1 rec. for 4 yards on 1 target) will be FF-disappointments for the foreseeable future as well.
This will not help the emerging Browns-DST either, because the turnovers, lack of field position, etc. is too tall a hill to climb.
This is a total unraveling for a franchise that three weeks ago was worrying about the playoffs. They now have to worry about their franchise getting flushed back to becoming a constant source of ridicule…again.
Our College Football Metrics.com studies saw the Manziel bust coming…with specifics on what he was doing on the field in college, and why it would be an issue in the pros.
Don't lose track of Browns' practice squad QB Connor Shaw…it might be all they have at a certain point. Likely, he'll never get a fair shake despite being a similar, better QB than Manziel in the SEC in their final seasons. You can see his detailed scouting report on College Football Metrics.com as well.
Best Fantasy Football Keepers - 
 — Jeremy Hill (25 carries for 148 yards and 2 TDs, 1 rec. for 4 yards on 1 target) had a nice game here. We did not think Hill could carry an offense in the NFL…projecting that he would be more of a complimentary guy, which is an NFL trend these days. I'm not blown away by Hill, but I see he is better than we statistically scouted.
What I would like to celebrate on Hill: We did tell you, for a year plus, that Gio Bernard (15 carries for 79 yards, 3 rec. for 24 yards on 3 targets) was just an average/good NFL RB prospect…and by no means a high-end, main-carry guy in the NFL. His Fantasy-Dynasty stock is plummeting quickly.
 — IDP Craig Robertson (10 tackles, 1 PD, 1 INT) is white hot the past few weeks. He was one of our deep sleepers for Week 15, and he delivered again this week. In the last five games: 10.6 tackles, 0.4 PD, 0.2 INTs per game. He has double-digit tackle in four of those last five.
– R.C. Fischer is an NFL Draft analyst for College Football Metrics.com, and a football projections analyst for Fantasy Football Metrics.com. His group also provides player projections for Advanced Sports Logic's football software "The Machine." See "The Machine" here: The Machine via FFM