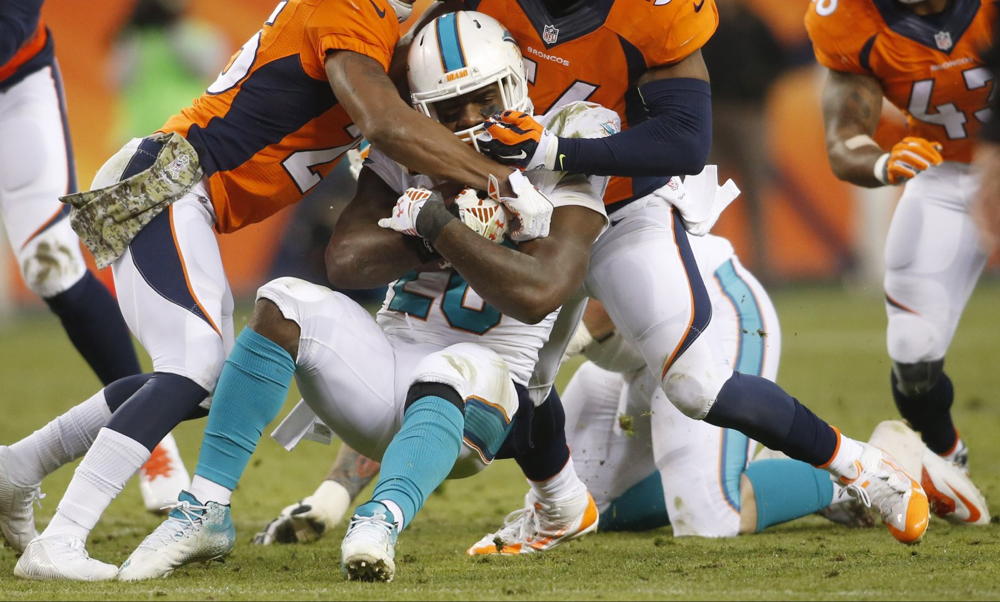 RB Fantasy Football News -
The Miami Dolphins have plenty of talent and are in the hunt for a Wild Card birth in the AFC. Their biggest issue is that they aren't using their most productive offensive player, running back Lamar Miller. Dolphins fans and fantasy owners can't understand why the Dolphins don't utilize their could-be top 5 fantasy RB more given the fact that he's averaging 4.8 Yards Per Carry and 6.5 Yards Per Reception.
In RB news, Miller is only averaging 12 carries per game and the only reasonable explanation can be that the coaching staff doesn't want to wear him out. However, if the Dolphins keep up their current playing style, Miami will miss the playoffs altogether and the entire team can take a nice long rest waiting for next year's season to begin. The Dolphins have not won back-to-back games since Week 9 and face a hungry Patriots squad on the road in freezing Foxborough where the high temperature won't be a lick over 40 degrees.
Miami will try to become the first team to beat the Patriots in New England all year. Miami is one of three teams to beat the Patriots this year, so they have the required pieces to win, but this Patriots team is a far different beast than the team they beat back in Week 1. 
The Dolphins have to pretty much win out and have some things go their way to even have a chance to squeak into the playoffs. The only way this will happen is if they feed Miller the rock and ride him until the wheels fall off. 
If Miami boosts Miller's touches to between 18-20 carries per game, they will increase their chances of winning games and give fantasy owners the boost they have been waiting for all season long. More volume would transform Miller from a high-end RB2 to a solid RB1 for the remainder of the year and beyond. But this can only happen If Miami comes to their senses and allows Miller to play a more significant role in the team's offense. 
Stay tuned to ASL RB fantasy news for the most up to date info!