Written by Mab Sidam
30 July 2023
"Not For Long" is an offhand expression for players in the NFL, one of the most physically demanding sports leagues in the world, with players regularly exposed to hard hits and collisions.
"The average length of a player's career in the National Football League (NFL) is relatively short, with the average career lasting around 3.3 years."
Many enter this season playing to earn a new contract, some to establish a name, others to maintain their status and the often forgotten practice squad member just trying to hold on to an opportunity.
In this unusually fast paced labor environment performance levels cannot drop, disappointing high draft picks or interesting later round picks not panning out can quickly be abandoned for the endless pool provided by the college game.
"It's no wonder that the average age of retirement is 27.6 according to an RBC Wealth Management study"
Today we will be taking a close look at two groups of NFL receiver talent facing daunting prove-it-year conditions, veteran receivers that are trying to prove they have more in the tank, and younger receivers that have shown flashes, but have seemingly plateaued at a level lower than their potential. We are selecting some receivers that in 2022 had a low reception percentage and a low yards per reception per the following chart: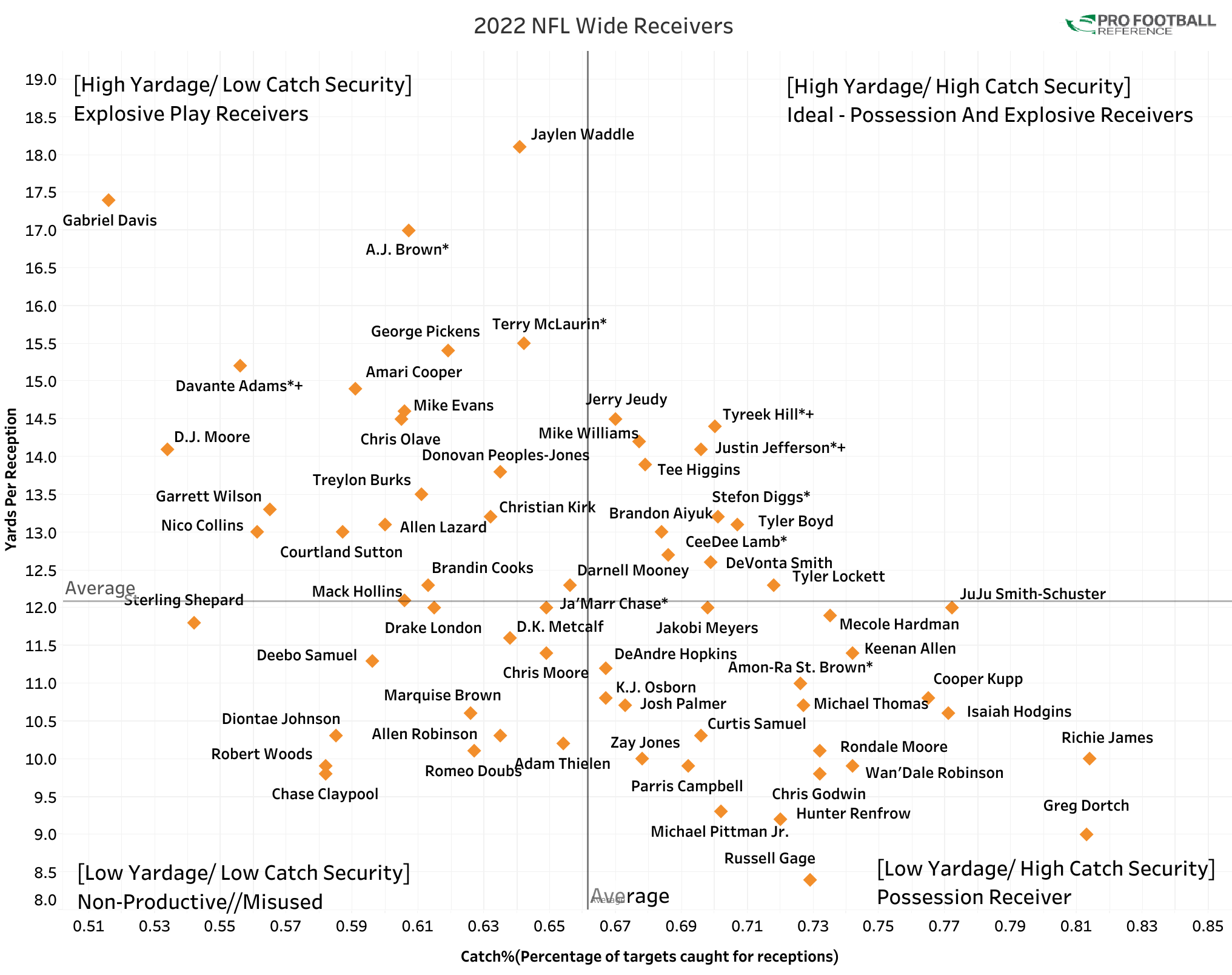 Group 1 - The Other Side Of The Hill Receivers: 
Allen Robinson - 29 years old 
The nightmare that was Allen Robinson on the Los Angeles Rams quietly ended. The former Jacksonville Jaguar star wideout is hoping to resurrect his playmaker reputation by helping young Steelers QB Kenny Pickett make the leap in production.
Allen Robinson has been two different receivers over two different two-year periods. 
Chicago Bears 2019 + 2020:
31 starts (missed only one game)
200 receptions (7 catches per game)
2,397 total yards (77 yards per game)
Chicago Bears/LA Rams 2021 + 2022:
21 starts (missed 13 games)
71 receptions (3.3 catches per game)
749 total yards (35 yards per game) 
The Steelers hope that this drop-off was due to the wrong fit of personnel and not a sign of drastic decline. 
Is this decline just a bad mix of injuries, contract disputes and terrible QB's? Robinson needs prove himself again and re-emerge as a top contributor to secure a place on a roster or he'll continue to play the game of musical chairs, bouncing from team to team before eventually bouncing out of the league.

Adam Thielen - 32 Years Old 
For the first time in Adam Thielen's career he'll be suiting up outside of his home state of Minnesota for the Carolina Panthers. This comes after spending high school (Detroit Lakes), college (Minnesota State) and his entire pro career to this point in his home state. 
In spite of years of service and the experience Thielen brings to the table he was callously moved off for salary cap reasons by his own hometown team. The veteran receivers skills and expertise are now for the benefit of rookie number #1 overall pick Bryce Young. The plan is for Thielen to help ease Young into the league by being a dependable catch option at all times while also mentoring the young receivers on the roster.
Thielen is a prototypical possession receiver of declining athleticism relying on superb technique. A few years ago at his dynamic peak he ranked among the best wideouts when at the top of his game. 
If Thielen cannot play this role, factors such as age, his contract and new options from the draft make him expendable. Receivers Thielen's age are either established on a team or out the league, and do not receive many phone calls once a receiver is considered washed-up.
Here's a video clip of the good ole days for Thielen.
Group 1 Honorable Mentions: 
Sterling Shepard, NY Giants - 30 years old. Shepard is coming off back-to-back injury plagued seasons.
Robert Woods, Houston Texans - 31 years old. Being on the Texans is it's own type of hell.
Group 2 - Mid Career Plateaus / "This Can't Be The Summit Right !?" 
The "Plateau Stage" is a period or state of little or no growth or decline. 
Many receivers enter the league in need of further development and molding …. and in some cases there reaches a point where an interesting prospect turns into a frustrating puzzling fit on the team. The receivers below have reached that point.

Chase Claypool - 25 years old
Claypool's metrics fits the profile of a dominant wide receiver: 
4.42 40 yard dash
6'4 listed height
A body built for contested catches
Yet there has been little to no production from Claypool since his rookie season despite all the tantalizing traits.
Many critics have attacked what they see as a lack of maturity, growth in skills and overall leadership traits. The Pittsburgh Steelers moved off from Claypool sending the message the undeniable talent wasn't worth the off-field hassle. The Bears feel all the negative traits are nothing but short term frustrations to be accepted for the return of an elite WR talent in a few years. 
Steelers scout's know wide receivers well and have a long history of hitting on this position. It's for this reason I hold out hope.
Remember Claypool's 4-TD day with Roethlisberger throwing to him against the Eagles?


Kyle Pitts - 22 years old
Kyle Pitts is the first rookie tight end to top over a thousand yards since Mike Ditka. Pitts is one of the most physically gifted players to suit up in his position. However, Pitts early years have been plagued by inconsistent QB play, questionable coaching and recently bad health as he tore up his MCL on his right knee in the middle of last season.
It's a make or break year for not only Pitts but the coaching staff behind him. The offensive leaning staff have to show results for all the assets and resources spent on that side of the ball. If Pitts is to return to rookie form he will emerge as one of the most targeted tight ends this season.
Here is a Kyle Pitts 2021 NFL highlight reel.


Group 2 Honorable Mention: 
Michael Pittman Jr, Colts - 25 years old. Pittman is a top performer in perilous conditions. Pittman Jr has never known stable QB play in his career. In what will be his prove-it season he is stuck with a veteran QB journeyman, Gardner Minshew, and an interesting developmental rookie, Anthony Richardson.