Written by Mab Sidam
05 June 2023
The following chart plots yards per reception versus receptions per game for this year's rookie class: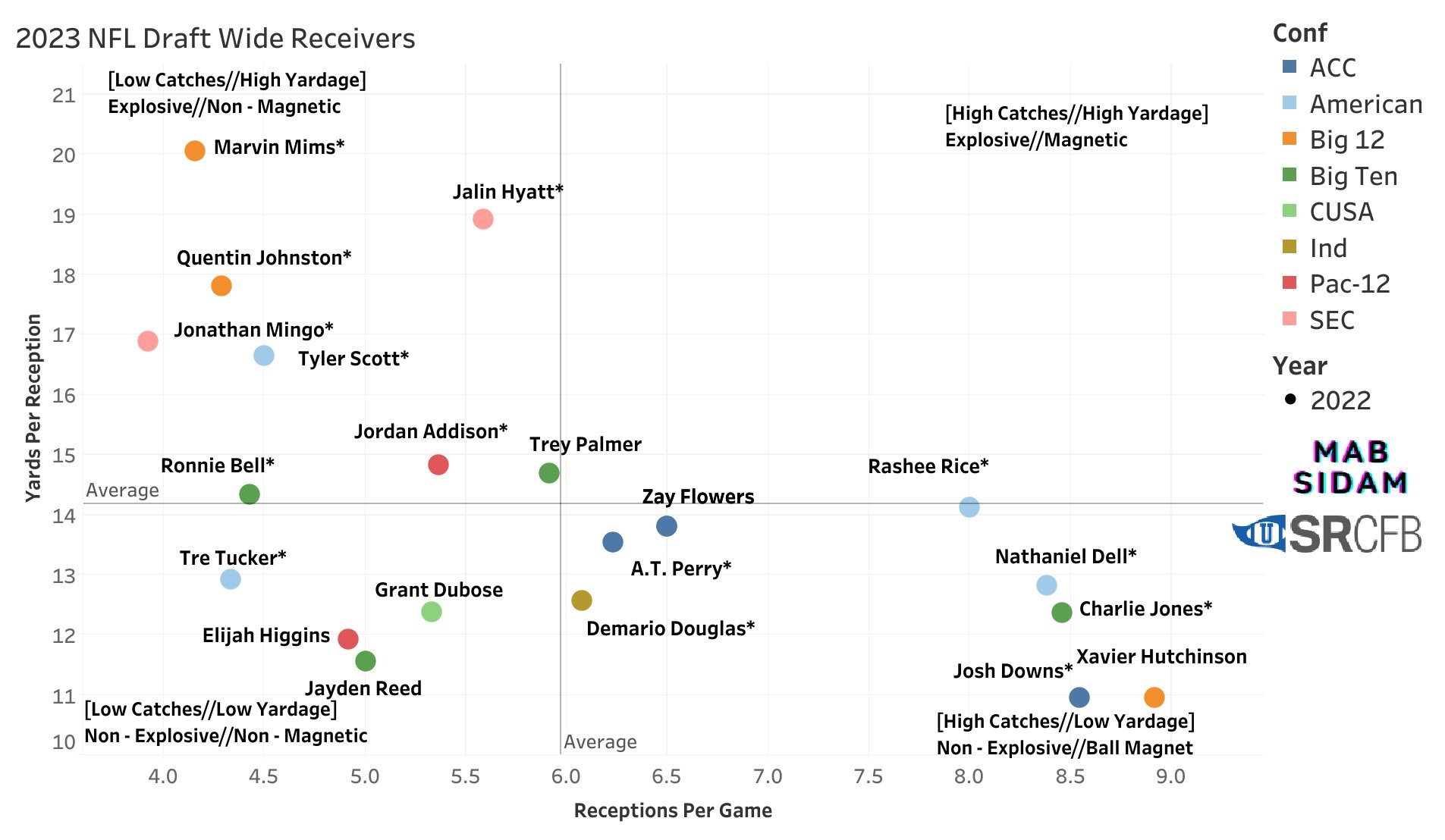 Not every rookie receiver drafted played enough games to qualify for the above chart.
The following chart shows the same metrics, but for NFL Veterans: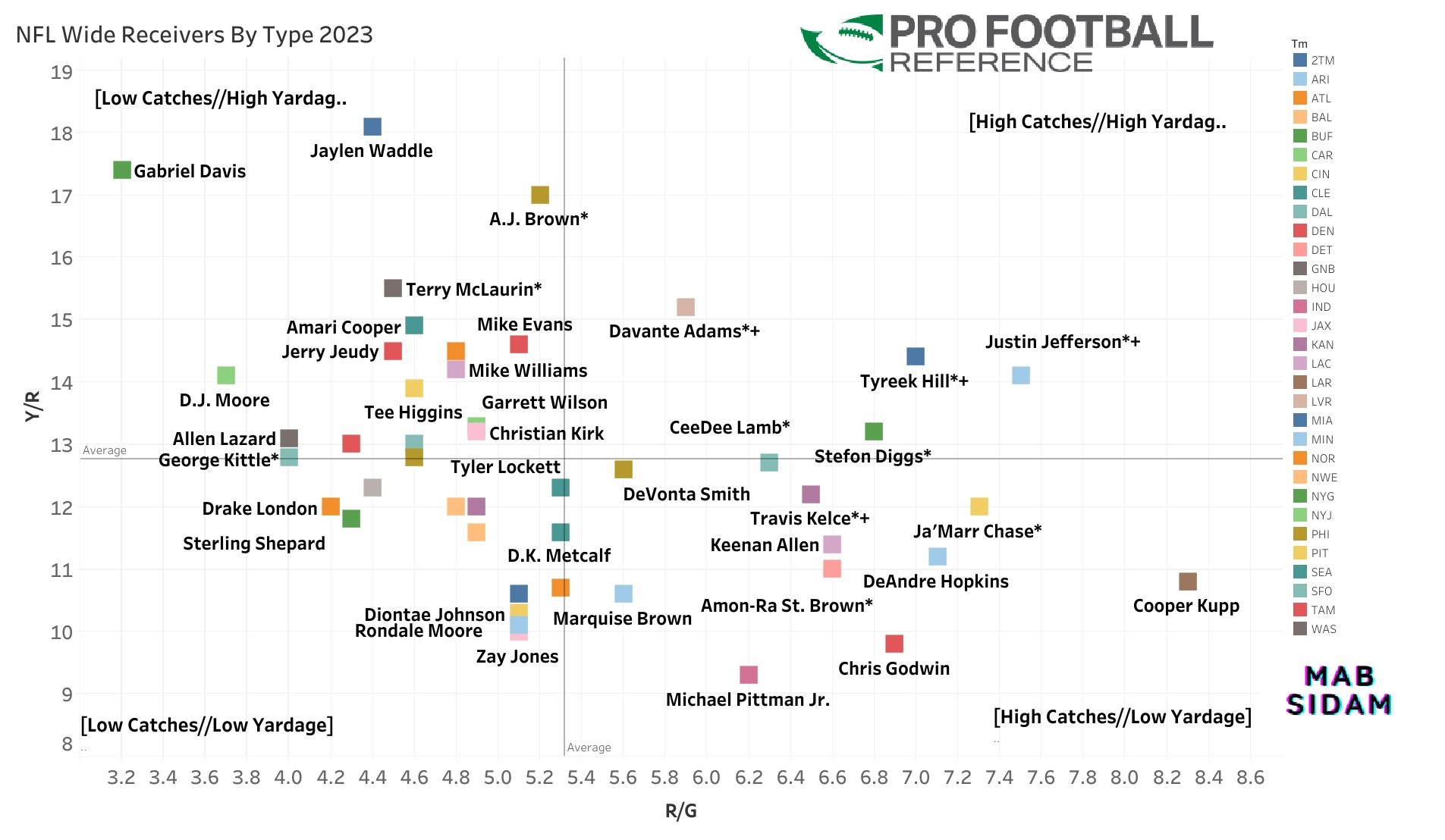 Why focus on yards per reception versus receptions per game?
Receptions per game show us how often a receiver finds his hands on the football, how magnetic they are to the football 🧲🏈. 
Yards per reception gives us an idea of how explosive a receiver is per possession 💣🧨🏈.
An ideal receiver would be a Randy Moss or Calvin Johnson type, who both achieved a high volume of catches per game and large gains of yardage per reception.
In the golden age of the passing era the value of wide receivers skyrocketed. Surrounding a QB with elite playmakers out wide almost always leads to a jump in production from a QB. (See Tua Tagovailoa last season.) This last NFL draft was an opportunity for teams to grab some game changing playmakers.
Here, we'll take a look at some of the different player profiles the receivers drafted fall into.
Possession Receivers//Ball Magnets 🧲//Short Pass Savants:
The possession receiver has the following attributes:
Great hands
Excellent hand-eye coordination
Good strength
Can keep the chains moving with short to intermediate catches
High volume of catches but low value in yardage covered
Nose for the football
Get their hands on the ball in volume.
Elite possession receivers rarely drop a pass
Great contested catch ability
In summary, these receivers make tough catches and embrace the contact play to secure first downs. They are used to getting hit as soon as they catch a ball.
They are not the type of receivers who will outrun the defense and make high yards after catch (YAC) plays.
Blocking only really suits the bigger type of receivers of this type.
These 2023 rookies fit the possession receiver profile: 
Xavier Hutchinson - Houston Texans 6th Round Pick 205
Josh Downs - Indianapolis Colts 3rd Round Pick 79
Charlie Jones - Cincinnati Bengals 4th Round Pick 131
Nathaniel (Tank) Dell - Houston Texans 3rd Round Pick 69
Elijah Higgins - Miami Dolphins 6th Round Pick 197
 Veteran possession receivers include: Cooper Kupp, DeAndre Hopkins and Keenan Allen
Speed Receiver// Down The Field(Long Pass Savant)//💣 Bomb Threats
The speed receiver has the following attributes:
Explosive speed
Detonate off the line of scrimmage
Easy separation when defender is beat and only space ahead
Hand-eye coordination to make over-the-shoulder catches
They don't receive the ball as often as possession receivers but every catch they make is a scoring threat no matter the distance.
Low volume of catches but high value in yardage covered
Elite speed receivers carry a fear factor defenses have to respect, causing the defense to give them more attention and opening the field up for fellow receivers
Don't embrace the contact play, they want to skip the defender and attack space, and are not built to play through contact on a consistent basis
Usually too small or frail to reliably be an elite blocker
Speed ability means routes don't have to be as clean and cut to get open.
Nevertheless, coaches love to have the type of receivers who will outrun the defense, and stretch the defense, giving them great yards after catch (YAC) scheme ability.
A fault with this type of receiver is they can only be one-dimensional speed receivers if they can't physically make any of the possession receiver plays, and are thus limited to down the field routes and super designed routes into space.
These 2023 rookies fit the speed receiver profile: 
Marvin Mims - Denver Broncos 2nd Round Pick 63
Jalin Hyatt - New York Giants 3rd Round Pick 73
Quentin Johnston - Los Angeles Chargers 1st Round Pick 21
Jonathan Mingo - Carolina Panthers 2nd Round Pick 39
Tyler Scott - Chicago Bears 4th Round Pick 131
Trey Palmer - Tampa Bay Buccaneers 6th Round Pick 191
A.T Perry - New Orleans Saints 6th Round Pick 195
Rashee Rice - Kansas City Chiefs 2nd Round Pick 55
Jayden Reed - Green Bay Packers 2nd Round Pick 50
Dontayvion Wicks - Green Bay Packers 5th Round Pick 159
Veteran speed receivers include: Jaylen Waddle, Gabriel Davis and Terry McLaurin
Intermediate Receivers// Middle Of The Field Savants //Chain Movers ⛓️🔗 
The intermediate receiver has the following attributes:
Secure first downs routinely with great route running
Provide explosive play ability to take it long
Not physically the biggest or fastest but are usually the most agile.
They use their agility to elusively avoid oncoming defenders and gracefully work their way out of tight coverage over the middle of the field
In the modern NFL this receiver type is of great value to any team. The tough hits that made the middle of the field a "No-Go" zone a generation ago have all been legislated out the game. The middle of the field is now open to those receivers skilled and physical enough to get there and make plays.
These receivers hurt defenses in the 2nd depth level.
These 2023 rookies fit the intermediate receiver profile:
Zay Flowers - Baltimore Ravens 1st Round Pick 22
Jaxon Smith-Njigba - Seattle Seahawks 1st Round Pick 20 
Jordan Addison - Minnesota Vikings 1st Round Pick 23
Cedric Tillman - Cleveland Browns 3rd Round Pick 74
Veteran intermediate receivers include: DeVonte Smith, Christian Kirk and Tyler Lockett
Shockingly no wide receiver has ever won MVP, not even Jerry Rice arguably the greatest NFL receiver of all time. Yet, as the position's importance in deciding games continues to grow it seems more and more likely a wide receiver might one day hoist the award.
No receiver in the 2023 draft seems to be fit the difficult double profile of high volume and high yardage. 
Justin Jefferson, Tyreek Hill and Davante Adams are a different type of special elite receiver.