Written by Mab Sidam
03 April 2023
The 2023 NFL draft isn't one of those classes with a stand out QB at the top. Franchises picking at the top of the draft are spoiled for choice with playstyle options. Each QB available in the draft has attractive strengths and questionable weaknesses. Landing at the right franchise could make a career, while going to a team without the setup to support that QB's style could throw their career in limbo.


#1 Pocket Passers
This is the type of quarterback that thrives executing a game plan/play script and exploits mismatches where the coaching staff points them out.
A high percentage of passes for quarterbacks of this style are under 20 yards to designed receiver routes. Accuracy is their calling card. These QBs thrive in structure, whichever team drafts one of the QBs need to surround the player with a dependable o-line, playmakers, and a creative play design offensive coordinator, e.g. Matt Ryan or Mac Jones. Pocket Passers effectiveness outside the pocket drops significantly when made to play off script or when forced to move out the pocket. These QBs are not runners or improvise throwers. Horrible teams with no structure should stay away:
- C.J. Stroud (Ohio State)
- Aidan O'Connell (Purdue)
- Tanner McKee (Stanford)
- Jack Haener (Fresno State)
- Chase Brice (Appalachian State)
- Sean Clifford (Penn State)


#2 Gunslinger
The high-risk-high-reward type quarterback. Gunslingers are natural playmakers not limited to the offensive game script. QBs of this kind will take risky throws trying to bring a spark to an offense or dart out the pocket to make the most of a broken down play.
Many passes for quarterbacks of this style are over 20 yards. Gunslingers are creative throwers who will often leave the pocket to make plays. The gunslinger mentality (high-risk high-reward) works for and against quarterbacks in the NFL. These QBs present high turnover risk. A wide receiver could be double-covered and a gunslinger will attempt to fit the ball into the tiniest of windows. They often make the mistake of ignoring a more open target (low-risk low-reward).
This play style puts their health in question as they will hold on to the ball for too long or run straight into defenders trying to force a first down, e.g. Josh Allen or Carson Wentz.
- Bryce Young (Alabama)
- Will Levis (Kentucky)
- Stetson Bennett (Georgia)
- Max Duggan (TCU)
- Jaren Hall (BYU)


#3 Dual Threat
A QB of this type can run the ball as well as he throws it. This creates a mismatch advantage for the offense as they carry an extra runner in the backfield. NFL quarterbacks in this category are all the rage in the NFL today, e.g. Jalen Hurts or Justin Fields.
Dual-threats are on the opposite end of pocket passers struggling with accuracy on short to intermediate passes, often choosing to run for the short gain or send a bomb down the field. Health is a question as dual-threat QBs commonly go down due to injury because of their physical play style;
- Hendon Hooker (Tennessee)
- Dorian Thompson-Robinson (UCLA)

#4 Rushing Threat/Developing Passer 
Not every run threat QB is as polished a passer as they are a runner. Run threat QBs cannot be relied upon to complete throws with consistency. Accuracy, touch (toss passes or missiles), placement on throws and throwing techniques are all in question. Tremendous rushing ability, cannon arms and playmaker instinct make them interesting prospects despite the flaws.
Players like this need to land on franchises with great patience allowing them to learn to do the easy stuff (routine throws) while creating a scheme for their unique talents. The worst case scenario would be to force them to start early on a bad team looking for a savior. These are true boom or bust prospects:
- Anthony Richardson (Miami)
- Malik Cunningham (Louisville)
- Adrian Martinez (Kansas State)
- Riley Leonard (Duke)
These charts show you where the rookies fall in comparison with each other. The first shows rushing yards per game versus passing yards per game: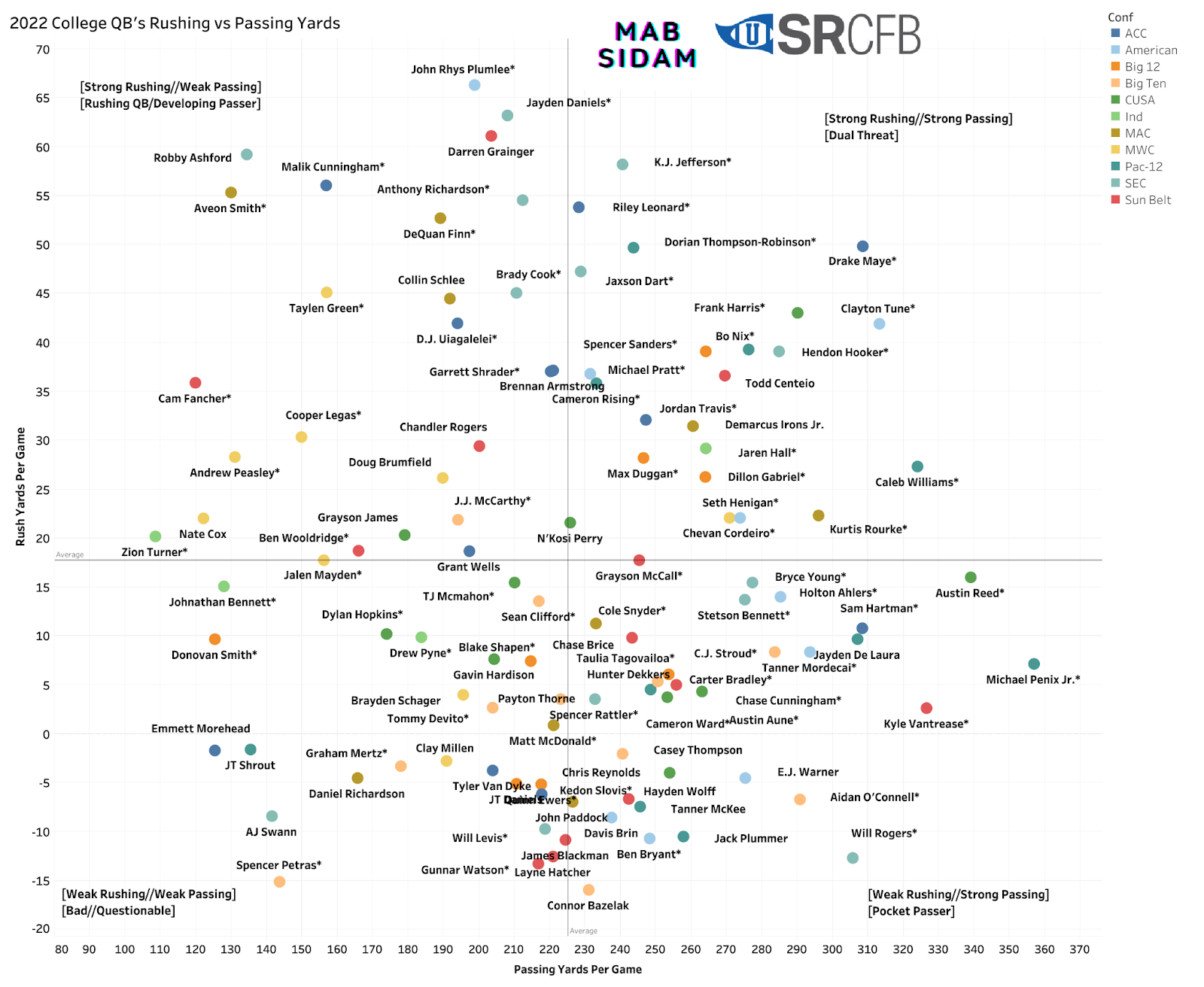 This second chart shows average yards per pass versus average yards per rush: