Written by Mab Sidam
18 March 2023
The NFL is in the golden age of the quarterback (QB). One type of QB, the dual-threat rushing QB, is growing in popularity every season. Dual Threat QBs create a mismatch advantage for the offense as they carry an extra runner in the backfield that has the potential to dart past the line of scrimmage like a star running back for a huge gain while maintaining the threat to complete a gunslinger-type pass down the field from the pocket like a traditional QB.
For a franchise, getting the QB right changes the entire atmosphere of the organization. Franchises such as the Philadelphia Eagles have joined other franchises, such as the Buffalo Bills and the Baltimore Ravens in taking advantage of the current dual-threat talent boom to turn into contenders.
The following chart shows where each of the NFL starting QBs land on rushing yards per attempt verses rushing attempts per game: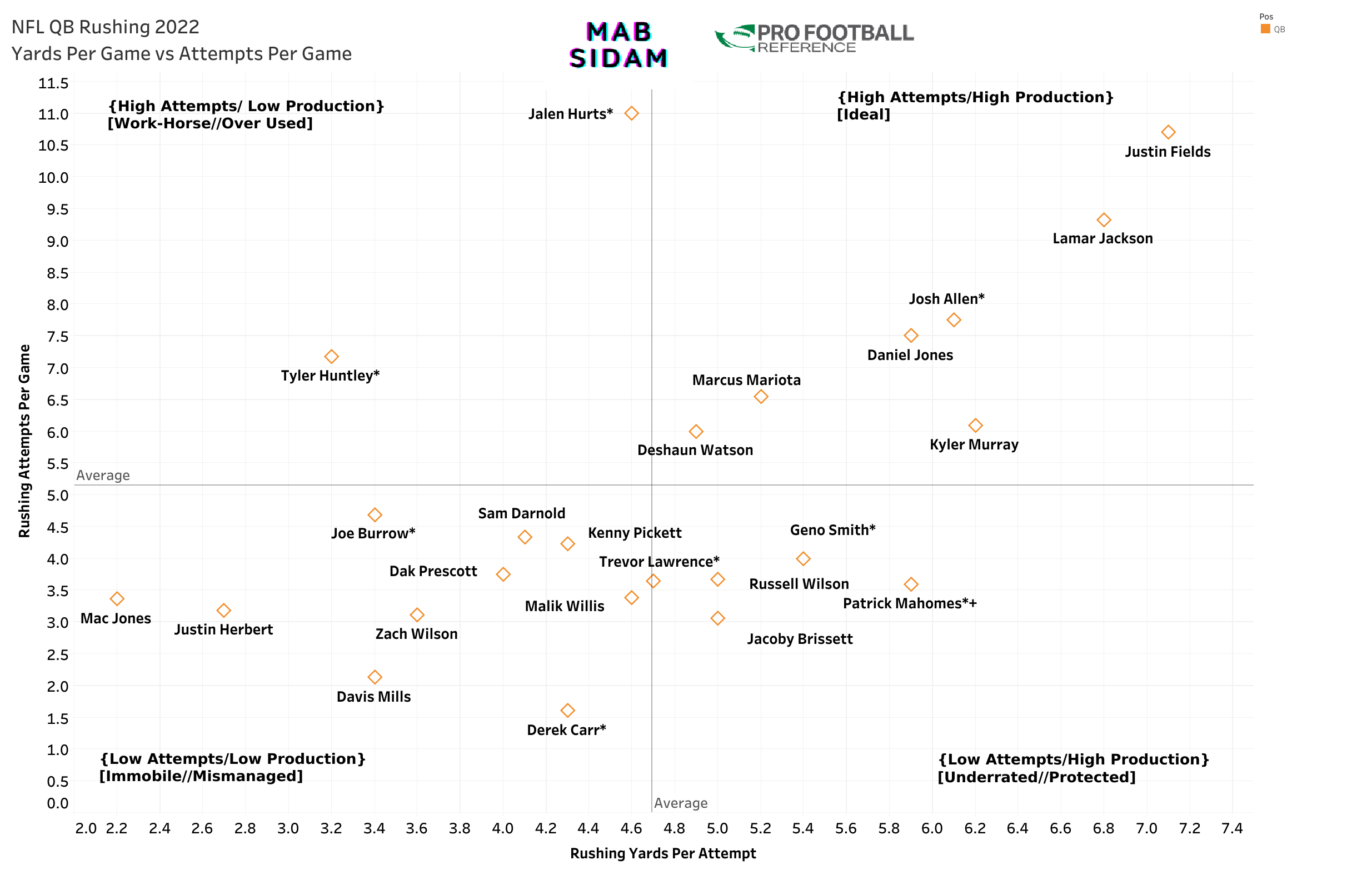 Factors in determining the ranking include rushing yards, yards per attempt, first downs, 20+ yard runs and touchdowns. Below are the top 5 most productive rushing QBs in the NFL:
6. Kyler Murray - Arizona Cardinals
Yards Per Game: 38 Yards
Yards Per Attempt: 6.0 
First Downs: 2.1 Per Game
20+ Yard Runs: 3
Touchdowns: 3
Kliff Kingsbury and the Arizona Cardinals were unimpressive the entire 2022 NFL season. Star quarterback Kyler Murray was considered an MVP candidate entering the season, however the Cardinals offense was flat the entire season. 
The rushing attack was woeful, failing to produce a 1,000 yard rusher, this shifted too much of the rushing burden on Murray and forced him to throw more as the team couldn't run the ball.  Murray is an elusive runner who can hit space with speed, he uses this skill to slip defenders tackles and pick up downs. He lacks the size and strength to power through defenders for tough yards. Murray is not built physically to be a bell cow rushing back like Josh Allen, the Cardinals need to acquire better running backs to take the rushing burden off Murray and use him as a disguise runner.
Currently nursing an injury Kyler Murray lands at no.5 on the list. Murray is one of the most naturally talented players to ever play the position:
https://twitter.com/FootbaIIism/status/1559979628273537024?s=20
4. Tie - Josh Allen and Daniel Jones - Buffalo Bills,  New York Giants
Allen and Jones are grouped together as their production is similar even if it comes from two different rushing styles. Both dual threat QBs average around 40 rushing yards per game, are considered the first down runners on offense and have been coached by emerging offensive mind Brian Daboll. 
The difference between the two is in their backfield partners, the presence of Saquon Barkley as the touchdown threat allows Daniel Jones to concentrate on being a great short yardage runner. Josh Allen does not have this comfort, the Bills running backs Devin Singletary and James Cook are not on Barkley's level, this weakness places too much of the offensive burden on Josh Allen to win tough first downs, sometimes making 20+ yard runs, and still operate the offense as QB. This heavy burden on him caused his turnovers to spike up this year.
https://twitter.com/NYGcrush/status/1608328837724622850?s=20
3. Lamar Jackson - Baltimore Ravens
Yards Per Game: 65 Yards
Yards Per Attempt: 6.8
First Downs: 3.9 Per Game
20+ Yard Runs: 5
Touchdowns: 3
Jackson is another dual threat QB who ended the season on the I/R list. Lamar Jackson is one of the most impressive talents to ever play the position. Great top end speed coupled with an elusive running style leads to weekly highlights. Jackson has a lanky frame for a runner but that doesn't prevent him from churning out the tough yardage to win first downs.
The greatest problem with Lamar Jackson mirror that of other dual threat QBs he doesn't have backfield help. Jackson's 764 yards led the Baltimore Ravens in rushing despite missing five games. The Ravens offense had many productive runners who suffered injuries throughout the season while also lacking an individual back with a nose for the end zone.
A true superstar like Lamar Jackson can carry a franchise entire offensive burden and an MVP campaign. Health factor being ignored Jackson is the most talented dual-threat on this list. Adding a power back to compliment Jackson's style should help him get back to his best.
https://twitter.com/ComplexSports/status/1574126414521143301?s=20
2. Jalen Hurts - Philadelphia Eagles
Yards Per Game: 51 Yards
Yards Per Attempt: 6.8
First Downs: 4.6 Per Game
20+ Yard Runs: 7
Touchdowns: 13
Hurts just wrapped up a great year at QB. Second-year head coach Nick Sirianni has constructed an offense that punishes defenses in multiple ways through the pass and ground game. Their offensive line excels at both run and pass blocking. The Eagles offense makes plays, scripted and unscripted, at high levels due to the amount of playmakers loading the offensive side. 
As a runner, Jalen Hurts excels as a power rusher who wins first downs and has a nose for the end zone even if it means running through a few defenders. Unlike many other dual threats Hurts has great backfield help in Miles Sanders. While excelling as a power rusher Hurts should be considered the complete rusher as the seven runs of over 20+ yards show he has great speed in his arsenal to go with all the power benefits. 
Jalen Hurts and running back Miles Sanders provide a power run game that sets up a possession-based passing game. Through this, the Eagles dominate the short and intermediate zones with their running threat and elite contested catch receivers. Hurts has made tremendous leaps in the consistency of his passing game and now, in a traditional game manager fashion, routinely spreads it around to the multiple playmakers on offense.
https://twitter.com/EaglesXOs/status/1597345934706626560?s=20
1. Justin Fields - Chicago Bears
Yards Per Game: 76 Yards
Yards Per Attempt: 7.1
First Downs: 4.3 Per Game
20+ Yard Runs: 10
Touchdowns: 8
Justin Fields is the complete runner at the position. An explosive runner who can rip out a 20+ yard at any time, a broad muscular frame to churn out tough yardage and handle the volume of carries. 
Fields is still a developing passer. The Chicago Bears had more rushing yards than passing yards last season. Running backs like Khalil Herbert and David Montgomery help ease the rushing burden on Fields, but neither has a nose for the end zone leaving Fields to be the Bears red zone battering ram. This overreliance on the rush part of his duel threat tool led to his injuries down the stretch. 
The Bears have the NFL's most productive rushing QB, coupling this with even a decent passing game will lead to an explosive offense. 
Conclusion
Dual threat QBs will always lack the extra polish pocket passers have to their throws. Their footwork will be off. They will run too early on some plays, giving up on the pass and missing throws they should make. This is all payment for the permanent run threat they provide the offense. The above QBs will never be the silky passer that Patrick Mahomes is, but that does not mean their offenses can't be just as explosive.