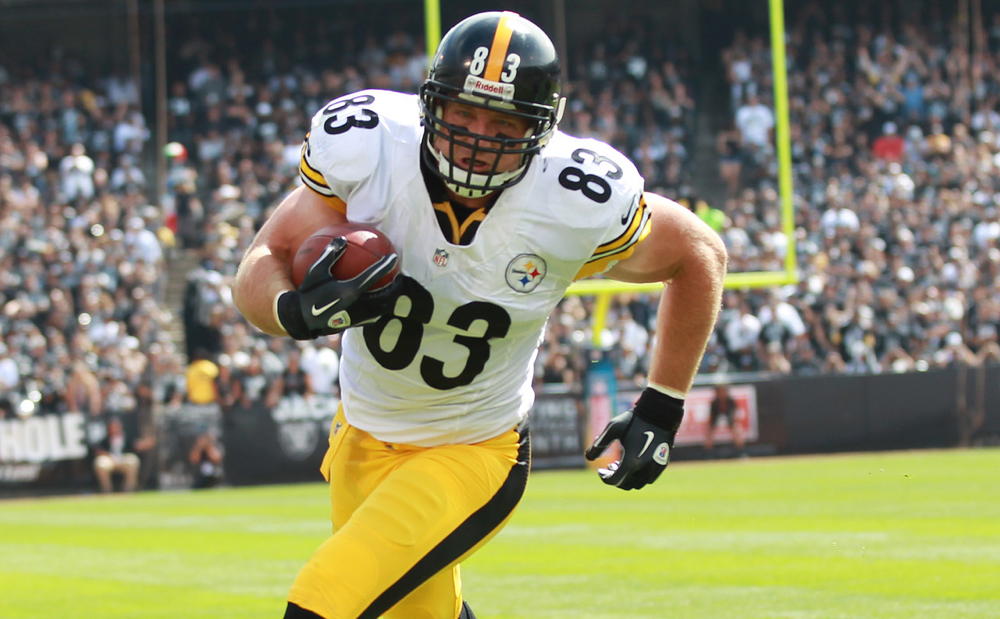 As all the Fantasy tight ends dry up…note that Heath Miller has five or more catches in a game in three of his last five games. He was targeted 14-times this week and has been very high on the list of fantasy sleeper picks.  The following are some trends in the NFL fantasy world.
 — Kelvin Benjamin has five or fewer catches in a game in five of his last six games. Outside of garbage time work…he's starting to struggle with the attention being placed on him by defenses.  Although he started off strong, he will not be one of the best fantasy football keepers.
 — I knew the Rams-DST were heating up, but wow…I'll take a shutout, D TD, and six sacks. All those who jumped on this with me a couple of weeks ago…rejoice! Enjoy! McCoy-Stanton-Eli ahead!!
 — Stedman Bailey had a nice five catch for 100 yards game in Week 13. It's a nice FF-effort to be sure, but keep in mind…that was all accomplished by midway through the 2nd-quarter, and then they throttled back as they were destroying Oakland. For NFL fantasy sleepers, take Stedman serious as a PPR Flex option and in deeper leagues.
 — IDP Telvin Smith followed up his impressive tackle count last week with 10 tackles against the Giants. He has to be considered a serious LB start for some next week.
 — Mohammed Sanu is FF-dead, now that A.J. Green is back. His last four weeks of catches: 2-3-5-2. I'm always reluctant to give credit to Jay Gruden, but the Bengals offense has gone from solid with him to a disaster without him this year…a huge step-back under Hue Jackson. It reminds me of when Cam Cameron messed up Joe Flacco.
 — Keenan Allen is back as the Philip Rivers' 'Antonio Brown'. 7.3 catches per game over his last six games.
 — On a Dynasty team that is toast, and stashing assets…I'd consider taking a flyer on Jonathan Manziel Esquire, if he is floating around out there–just to see if he has a hysterical debut where he runs for a TD, throws a long TD off a broken play, etc., and gets everyone whipped up–just to trade him the following week in the chaos. The media will help you by singing his praises and running stories all day on him. It's coming. Same theory I had when Terrelle Pryor 'won' the Raiders job last year.
If you already own Manziel–be ready to trade him on any blip because he is a total disaster waiting to happen.
Do you think any football analysts will apologize for shouting from the rooftops the last 5-6-7 weeks that Brian Hoyer "needs to be paid!" Nope. Now, they'll just passionately tell you it is past time for Johnny Manziel. It's a better story. No media/analyst mea culpa forthcoming, I assume (knock me over with a feather).
 — Branden Bolden is the Pats RB leader for Fantasy scoring this week. Please do not ask me which Pats RB will take the most touches next week, or the week after, or in 2015. I'm with you—I have no idea from one week to the next either.
 — If Ray Rice is going anywhere this week…it has to be Arizona. I have no idea how fast he gets up to speed, or what shape he is in, etc. I'm really not that interested.
 — Jordan Reed with Colt McCoy (2 games): 8.0 rec. for 81.5 yards on 9.0 targets per game.
– R.C. Fischer is an NFL Draft analyst for College Football Metrics.com, and a football projections analyst for Fantasy Football Metrics.com. His group also provides player projections for Advanced Sports Logic's football software "The Machine." See "The Machine" here: The Machine via FFM